This blog is co-authored by Susan Markham, Senior Coordinator for Gender Equality and Women's Empowerment for the U.S. Agency for International Development. In that role, she works to improve the lives of citizens around the world by advancing equality between females and males, and empowering women and girls to participate fully in and benefit from the development of their societies.
In honor of Women's History Month, we're celebrating trailblazers whose achievements helped transform the 20th century -- like Marie Curie and Wangari Maathai, who saw a problem in their communities and workplaces, and found new ways to solve it.
Innovation fuels economic progress and will continue to drive global growth in the 21st century. Another key driver? Women. According to McKinsey Global Institute, if the world's women participated equally in the global economy, it would add up to $28 trillion, or 26 percent, to annual global GDP by 2025. That's roughly equivalent to the size of the U.S. and Chinese economies put together.
With smart investments and inclusive policies, the success stories of the 21st century should come from the developing world. The untapped potential is staggering: of women worldwide who could contribute more fully to their national economies, the IMF estimates 93 percent live in developing countries.
Statistics demonstrate investments in education for women result in GDP growth, fewer maternal and infant deaths, lower rates of HIV and AIDs, and improved child nutrition. And what is good for women is also good for society: women invest 90 percent of their incomes in their households through expenditures such as food, housing, and education, creating a multiplier effect.
So how can we engage this potent force to help solve the world's most intractable challenges? Invest in women. Empower women and girls through digital access, education and financial services, enabling them to reach their full potential as researchers, entrepreneurs or wherever their dreams may take them.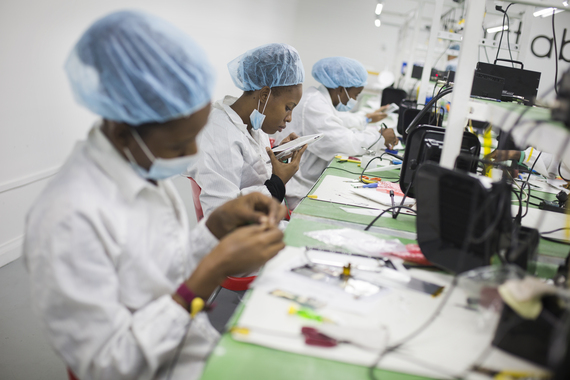 Employees assemble tablets at the Surtab factory in Port‐au‐Prince, Haiti. Surtab, which was established in 2013 with funding from USAID, has been a huge boost to the technology sector in Haiti. The tablets are produced for commercial sale, but they are also used in education, healthcare and agriculture, increasing efficiency in programs that seek to create a brighter future for Haiti. David Rochkind, USAID.
Digital technologies can have a profound impact on our own lives and the lives of people in the farthest corners of the world. Greater connectivity can foster learning, increase economic growth, and provide life-changing information that improves health, education, and well being.
Yet, in developing countries, women are 14 percent less likely to own a mobile phone and 23 percent less likely to have access to the internet than men. In fact, there are almost twice as many men as women online in Africa and almost three times as many in India. This gap means women, who are already disadvantaged, risk getting left further behind.
Khadija, a community health worker for a USAID maternal and child health project in Bangladesh, overcame her uncertainties about keeping money in a mobile wallet and opened a mobile money account. Two years later, she uses her account to send money to relatives in her village back home, buy mobile airtime, and receive remittances from her brother in Dubai, saving money and time, which she uses to spend with friends and family. This is one small but powerful example of how mobile access can improve women's lives.
In every region in the world, women remain underrepresented in scientific fields - less than 30 percent of the workforce in many disciplines. Ample evidence also suggests fewer women in the sciences can lead to procedural bias, or the tendency to use male research subjects for experiments, which leads to the development of healthcare and other solutions tailored for men.
Grants to female researchers in developing countries through programs like USAID's Partnerships for Enhanced Engagement in Research (PEER) can fill critical gaps. One example is Judith Kimiywe of Kenyatta University in Kenya, who is using her grant to pilot a maternal infant and child nutrition initiative in the North Rift region of Kenya. In the country's rural regions, many babies die due to undernutrition and misconceptions about breastfeeding.
Kimiywe's approach puts mothers, their support-givers and village leaders at the center of her intervention. By empowering these groups with accurate information on breastfeeding, she is creating a support structure for mothers and newborns. This approach, if successful, will be adopted by the Kenyan Ministry of Health and potentially prevent up to 20 percent of under-five child deaths in the country.
Innovation and Entrepreneurship
More women in developing countries start businesses than women in developed countries, but, as the Harvard Business Review notes, this is generally due to financial necessity. Further, female entrepreneurs in the developing world often cannot obtain financing to grow their businesses. And just like in science and technology, fewer women with thriving businesses mean fewer innovations tailored to meet the needs of women.
Small grants through challenge programs like Securing Water for Food, sponsored by the U.S., Sweden and the Netherlands, can be transformative. For example, Claire Reed, a South African entrepreneur, recognized an untapped market of women who wanted healthy vegetables for themselves and their children. To address this need, she started Reel Gardening, which produces biodegradable, color-coded paper tape that encases organic fertilizer and seeds in one package, creating a simple, eco-friendly way for families to grow their own vegetables. To date, Reel Gardening has sold its product to 300,000 households in South Africa, generating 1,000 tons of produce and saving 19.5 million liters of water in the process.
Most of the 1.2 billion people living in extreme poverty around the globe are women and girls. By ending the abject poverty that degrades their dignity and potential, we can bring the full range of talent, skills and ideas the human race has to the table. The contributions of past female pioneers made the world a better place; we must ensure that the millions of women and girls across the globe have the opportunity to do the same.
Learn more about how we're helping to close the gender gap around the world.
Calling all HuffPost superfans!
Sign up for membership to become a founding member and help shape HuffPost's next chapter