You might like these even more than your kids do.
There are dinners made to push my kids' little evolving taste buds--ones where I encourage ruffled greens and spices that originate from far-off lands. Then there are others I make for comfort--the sort that I hope they will recall and crave long after they've left the house. And then there are the ones that I just want them to like: simple, classic and unmistakably kid-friendly.
But how can I make the ultimate kid food, chicken tenders, a dinner that will excite both my children and me and my husband?
The answers: a fragrant blend of dried herbs and spices in the dry brine; a boost of powerful umami flavor in the dredging; and a dipping sauce that is seasonal by way of apple cider yet maintains that addictive sweet and sour balance.
Taking a tip from my fried chicken recipe, I dry-brine the chicken tenders in a blend of salt, thyme, oregano, smoked paprika, garlic powder, and cayenne. If your kids (or--if you are making these for yourself, which I highly recommend--if you) can handle a bit more heat than mine, make your cayenne pinch a hefty one or even add a few thinly sliced chilies to the mix.
If you've got the time, let this sit in the fridge overnight so the salt and spices can really tuck into the chicken. An hour or so is fine, too.
A powerful umami flavor comes when you dredge the chicken in wet and dry ingredients: first, from the heavy-handed dashes of Worcestershire sauce mixed with buttermilk and egg and then again from the sharply-aged Parmesan that camouflages into the panko breadcrumbs.
And lastly, the dipping sauce: It's made by reducing apple cider, cider vinegar, brown sugar, tomato paste, and soy sauce on the stove, then whisking in cornstarch to make it slightly thicker. Think of a tangier, brighter, fruitier version of ketchup that you'll want to eat with everything.
These three seemingly simple additions take a classic recipe and turn it into something that extends beyond the realm of kid food and into something the whole family will be requesting.
For the apple cider sweet and sour sauce:
1/3 cup apple cider vinegar
2 tablespoons tomato paste
2 pounds boneless chicken tenders
1 1/2 teaspoons kosher salt
1/2 teaspoon dried oregano
1/2 teaspoon smoked paprika
1/2 teaspoon garlic powder
10 dashes Worcestershire sauce
1/4 cup finely grated Parmesan
Photos by Ashley Rodriguez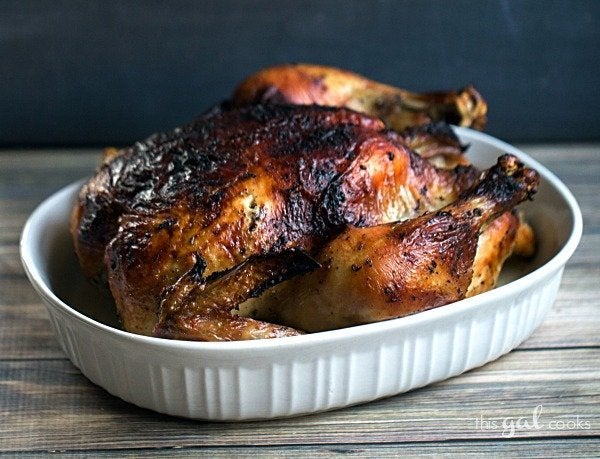 Tasty Roast Chicken Recipes For Fall