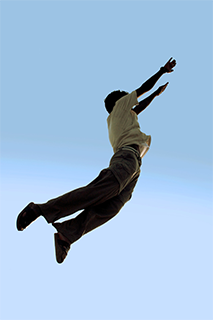 Spiritual growth is a wonderful thing. Gratitude, joy and inspiration are delightful gifts. Inner peace is priceless.
But what about money? Fame and fortune? Climbing the corporate ladder? How do these things fit into the equation? I don't know about you, but I really enjoy the finer things in life. I love five-star vacations. I love the feeling of knowing that my family's needs are taken care of. I love buying electronics, gifts for my wife, and nice cars.
Plus, I want a big, new beautiful home in L.A. for our family. With a huge backyard. On the beach. Or at least within close driving distance.
You can absolutely have your cake and eat it too. You can absolutely create both money and meaning. You can absolutely experience both abundance and success. The key is to make sure that your successes are aligned with your purpose, rather than detracting from it. It's learning to set goals that move you forward on your path, rather than away from it.
From a spiritual perspective, growth, contribution, connection, and creativity are required elements of life. Success is optional. You can create a purpose-filled life that includes lots of success, or one that includes just a little. To your spirit, it doesn't really matter. It's like picking a flavor of ice cream. Which is better? Chocolate or vanilla? It depends on which you prefer.
What matters most is not how big a goal is, but how aligned it is.
Authentic success comes from committing to goals that are heartfelt, specific, and scary.
In contrast, many goals are rational, but uninspiring. They feel like a "should" or a "have to" instead of a true, exciting "want to." And when you pursue them, you often hit a Wall. Instead of feeling like your universe is conspiring to support you, it feels like every little win comes at an ever larger cost. Instead of achieving authentic success where you're also growing in consciousness, you create stress based success where the more you achieve, the less happy you become.
Before I take on a coaching client, they have to find and commit to at least two heartfelt, specific, scary goals: one external (such as increasing their income or growing their business), and one internal (such as reducing their stress or increasing their self trust). They have to back this up with a significant financial investment in our work together. And they have to be open to growth. When these three conditions are satisfied, I find that they consistently create radical breakthroughs - both externally and internally - because of a simple, profound truth.
The fastest path to any authentic, heartfelt goal involves growing in consciousness.
When you build your life around Yes Yes Hell No! goals, spiritual growth creates success, and success creates spiritual growth.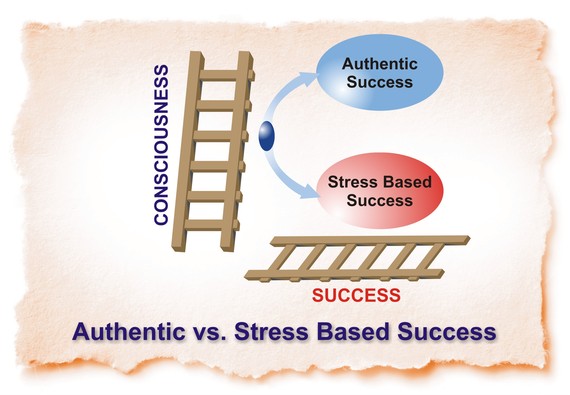 In contrast, when you only focus on the ladder of success, after a point, each step forward comes with an ever larger cost. Instead of creating sustainable, authentic success, you create stress based success, where it feels like you have to run faster and faster just to keep up.
What I've discovered is that if a client wants to make a million dollars in ways that are on purpose for them - terrific! The quickest way for them to do so usually involves facing their fears, resolving their inner conflicts, and growing their authentic leadership.
If a company wants to double their profits in ways that honor all their stakeholders - wonderful! The most efficient and sustainable way for them to do so usually involves growing their people, evolving their culture, and transforming their teams.

Authentic success comes from committing to goals that are aligned with your soul's path. Doing so lets you create money and meaning -- success and fulfillment -- all at the same time.
You can be a leader at work without having to sacrifice your family. You can be a parent at home without having to sacrifice yourself. The key is to pick goals that are heartfelt, specific, and scary, while limiting your commitments to what you can consciously handle.
This article was created as an excerpt from Yes Yes Hell No! The Little Book for Making Big Decisions. To eliminate your insecurities, transform your fears, and develop total trust in your ability to make big decisions, purchase the book on Amazon or download the first five chapters for free. Image source: freeimages.com

Related