You can redecorate your home every season, every year or every ten years, depending on how often you want to update the look and feel of your home. But hiring an interior designer can get expensive. Plus, what you envision for your home might not be quite on point with current design trends. That's why it's so fun to try alternatives such as upcycling (also known as repurposing); you can take something old and make it new again -- and you can design it specifically to suit your unique style too.
What is Upcycling?
Upcycling -- or repurposing -- is taking an item and reusing it for another purpose. Some common examples are:
A coffee can turned into a flower pot
Maps used as framed art pieces
Glassware broken down and made into tabletop overlays for coffee tables
Small pots or bowls reused for key holders, flowers vases and so forth
Old books used for end pieces or decor items on fireplace mantels, rather than reading
It's a way to make your home rustic and classic without looking drab. You can use paint, stain and other items to update old items and bring them into the modern age as well. You can also hire an interior designer or decorator to find items like this for you. They often have contacts in the industry who only sell to professionals and sometimes at lower prices than what you'd find at antique or secondhand shops.
Some Common Upcycled Items
If you want to go looking for upcycled items, think about second stores, estate or garage sales, or antique shops. These are great places to find old items that could use a little love.
Timber Materials
Timber -- whether you find crates or boxes -- can be upcycled in various ways. You can use a crate as a side table without any kind of prep work, or you can get more creative. With some sanding and staining, you can create shelving, display, racks, and more -- the possibilities are endless, especially if you're really imaginative. You can also
to craft the timber boxes into your ideal item if you don't have the time or the experience to do it yourself. That way you end up with exactly what you envisioned without a lot of mess on your part.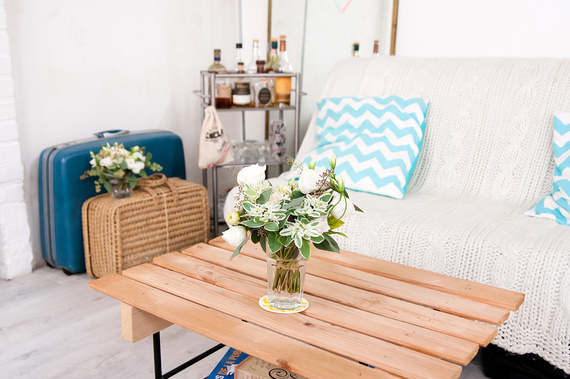 Wood and Plastic Pallets
Pallets can be found anywhere -- even on the side of the road. Like timber crates and boxes, you can simply upcycle pallets by setting them up as coffee tables -- or, you can put some elbow grease into updating them with stain and varnish. Some uses for pallets include:
A coffee table
Bases for moveable beds, sofas, chairs and outdoor furniture
Shelving or table tops (will involve cutting them apart)
Some pallets have chemicals on them, so be sure to check ahead of time and remove any chemicals as needed.
Photo courtesy of Odyssey Historic Construction, LLC in Clinton, CT
Old Chairs
Chairs can be upcycled to serve many purposes. While they might have sat around tables or out on patios in the past, you can upcycle them and use them any way you see fit. You can have a cool old chair professionally reupholstered if you want it to serve a traditional purpose. For the more creative, some ideas are:
Take three chairs and make them into a bench, complete with pillows
Use the top part of a chair as a key rack
Use the bottom part of a chair (minus the legs) as a chalkboard (by adding some chalkboard paint or an easel)
Use part of the bottom half (with legs) as a shelf hanger
These are only a few of the many ideas for upcycling an old chair. What you may do is limited only by your imagination (and maybe your skills with carpentry equipment).
Doors and Windows
Doors and windows are often discarded after homeowners upgrade to the newest or latest trending pieces. You'll find them in garage sales or online, depending on the type you're looking for. You can use them as accent pieces, headboards (specifically doors) or, sometimes, for more creative purposes. For example:
Use window frames as art frames.
Use windows and panes as photo displays
Turn doors into dining tables or coffee tables
Repurpose doors as closet doors
Cut doors in half and make them into window shutters
Photo courtesy of Jeffrey Bespoke, Inc. in Boston, MA
Glass Jars and Bottles
Jars and bottles come in variety of shapes and sizes. Collect them and display them neatly on your windowsill to show off the morning light. Or, use them to hold flowers, jewelry or keys. Some people use them for candle holders, paint jars or desk organization. With a little bit of paint, you can make them into funky decor accents or practical storage. How much you can do will depend on the amount of time you want to put in the project. If you want to break the glass down, you can even turn it into accent glass for your coffee table -- though that will involve a lot of heat and time!
Popular in the Community