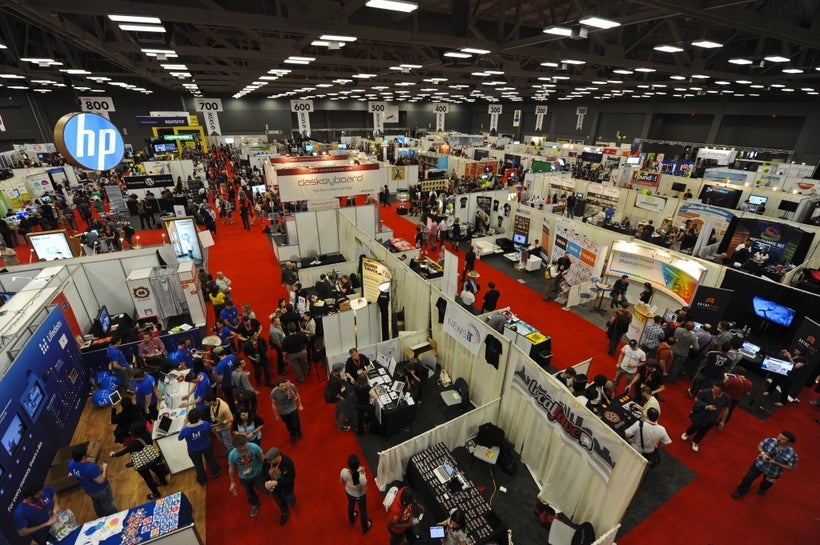 Trade show displays are big investments made by businesses to promote their brands at an event. But, these exhibits don't work at all trade shows due to change in demand, theme, logo, marketing strategy, site location and trend. Displays that once made your booth stand out from the rest at a trade show become good for nothing in a short span of time and sit in storage or basements. In short, they are a complete wastage of money.
Just like any other design trend, the trade show displays also need to change for a brand new look and impact. However, buying new trade show exhibits for every show is a costly idea. The best way to follow the latest booth design trend without wasting money is to upcycle your booth.
Restoring your trade show displays is the best way to save time and money on booth design and fabrication. This article highlight's how you can upcycle your old exhibits to create an impressive trade show booth.
Use Reconfigurable Displays
Invest in booths made of flexible material that can be reconfigured to fit into multiple shapes and sizes. Not all trade shows provide same space to build a booth. Buy trade show exhibits that can be used by adding or removing a few pieces to fit into the space provided without looking incomplete or overdone. For instance, if your old booth is constructed to fit 10x10 booth space, then you can reconfigure it by adding some components to make it suitable for a 10x20 booth space.
Brand Your Booth Strategically
Avoid adding date, year, destination and current company theme on your booth. No doubt these additions customize the booth to match the current event, but it also makes the booth useless for upcoming events. Instead of time-sensitive information, use organizational messaging by keeping the branding generic so that the banners, name tags, staff uniforms and pop-up displays could be used for future shows. If you want to customize the display according to the current brand theme, then use time-sensitive information on auxiliary materials that are affordable.
Revamping the whole booth is a costly affair. To save money, change graphics of your banner stands and pop-up displays to give them a new look. Use the old frame to install newly printed graphics to match your new brand strategy. Apart from adding new graphics, renew your old exhibits with a new paint job and refinish the laminate products, if you have any. This will be a cost-effective and quick face-lift for your displays.
Trade Old Exhibits for New Ones
If your old exhibits are still in working condition, then you can try to trade it for new exhibits of the same size or larger. By trading the old trade show exhibits, you can get a discount of 10-20% on the cost and thus save both your time and money on storing the old displays and buying the new ones. This will not only save on your budget but also help in reducing the wastage of materials as the old displays can be recycled to create something useful.
Use Multipurpose Exhibits
Some of the trade show exhibits can be used for different purposes at different events with a little configuration. Receptions, lobby displays, recruiting programs, management meetings, technical presentations, training programs, employee communication programs and sales meetings are some of the places where you can use the promotional displays of your trade show booth to represent your company.
Go For Electronic Alternatives
It's not necessary to use printed papers and posters at trade shows. Using technological alternatives such as digital signage and big display screens is the smart choice that can change with the events. This type of exhibit is highly customizable as you can display the messages of your choice as per the brand and theme. It's a one-time investment that saves the cost of buying and printing banners and display stands as well as reduces the use of paper.
Reusing of old trade show booth is both cost-effective and eco-friendly. Use these upcycling options to create something useful from your old booth. If your booth is no longer useful for an exhibit setting, then donate it to a local charity. In this way, you can extend the life of the exhibit, help someone who needs it and reduce your carbon footprint in the best way possible.
Calling all HuffPost superfans!
Sign up for membership to become a founding member and help shape HuffPost's next chapter
This post was published on the now-closed HuffPost Contributor platform. Contributors control their own work and posted freely to our site. If you need to flag this entry as abusive,
send us an email
.