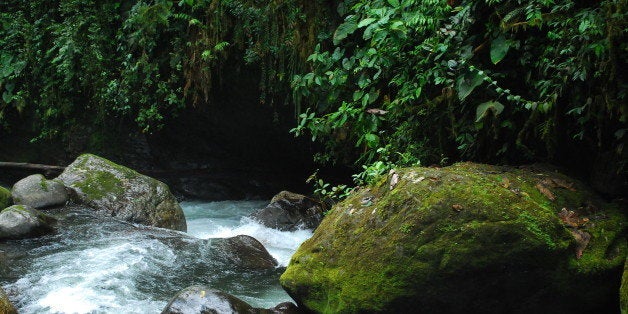 Fresh water is vital to human society -- not simply for drinking, but also for washing, farming and producing energy. In the future, this crucial resource is expected to become increasingly scarce. This is partly due to climate change.
In the sub-tropics, climate change is most likely to result in reduced annual rainfall in the already dry regions. At the same time, precipitation will be more focused and intense: it will rain less and on fewer days, but when it does rain, the rainfall will be furious. The general effect is an intensification of the water cycle that causes extreme droughts and floods on a global scale. Such extreme weather conditions have the power to not only place the water and food supplies of populations at risk, but also to increase prices, and to abolish homes and businesses that are frequently built at the edges of liveable and arable land. An IPCC special report on climate change adaptation on climate change adaptation paints a bleak picture for nearly one billion people who may be facing increasing water scarcity head on.
Nonetheless, the devastating impact of climate change is not the sole reason to be concerned about the imminent fresh water scarcity -- a point underlined by a topical report from United Nations Environment Programme. Feeding our rapidly growing global population will result in an amplified demand for agriculture, more intensive use of water for irrigation purposes and last but not least, further water pollution.
For many, the only option for drinking safe water is to boil it. However, boiling water requires fuel, which is most commonly available in the form of firewood, especially in rural areas. This firewood is both tedious to collect and expensive. Since forests are often heavily over-used, it also contributes to global climate change by emitting carbon dioxide (CO2). In such areas of the world, helping people to purify their water with alternative ways also means helping to reduce CO2. Such projects thus have a "double-dividend": A social dividend of improving health conditions and livelihoods, and an environmental dividend of protecting the climate and local forests.
In the case of CO2, result-based payment mechanisms such as the CDM already exist: for every ton of CO2 you avoid, I pay you a certain amount of dollars. Due to the mentioned link between CO2 and water, such mechanisms have also been used successfully to finance drinking water projects. "Pay for success" models are efficient: the system ensures that donor funding is used for the right purpose and paid only once the result has been verified. For example, the NGO Evidence Action has developed a technology that is a first of its kind in enhancing usage and adoption rates for means of accessing clean drinking water in Kenya, Uganda and Malawi. In order to finance and to scale the technology, the organisation collaborated with South Pole Group. This groundbreaking partnership secured carbon finance from the Swiss Climate Cent Foundation, sufficient enough to provide over 3 million people in Eastern and Southern Africa with access to safe water. Carbon financing enables a framework within which to measure and to certify environmental impacts. Any programme that uses carbon financing to increase access to safe water must ensure that robust impact measurement for water related benefits is incorporated as well.
Operating within the voluntary offset markets, South Pole Group's global water purification platform launched in 2012 provides a framework within which projects can be measured and evaluated. In other words, they help to fund further development and provide a direct linkage between funding and positive outcomes for the surrounding community.
In Western Tanzania, Swiss retail giant Coop improves the livelihoods of coffee farmers through a carbon-financed drinking water project. Jointly with South Pole Group and Basic Water Needs, an innovative market-based approach is used to provide the farmers with subsidized household water filters. Focusing on a long-term sustainable model, the project relies on local micro-entrepreneurs for the distribution of the filters and replacement parts, thereby generating jobs and income. The project not only fights climate change by the replacement of boiling, it also has a real positive effect on the livelihoods of the farmer and thus, the sustainability of Coop's supply chain.
Purchasing or collecting firewood or fossil fuels for boiling and purifying water constitutes a significant expense for the very poorest households and communities -- an expense in every sense of the word: economic in terms of the money used to purchase the firewood, environmental with respect to the loss of forests used to produce it, and finally social regarding the trade off in time lost for education and community development. Climate mitigation projects thus need to have a direct effect on households, in the form of more efficient cook stoves, water purification equipment, or solar energy systems. There is growing evidence of international carbon finance making water purification systems accessible on a worldwide basis, allowing the provision of clean and safe drinking water to low-income households.
The past World Water Day serves to remind us of the urgency for climate change adaptation, in which water plays a focal role. Climate change and the needs of communities growing in size and affluence indicate that we must work together to manage and to protect this vital resource of ours.
Related