With the new addition of video capability on Instagram, it's a good time to talk about how companies can use this insanely growing platform for their business. I've listed a few businesses who really get Instagram here, but what exactly are they doing right?
Glad you asked. Simply put, they've learned to listen, create conversations and share super inspiring images.
Sounds easy, right? It should be, but so many businesses miss these basics.
Listen. The existence of the almighty hashtag enables companies to search for words and terms relevant to their business. That means you can see what any of the 130 million active monthly users on Instagram are saying about you or your products and services.
A recent, personal experience underscored how this simple concept is so powerful. I shared a photo of a butterscotch cola I was drinking for the first time and was delighted to have found. I didn't mention the brand of the cola, my location or even the proper name of the drink. I just used two hashtags #butterbeer and #harrypotter (you know you were thinking it too). Reed's, the soda manufacturer, found my photo and commented saying, "thank you!"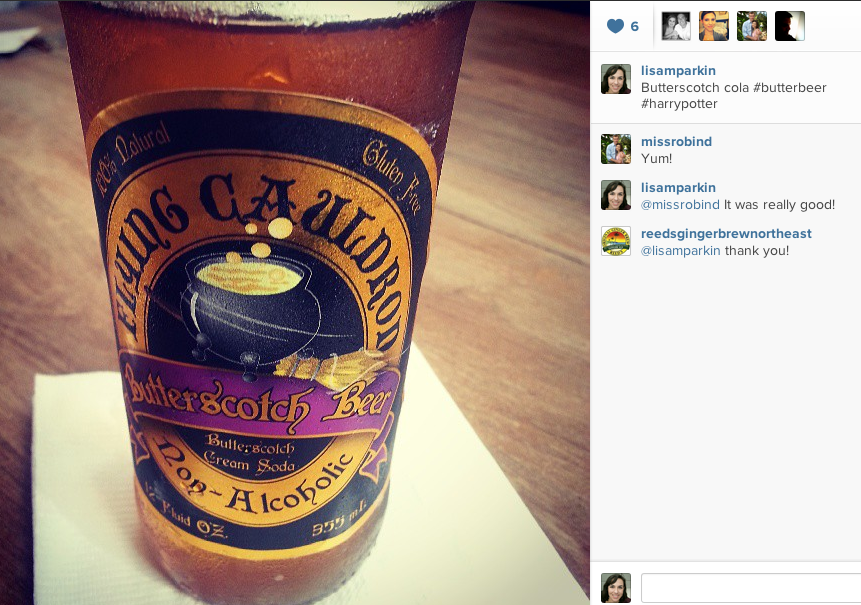 It's a genius move. Reed's understands their customers and what drinkers of that particular beverage would say about it (Harry Potter fans think alike). They searched for the term, found my photo and left a polite, non-spammy comment. I sat in amazement at their Instagram savviness and immediately followed their account.
Boom! New follower, new company advocate.
Create Conversations. After you've listened to conversations and scoured the most used hashtags (find an updated list here), start your own conversation that inspires followers to join in.
HomeGoods inspires followers with their hashtag #homegoodshappy, which capitalizes on their typical customer who loves uncovering great shopping finds. Roughly 2,500 photos have been marked with the hashtag, and it has been used as part of the store's photo contest with success. HomeGoods truly understands their customers, even creating their own meme with them in mind.
Whether its branded or un-branded, create a conversation that adds to one Instagram users are already having (with or without you).
Share super inspiring images. The everyday Instagram user can get away with oversaturated, grainy photos, but you, the brand, cannot. The standard is higher for companies - whether you have a marketing department and a budget or not.
Treat every photo like a set. Be creative and have fun. Your fans are watching...
Popular in the Community