Last weekend we had a mini reunion with Z's side of the family. One of Z's sisters is a professional photographer so a photo shoot is always part of our gatherings.
Before we had kids I really dreaded the photo shoots. My anxiety disorder comes with a side of self loathing that is so obsessive it is its own type of narcissism. I am sure everyone who sees me is overwhelmed with pity and disgust. As I've learned to manage the disorder I've come to the realization that most people are not wasting their time thinking about me at all. Score one for therapy.
Anxiety disorder aside, I don't think my discomfort is unusual when it comes to having my photo taken. For 37 years I've been bombarded with images of female beauty heavy with subtext that both says I must strive to achieve perfection and implies that I never will. For 37 or 27 or 17 or 57 years you have received the same message. If you have enough self confidence to ignore popular culture and advertising, I admire you. I also think you are very much in the minority.
Since I started running a year ago I've been Instagraming post-run selfies using no filter. I'm proud of my running, I feel strong and more comfortable in my body. I also think we don't see enough pictures of real women. Women who are careening towards middle age, who have forehead wrinkles and freckles that are fast becoming age spots, who are sweaty and red faced after working hard, who are not wearing a lick of makeup. So I post those pictures myself. I post pictures of the woman my boys see every day to combat the images of perfect women who do not exist.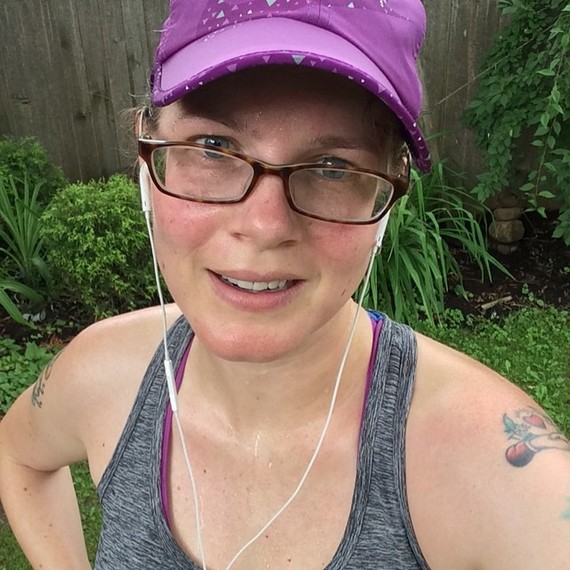 I try to be satisfied with who I am. I try to not focus on who I'm not. Do I succeed? Well, not very often. But I try, and that is what matters.
And having my boys has changed everything. I want pictures of our family. I'm grateful that my sister-in-law is such a talent and that she shares her gift so generously. Her nature shots are lovely, but I prefer her work with people. I don't know much about photography, but it stuns me how she can photograph humans with such compassion. She brings out the best in her subjects. Joy and humor and beauty radiate from her shots.
She edits her work like any photographer who shoots digitally. What she doesn't do is use photoshop to achieve perfection. As an avid mommy blog reader, I've seen a lot of tutorials on how to photograph your kids over the years. So many of them are primers on how to airbrush the hell out of your children. How to remove the baby acne or uneven skin tone or even scrapes and bruises.
Why do we do this to our kids? Why do we show them that they aren't good enough from the day that they are born? Why do we need to fix them rather than enjoy who they are? Perfection is not only impossible to achieve, it is flat out boring.
Looking at photoshopped images of models is bad enough for our collective self-esteem. What will photoshopping our kids to look like they stepped out of a J. Crew kids catalogue lead to?
That photo shoot this weekend? My sister-in-law was able to execute an idea she'd seen online that would have been impossible without the magic of photo manipulation. But she fooled around with a cardboard box, rather than the faces of the kids inside that box. And the picture captures exactly who the five cousins in our family are. She created a picture our family will always love.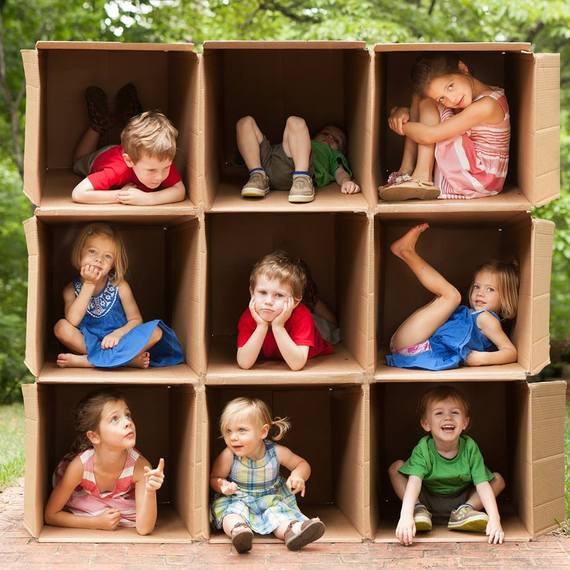 Photoshop used for good rather than evil.
Related