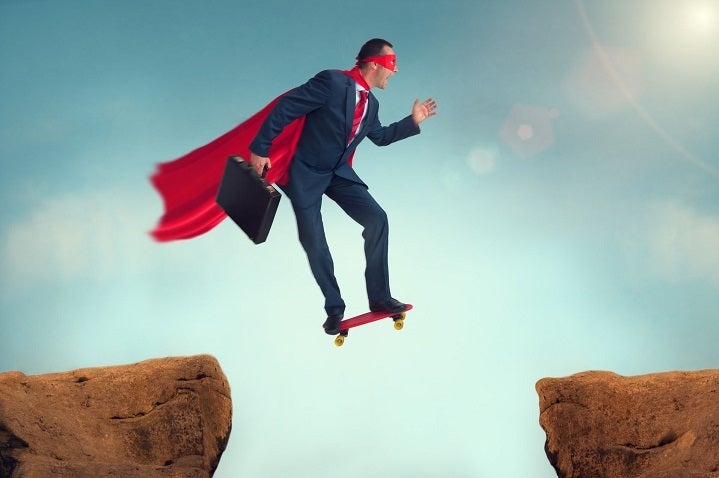 Many of us stand at the crossroads of a bewildering array of interests. At any given point, we may be pursuing a successful career in product management while also toying with the idea of getting a PhD or opening an art gallery. We may be walking down the path of becoming a doctor but are tempted to drop everything and become an author instead.
Humans are fabulously multidimensional, so we often dabble, pivot, and ponder. We're both very curious and very scared -- but it's often merely a lack of knowledge or experience that prevents us from making a decisive leap in a promising new direction.
So how can we feel safe pursuing something that seems like just a vague dream or instinct?
I made one of those rare decisive leaps myself just last month: from working full-time in international project management to becoming a freelance writer. It was the culmination of three years of experimenting with little ways to test if this parallel life was viable and gaining enough knowledge and experience to eventually affirm my instinct.
Prototyping Applies to Passion, Too
With this major junction in my life behind me, I found myself in the start-up capital of Europe, discussing rapid prototyping with good friend and serial entrepreneur, Till Leinen. Till works as a Hacker in Residence at Founders, a Copenhagen-based incubator, and had flown to Berlin to pitch his latest idea to stakeholders and prospective clients.
The incredible part? His idea was only two weeks old.
I was immediately intrigued. We perched on graffiti-blasted benches in a trendy part of the city as he described his company's approach to rapid prototyping. It's a process that typically involves a team brainstorming a long list of ideas on Monday, picking one on Tuesday, fleshing it out on Wednesday and Thursday, and deciding whether to kill it or run with it by Friday.
Till pitched a new idea every week for four weeks at their internal show-and-tell meeting before settling on the one he brought to Berlin.
As Seth Godin has often said when asked how we can determine what passion to pursue and where to invest energy as multi-talented individuals (or just people restless in the face of our own potential): "It doesn't matter what you pick. It just matters that you pick."
And Till's team at Founders is very good at picking.
When they don't kill an idea (and that's okay), they develop a prototype and start talking to the market as quickly as possible. They find the most efficient, straightforward, and inexpensive way to understand the viability of their idea and then continuously reiterate based on new knowledge.
Not only is this an excellent approach for aspiring entrepreneurs, but it's a method that can be applied to anyone balancing interests in a wide variety of career and life paths. We can ask ourselves: What are the most efficient, straightforward, and inexpensive ways to determine if our own dreams could become reality?
Starting-up New Careers
A few days after catching up with Till, I befriended successful Los Angeles painter and mural artist Wyatt Mills and his talented intern Cagla Akpinar, who turned out to be a perfect example of someone using straightforward and practical ways to prototype an unconventional career path.
Cagla is an aspiring sculptor and painter from Turkey who's found a way to shadow professional artists across Europe using an approach unheard of in her home country: she finds artists she admires on social media, sends them her portfolio, and offers to help them in exchange for an opportunity to study their craft.
Her gutsy but sensible approach to studying art has led her to work with Wyatt, now living as a freelance artist in Berlin, as well as Spanish artist Manuel Perez.
Inspired, I began to look for more people who were applying start-up principles to their lives and careers. I attended a dinner party with San Francisco yogi, Danielle Barnett, who had been a fixture in San Francisco for years, hosting women's circles, teaching yoga and meditation, and creating a wide variety of community initiatives before moving to Germany.
Danielle started hosting workshops and yoga classes in her home in the Bay Area, slowly building a community and earning income, which eventually allowed her to rent space and formalize her business. Instead of being intimidated by the logistics of becoming an instructor and breaking into a saturated market, she had the courage to start teaching in the space that was available. Efficient, straightforward, cheap, and practical.
There are many ways to rapidly prototype your career: A friend from New York left her job in a neuroscience lab at NYU and, curious about the business world, got an internship (at 28) at a fashion start-up. Three years later, she's affirmed her interest and is now pursuing an MBA.
James Lu Morrissey took a three-month sabbatical from a job at L.E.K. Consulting in 2015 to hustle his idea for an international edtech start-up into full-time viability. He never went back to consulting and now runs the now wildly successful Shearwater International with his best friend and CEO, Jackson Boyar.
I side-hustled my blog and freelance writing business for three years before making the transition. Another friend with a passion for cinema studied physics as an undergrad, landed a dream job working for a Hollywood film studio, got fired, and (happily) applied to graduate school for engineering. He's now studying to become a space scientist.
All of these people experimented with their interests, took risk in bite-sized pieces, and embraced the inevitable process of trial and error. Some of them tested and tossed out possibilities, others found manageable ways to grow their passion.
As Founders says, "We believe that we always gain valuable knowledge from prototypes — even the ones that we decide not to move forward with."
Experiments, like the ones described above, always lead to new knowledge and understanding. So whether you're bootstrapping a new business idea or contemplating a risky career transition, picking anything and trying is better than picking nothing at all.
Calling all HuffPost superfans!
Sign up for membership to become a founding member and help shape HuffPost's next chapter
This post was published on the now-closed HuffPost Contributor platform. Contributors control their own work and posted freely to our site. If you need to flag this entry as abusive,
send us an email
.