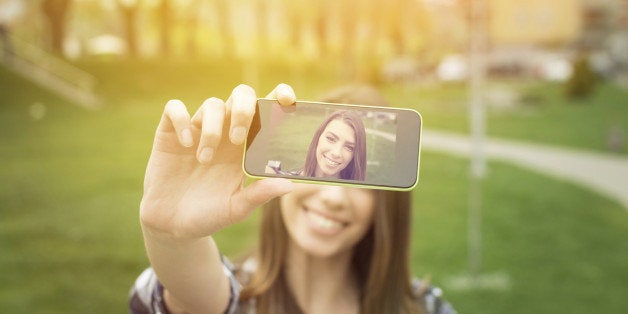 Are you looking for ways to get additional mileage out of the content you create and save some precious time when it comes to social media? By pairing up two popular social platforms, Snapchat and Instagram, you can create unique content to help you connect with your audience.
Snapchat and Instagram are two of the fastest-growing social networks in the world, but each one has its own unique strengths. Using them together can be a powerful way to reach new audiences and raise the profile of your business.
It allows you to take advantage of Snapchat's unique features in your Instagram posts, helping your content stand out from the crowd. But you'll also be building your following among people who prefer Snapchat, and letting your Instagram followers know that you're active on both. In this post, I'll show you how to use Snapchat to create unique Instagram posts and keep both of your audiences entertained.
How to Get Started with Snapchat
Snapchat and Instagram go hand in hand as part of a creative marketing strategy. If you're already on Instagram, you should definitely be on Snapchat too. Both are platforms that rely heavily on visual content, and both target similar demographics, with 71% of Snapchat users under the age of 35, and a whopping 90% of Instagram users under the age of 35.
If you're already on both, you can jump on down to the next section.
If not, start by downloading the Snapchat app for iOS or Android and setting up your brand there, preferably with the same username you have on Instagram so people can find you easily. Please note that the directions in this post are for the iOS versions of Snapchat and Instagram. Android users may find features differ slightly.
Once you've set up your account, tap on the ghost icon at the top center of your Snapchat screen and take a screenshot of your snapcode, or profile picture. Then share it on Instagram. That will help get your Instagram audience connected to you on Snapchat and get them ready for your new style of posts.
How to Create and Save Snaps for Instagram
Once you're on Snapchat and people start adding you, you'll want to keep them interested and looking forward to your future posts by sending them direct snaps (like private messages) or publishing stories (like public updates).
With Snapchat, you can record up to 10 seconds of video, which works out well, because Instagram only lets you upload 15 seconds of video. But when you use Snapchat, you'll be able to add filters, emojis, text, and more, going well beyond the relatively conservative features of Instagram.
After you've captured the perfect video for your Snapchat audience, be sure to download it using the icon at the bottom left. This will save it to your Camera Roll / Photo Library.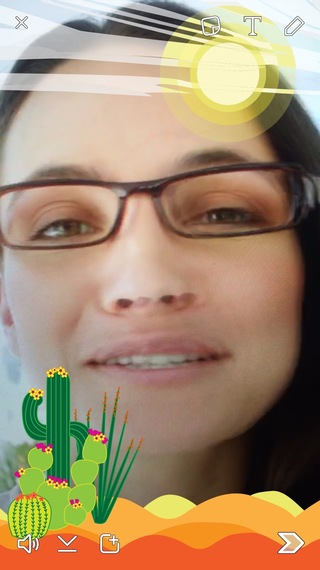 Note these screenshots only look fuzzy because they are screenshots from a mobile device of a video. The video itself is sharper quality.
How to Upload Snaps to Instagram
One thing to note about said filters, emojis, text, and more in Snapchat is that most of the filters are geared toward portrait mode. This means things like location filters (like the lovely desert landscape that you'll get if you're traveling in the Phoenix area) appear at the very top and bottom of the screen, and are almost completely cut off by the Instagram default square cropping.
Even when you adjust the framing, you still don't get the full view. Using the example above that we downloaded, here's what it will look like when you bring it into Instagram.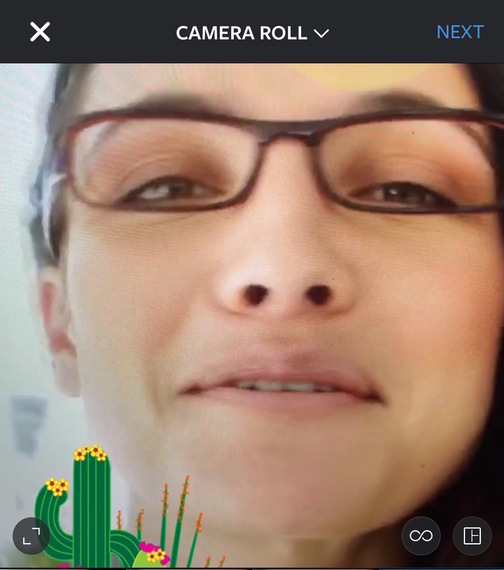 And here's what it will look like when you adjust the cropping.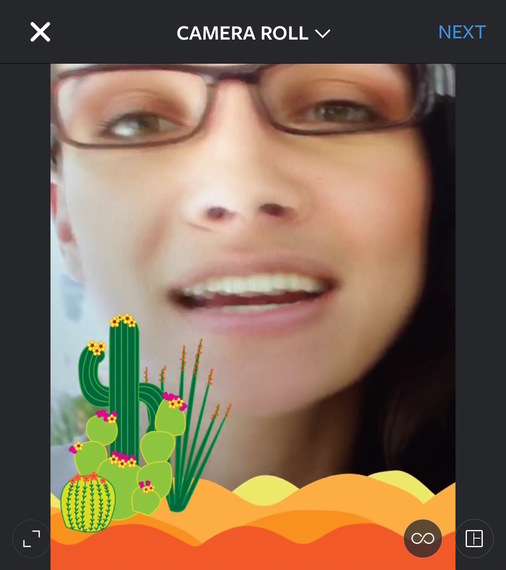 While you still don't get the entire video that you would in Snapchat, you do get more of the special Snapchat filter than you would with the square cropping. It's something to keep in mind when you add in filters, text layers, or simply when positioning yourself for snaps that you specifically plan to also share on Instagram.
You could try to record your Snapchat video in landscape orientation. But if you are actually planning to share that video on Snapchat, it would be seem a little weird to other seasoned Snapchat users who are used to portrait. Plus, most of the filters are made for portrait orientation usage, so you'd have some awkward filter positioning. The text strip would work just fine though, as would the use of the drawing tool.
From this point, you caption your post in Instagram as you would normally, add your location if applicable and some good hashtags, and share as usual. Also be sure to add the hashtag #snapchat so people recognize that it's a Snapchat post.
Adding that hashtag not only opens up a new audience for you, but it also lets people know that they can find more content on Snapchat too.
Creative Uses for Snapchat Crossposts to Instagram
Aside from individual photos, there are many ways you can use Snapchat to create creative crossposts over to Instagram. You can add filters by swiping left or right, and with video that includes a slow motion, or rewind option. Snapchat allows you to add in emojis, or type text and draw over your snaps. You can also use Snapchat's lenses to add a whole new perspective to your Instagram selfies. To access lenses, touch and hold the screen when the camera is facing you.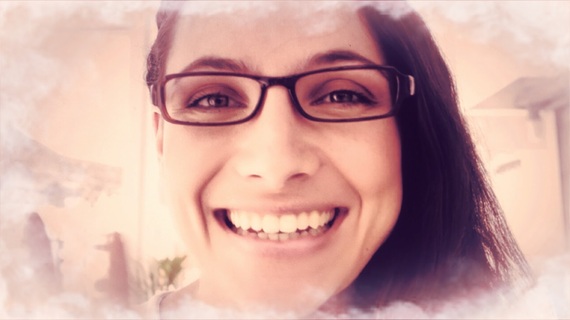 If selfies fit into your business model, such as if you're trying to break into the fitness market, keep an eye out for sponsored ones on a daily basis. Sponsored snaps are branded filters or animations that you can use for free. It can help you jump on trending topics like the #reallyreallyridiculouslygoodlooking hashtag for the new Zoolander movie, which might help you grow your following. Or any businesses that had anything to do with dogs could have jumped on the Snapchat selfie lens for dogs that turned any dog into Dug from Up.
Crossposting Beyond Instagram
Crossposting doesn't have to end at Instagram. You can download your full Snapchat stories at the end of each day and make sure they live on by uploading them to Facebook, YouTube, Pinterest, and other networks, if you so choose.
The goal is to get the most mileage out of your content as possible. Plus, it will allow you to continue to grow your Snapchat audience. Everywhere that you share your Snapchat content, you can include your Snapchat username or the new Snapchat URL that people can click upon to add you as a connection - assuming they are on their mobile device and have the Snapchat app installed.
In essence, by using content from one network to the next, you can create unique content while making sure that people who prefer to be on one network over another still get to hear from you. That will ensure that your brand will always be on the top of people's minds. And with Snapchat, in particular, you will be on their minds in unique and creative ways.
Do you already or plan to use Snapchat to enhance your Instagram posting strategy? If so, share your unique tips in the comments!
REAL LIFE. REAL NEWS. REAL VOICES.
Help us tell more of the stories that matter from voices that too often remain unheard.