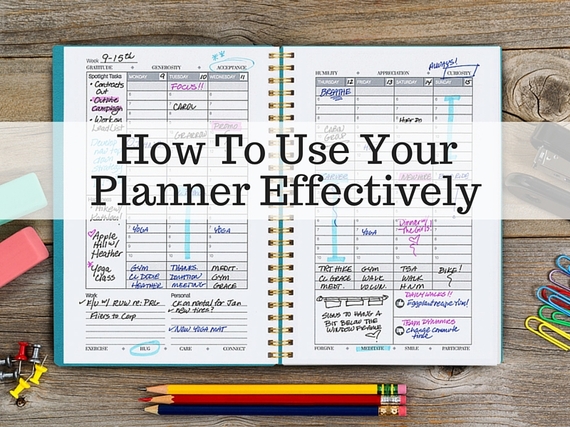 You have a bright, shiny new Planner! How exciting! A new year is coming and lots of big plans are in the works. You're motivated, ready to get rolling, this is going to be the year! Right?
A Fresh Start

I love the giddy excitement of new beginnings. It feels like anything is possible, Santa Claus is real and Hugh Grant really is going to show up on my doorstep. Sigh.
But how do we actually hang on to that excitement throughout the year?
Well, actually, we don't. Sorry, Virginia, there really is no Santa Claus. But we can create the year we had planned, or something similar, and give ourselves an exciting new reality which will give us good feelings in a different way.
The first step is using our new Planner in the most effective way possible.
Choosing the right Planner for you is the first step. With so many on the market, it's easier than ever to find one to suit your needs. Take stock of what your most important scheduling and planning issues are. This will help guide you in your selection.
Family organization
Community activities
Professional
Volunteer Commitments
Exercise & Health Goals
Meal Planning
Goal Setting & Achievement
Self Improvement
Which of these areas are most important for you? Choose a Planner that focuses on those goals and tasks.
Spend some time thumbing through all the pages of your new 'best friend'. Most quality Planners are chock full of unique features to help you organize and effectively plan your days, weeks and months. However, with all those features, it can be a little confusing and overwhelming figuring out what to do with all of them. Spending some time learning what each of those features are and how you can best use them will serve you in big ways throughout the coming months.
Like any new relationship, you're only going to get out of it what you put into it. Use your new Planner daily, all day. Take it with you, add new activities, make notes in it and don't be afraid to get it dirty.
It may take a few weeks to get used to the new routine, but once you two get to know each other, the rewards will start flowing in.
Calendars and More Calendars
Most Planners come with a number of calendar layouts, each with it's own purpose.
You'll usually have annual calendars for the current and following year. Use these for a broad look at long range planning.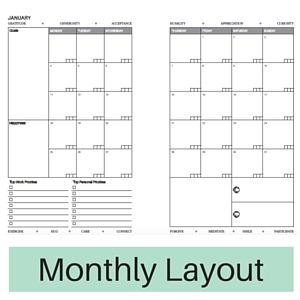 Use your Monthly Calendar layout to plan out the big goals for the month, schedule out appointments, block out dates and give yourself an overview of your schedule.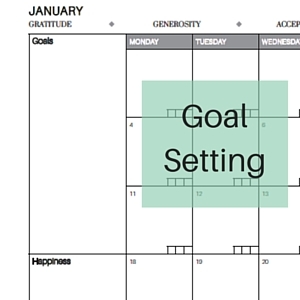 Highlight the top priority goals, both personal and professional (if applicable). If you're working with a Goal Program, this is where you want to first start scheduling your tasks.
If your planner has those 3 little boxes in the bottom corner of each day, and you've always wondered what they were for -- your wait is over! These are customizable activity trackers.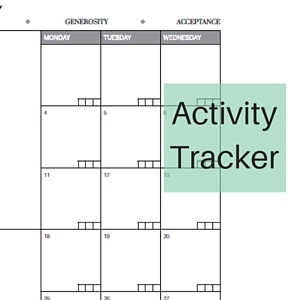 You choose what it is you want to track for the month: fitness goals, gratitude goals, being 'on time' goals, whatever you want to improve on. Use these boxes to check off your progress. I'll often note what the focus is for the month in the 'notes' box is at the bottom of the page to keep me on track.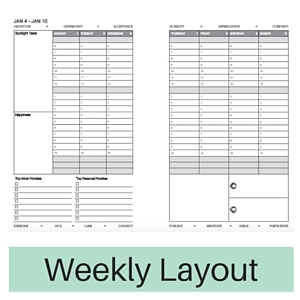 With your Weekly Layout you'll want to get more specific with your time and tasks. Hourly schedules allow you to focus clearly on your day and block off times for appointments, personal time and family time.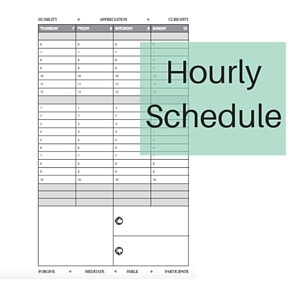 On the Weekly Calendar pages you can note your Spotlight To-Do's as well as Personal Activities to maintain a balanced life.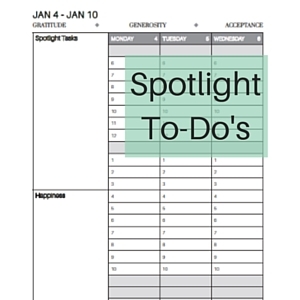 Color coding different activities is a very effective way of organizing your planner. You'll be able to see in a glance what your day and month looks like.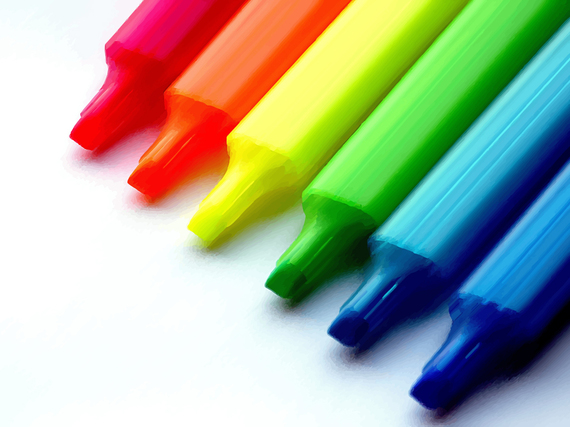 Highlighter markers or colored pens work equally well.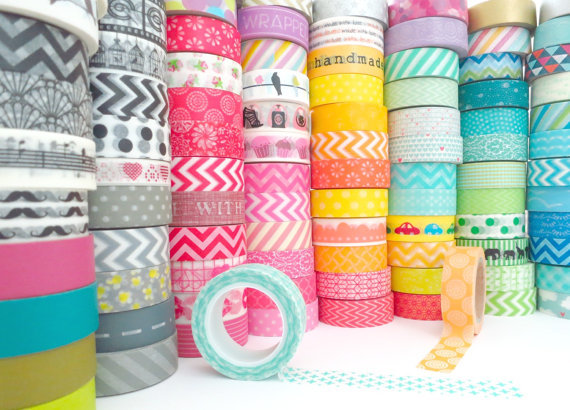 Washi tape is also a popular choice for Planner organization. Removable, writeable, and available in a wide range of styles and colors. You can experiment with all the choices and see what works best for you.
Every Planner has it's own focus and set of added features. Be sure a take advantage of those provided in yours.
Make 2016 Your Best Year Yet!
A Planner can give you focus, keep you on track and help you achieve all the goals you have in mind.
Here are the the most important points to help your planner help you:
Choose the right planner for your needs
Get to know your planner
Spend time using your planner
Color code for easy organization
Use each calendar for it's specific application
Here's to a Fabulous 2016!
Calling all HuffPost superfans!
Sign up for membership to become a founding member and help shape HuffPost's next chapter