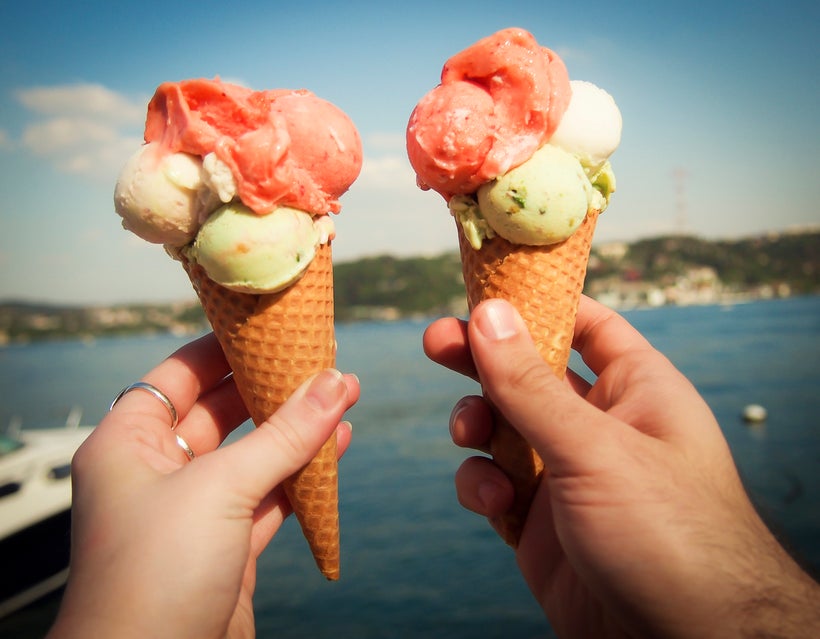 Putting a vacation on a credit card can be the equivalent of financial self-destruction. Not only does this practice encourage overspending, but you also end up paying double-digit interest rates, taking years to pay off your trip. Ouch.
Don't charge your next vacation!
The biggest mistake people make when they plan a vacation is they book more vacation than they can afford. People often fail to take into account all of the ancillary charges that will come up. If you don't define a budget, and aggressively evaluate your spending each day, the credit card bills can be a painfully shocking surprise when you return home. To avoid this, consider using cash or pre-paid debit cards while traveling so you don't overspend." Here are some other helpful tips and travel tricks to help you plan and live within your budget on your next vacation.
Follow these tips so you don't suffer from "Vacation-Debt-Shock" later:
Pick a destination based on your budget. Not all destinations are created equal. Off the beaten path beach trips may be half the price of popular destinations. Off season travel and places closer to home are also effective ways to control costs. A good rule of thumb is to budget approximately one week's household income for your annual vacation, and start planning and saving sooner rather than later. Once you have established a hard and fast number for the cost of the trip, keep it a priority in your budget.
Think outside the box to control costs. Many of the costs of travel are variable: Transportation, lodging, food, and even expenses like Wi-Fi can add up quickly, especially if you are staying at a hotel or resort. Consider the following to control or reduce these costs:
Consider a Bed & Breakfast, home exchange, or rent a room through AirBnB instead of a hotel. If you are traveling alone, or with just your significant other, renting a room via AirBnB can net big savings.
Renting a condo, instead of a hotel, with the ability to prepare breakfast and lunch each day can generate a significant savings over eating out 10-14 additional times over a 5-7 day vacation. Be frugal during the day, and splurge a little for dinner.
Compare transportation options – Do some research and calculate the cost of different transportation options: Consider multiple connecting flights vs. non-stops to save hundreds of dollars per person. You can also compare the cost of traveling by train or car to save even more on shorter trips.
Plan in advance and get organized - Be sure to plan well in advance to get the best rates on hotels and airfares. Also consider off-peak travel times and dates such as early morning flights, or dates when kids are heading back to school. Avoiding peak holiday travel periods can mean as much as 50%-75% off airfare and hotel room rates.
Cut the Cord and say no to expensive resort Wi-Fi charges – Many wireless plans today offer the ability to buy additional 1GB blocks of data between $5 and $15 per GB. Call ahead and see if the condo, hotel or resort offers Free Wi-Fi. If not, skip the hefty $10-$12 per day (Plus Tax) charge and just add 1-2 GB of data to your existing plan.
Automate your savings. Once you have decided when and where to travel, decide how much you intend to spend and automate the savings process to ensure you don't end up financing your vacation on a high interest credit card. One of the simplest ways to save is to divide the number of weeks until the trip by the amount you plan to save and put that amount into savings each week. If you can allocate the money directly from your paycheck, you will tend to adjust your spending to the lower amount. Create an auto draft from your checking to savings accounts on your payday to eliminate the temptation to spend it. You will need to make some short-term spending adjustments to your household budget, but if you are diligent in your savings plan, you will return from vacation rested, relaxed and stress free knowing that you won't be spending the next year paying off your vacation.
Add incremental money to the account whenever possible. Every day empty your pocket of change and even one dollar bills into a jar. Get aggressive about saving and even make a completion out of the exercise. Take the savings at the end of each month and add the funds to a pre-paid, reloadable debit card. Once on vacation, use this card for incidental expenses instead of your credit card to eliminate overspending and financing your vacation on credit. Make it fun! You can even create a competition in your family: whoever gathers the most change picks where to eat dinner the first night of your trip.
Find money by selling unused items. Clean out your closets, attic, and garage and take a hard look at anything you haven't used in the last year. Have a garage sale to sell what you can. Take any used sporting equipment such as skateboards, skis, snowboards, and lightly used exercise equipment and sell or consign it to a resale shop specializing in these items.
Get a Part-Time or Seasonal Job to Save for Your Next Vacation. You don't have to change careers or make a long-term commitment, but consider getting a second job, weekend job, or just contract for odd jobs using your skill set on site like Freelancer.com, Fiverr.com or Upwork.com. Try to find the time, 2-3 days a week, to dedicate to making some extra income. By earning as little as $50 per week at a second job, you can add over $1,200 in additional savings to your vacation budget in just six months.
Vacation Layaways. Similar to retail layaway options, vacation layaways have become popular in recent years. Gate 1 Travel, Sears, and dedicated travel sites often offer payment plans for vacation packages. Payment plans range from a few months to 18 months, reducing the monthly payout for cash-strapped families. Trips can start at a few hundred dollars per person, bringing payments to $50 or so per person for low-end trips not requiring airfare. Be on the lookout for added fees, cancellation policies, and other costs that can add to the cost of the vacation without adding value.
Vacation days are a precious commodity that gives you time with family and friends and leads to happier more productive lives. Avoid adding debt to your balance sheet and stress to your life by pre-funding your next vacation.
Ryan Sasson is the CEO of Strategic Financial Solutions. He co-founded the company in 2007. A native New Yorker, Ryan has almost two decades of experience starting and growing businesses in the region. Before founding Strategic, Ryan was the president and founder of Timberline Capital, one of the largest Merchant Cash Advance companies in the country. Ryan is a member of YPO Metro and in involved with multiple charitable organizations. Ryan holds a Bachelor of Science in Business Marketing and Business Management from Tulane University and is currently enrolled in the Presidents Program at Harvard Business School. Meet Ryan and say hello via LinkedIn.
REAL LIFE. REAL NEWS. REAL VOICES.
Help us tell more of the stories that matter from voices that too often remain unheard.
This post was published on the now-closed HuffPost Contributor platform. Contributors control their own work and posted freely to our site. If you need to flag this entry as abusive,
send us an email
.