Are you a Zinfandullard? A pinot-know-nothing? A sauvignon blanc slate? Interested in wine -- or trying to attract someone who is -- but still such a rank beginner that you practice pronouncing "Viognier" and "Valdobbiadene" (accent on the second a, thank you very much) while driving alone in your car?
At that stage of the game, visiting vineyards, wineries and tasting rooms in person presents many amazing opportunities -- to learn, but also to commit horrible blunders that might make you curl up into a ball and cry at the mere sight of a cork for the rest of your life.

To save us all from that fate, I asked three experts for their insights on enological etiquette. Ponder these tips before venturing vineyardward.
"A polite visitor, before taking any actions, addresses himself to the responsible vineyard worker or vineyard guide -- e.g. asking whether he can taste grapes and which ones are the best to taste," advises Laura Ellwanger, press relations manager for the Donnafugata wine company -- at whose vineyards near Palermo, Sicily I did exactly that during my visit last month: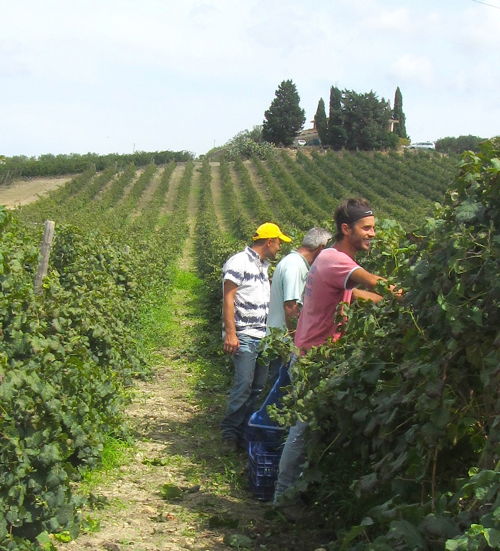 A polite visitor also "asks before shooting pictures," Ellwanger adds.
"Follow the lead of the winemaker or whoever receives you. Most of the things they do, they do with a purpose. For example, if they have you taste reds before whites, don't say, 'That's not the way to taste wine.' Instead, ask, 'Why do you prefer to taste reds before whites?' Or if you think the red is served too cold, don't complain. Instead, ask what they think is the ideal serving temperature," suggests Per Karlsson, who visits hundreds of wineries around the world every year as a guide for BKWine Tours, which he co-owns with his wife Britt.
I followed along respectfully and didn't ask any rude questions while tasting reds and whites at the Tenute Rubino winery in Brindisi, Italy: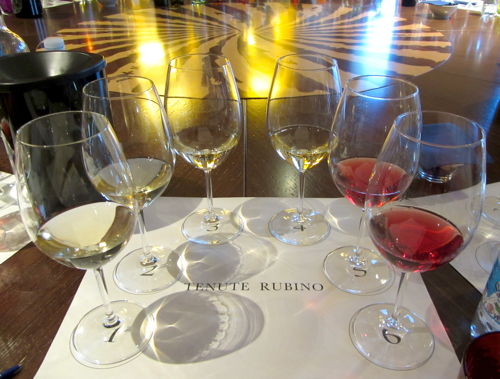 "Don't chew gum, smoke, talk on your cell phone, wear perfume or cologne, interrupt or be disrespectful" when visiting a winery -- which may or may not have a vineyard attached to it, offers Suzanne Phifer Pavitt, proprietor of Napa County-based Phifer Pavitt Wine. "Be open and enthusiastic and welcoming as the winery tells you its story; ask questions; be appreciative if the staff pours you something unusual or gives you some tips about other places to visit or things to do in that area."
I was appreciative when the co-owners of the Firriato wine company recommended a hike to the mountaintop Castle of Santa Caterina, visible from Firriato's seaside vineyards on the island of Favignana, off Sicily: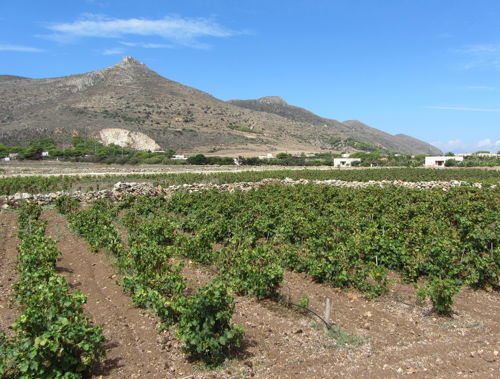 But don't "talk about what you've learned that other wineries do, or what winery club you belong to, or what another winemaker or winery owner just told you," Phifer Pavitt warns.
Although certain customs vary from country to country, "in most cases you should not grab the bottle and serve yourself wine," Karlsson says. "If you want to taste some more of [anything], ask for it. They will be glad to serve you."
That was true at Firriato's other estate partway up Mount Etna, where I wanted more and more and more angel-sweet passito:
"Do not hesitate to spit the wine. If there is no spittoon, ask for one. It is not rude to spit. It is more of a sign that you take tasting wines seriously," explains Karlsson, who has also coauthored several books on wine and publishes BKWine magazine.
Those black vessels on the table in Tenute Rubino's tasting room are indeed spittoons. Ptooi!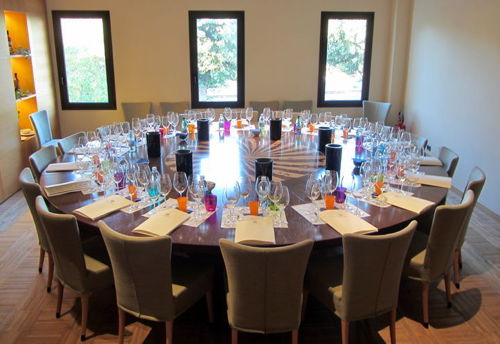 "Ask questions, mostly about what makes [these] wines distinctive from others," Phifer Pavitt advises. "Be inquisitive; don't be a bump on a log!"
"If you visit a winery with a group, try and listen to what the winemaker says and don't stand in a corner chatting with your friends. He's talking to you, you know," Karlsson adds. "The single most important thing to do in order to get the most out of your visit is: Be curious; ask questions. Give feedback to the winemaker about his wines. I can promise you that he is curious to know what you think."
Asking questions and offering feedback can be tricky for shy newbies afraid to reveal how little they know. At Donnafugata's tasting room in Marsala, I played it safe by commenting on the colors of various wines -- comparing them to amber, topaz, garnet and stained glass:
And keep your eyes open, too:
"Visitors should look out for the visual aspects of the vine -- its leaves, grape bunches and berries," Ellwanger explains. "Color, shape, productivity and of course the integrity of the plant" -- the presence or (ideally) absence of diseases, dead leaves and mold -- "can help visitors to distinguish different varieties and can maybe tell them something about the vintage and make them understand how meticulously a vineyard was tended."
That was easy at a vineyard owned by the Masottina wine company on the "Prosecco Road" north of Venice, where glorious jade-green glera grapes -- the only type from which prosecco can be made -- await their sparkly fate: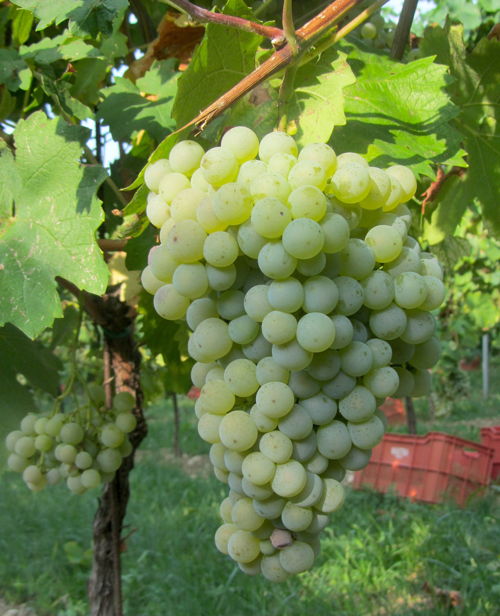 "Look at the vines, the grapes, the soil. Ask why they do it the way they do it," Karlsson suggests. "For example, ask: 'Why do you have such dense plantation? Why do you trellis so low? What type of soil do you have?'"
At Firriato's Favignana estate, literally a stone's throw from the beach, the seaweed-enriched soil is studded with fossils: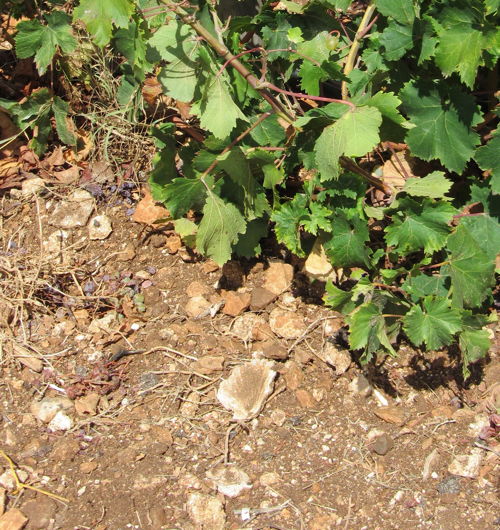 Inside the winery itself, keep looking:
"No, it is not true that one stainless steel tank is just like any other. How the inside of a winery looks can tell you a lot about the philosophy of the winery and the winemaker and about the style of the wines that they make. Plus you may even get the chance to taste some fermenting grape juice if you are lucky," Karlsson adds.
I got exactly that lucky at Donnafugata's winery on the island of Pantelleria, off Sicily and near Tunisia: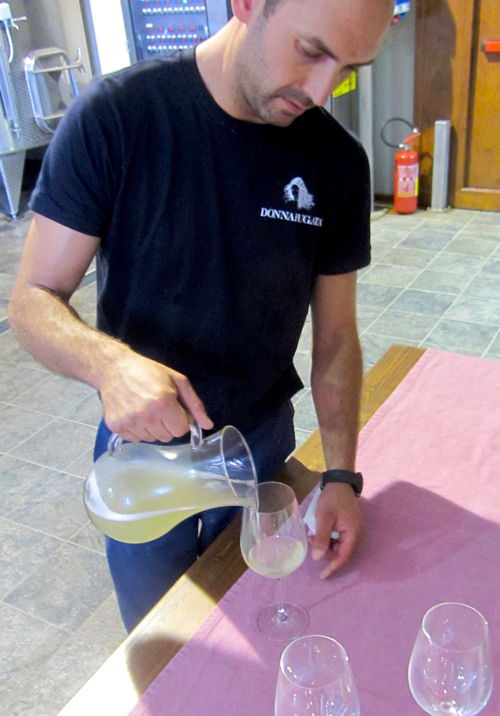 Speaking of luck, hedge your bets:
"Find out the winery owners' interests besides wine. Art, musical instruments, gardening, cars, recycling, etcetera: Often a winery owner is interested in lots of things other than wine, so showing interest might get you some type of special treatment," Phifer Pavitt confides.
So true! You might not guess at first glance that Donnafugata's co-owner José Rallo is a jazz singer: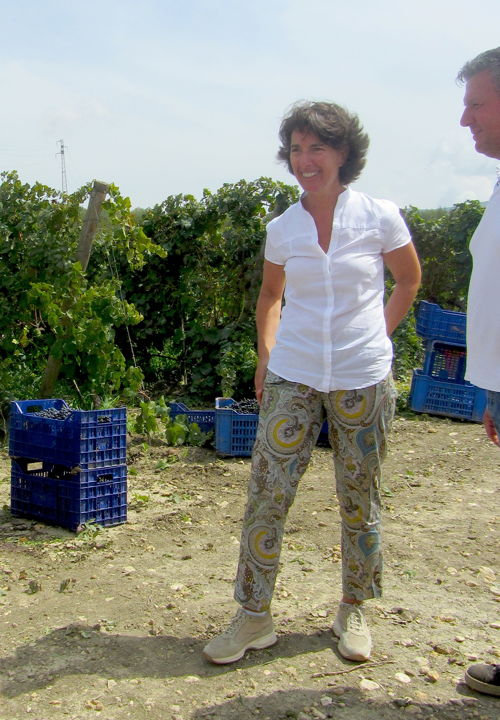 "For sure the most interesting period in which to learn the most about a vineyard and vineyard work is right before harvest," when visitors can examine firsthand "the composition of the soil, the training system, the planting density, the exposure and the respective influence on the vine, and can also see and taste the 'result' of all the decisions made and the work done before," Ellwanger opines.
At Tenute Rubino's Jaddico estate near Brindisi, the harvesters are -- and always have been -- women: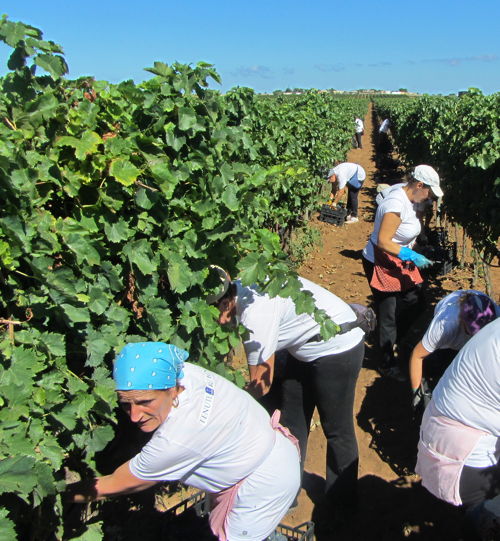 "The business of a winery is to sell wine," Phifer Pavitt reminds us, "so the absolute most important thing you can do is buy wine."
Karlsson disagrees: "You should not feel obliged to buy. Most wineries understand that you come from far away and cannot carry home a lot of bottles. However, [the typical winery] will be more than happy to sell you some bottles -- with the exception of some Bordeaux chateaux who don't sell anything at all."
He also strongly recommends contacting wineries before you plan to visit, "especially in Europe. In New World countries, wineries are often equipped with tasting rooms and shops and perhaps even restaurants with staff that can handle drop-in visits. That is often not the case in Europe, where wineries are smaller and less oriented towards tourism."
Masottina is doing its part to change that by building a massive 30,000-square-foot, four-level, sustainable and largely subterranean complex comprising a winery, wine shop, tasting terrace and conference center now under construction near Ogliano, on the Prosecco Road: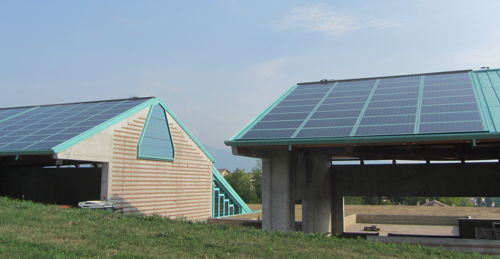 "Do a little homework," Karlsson urges. "Know a little bit in advance about the wines and the region. For example, if you visit Chablis in northern Burgundy, you don't want to ask, 'Do you ever use Chardonnay for your whites?' -- because 100 percent of Chablis is white and 100 percent is from Chardonnay," Karlsson points out.
"And -- but surely I don't need to say this -- don't drink too much."
All photographs are by Kristan Lawson, used with permission.