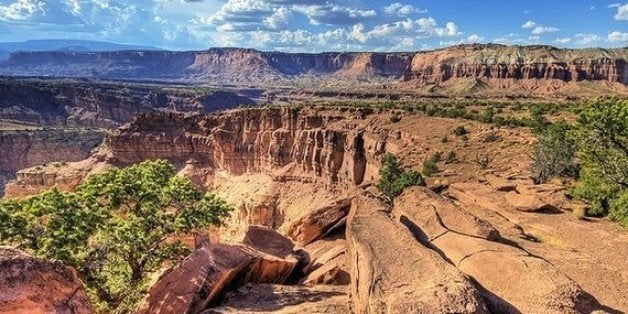 In case you hadn't noticed, the U.S. is home to some of the greatest national parks in the world. The best part: if you do your homework, you can visit them for free. Here's how.
Enroll in the Every Kid In A Park program
Get ready for the ultimate family national parks road trip adventure! Starting in September, fourth grade students around the country can sign up through the Every Kid In A Park website to receive a voucher for free entry until Aug. 31, 2016 to U.S. national parks and public lands for the student and up to a carload of people. Translation: you and your family will get the chance to see wildlife and spectacular natural wonders up close -- just remember to stay in your car when the urge to take that perfect bison photo suddenly hits.
Visit during free admission days
The good news in case you didn't get a chance to visit your favorite national park today during the 99th anniversary of the National Park Service, you can still take advantage of free entrance days on Sept. 26th (National Public Lands Day) and Nov. 11th (Veterans Day). Next year, you'll also be able to score complimentary admission on Martin Luther King, Jr. Day, Presidents' Day weekend, National Park Week's opening weekend, and on Aug. 25th, the 100th birthday of the National Park Service.
Current military members and their dependents, families of deployed service men and women in the U.S. Navy, Army, Marines, Air Force, and Coast Guard, and most members of the U.S. Reserves and National Guard can pick up a free annual pass at any federal recreation site by showing a valid current military ID.
U.S. citizens with permanent disabilities are eligible for the Access Pass, a free annual pass that must be obtained in person at any federal recreation site or you can pay a $10 processing fee to submit your application online.
Have you volunteered with a federal agency (ie. the National Park Service, U.S. Forest Service, U.S. Fish and Wildlife Service, Bureau of Land Management, or the Bureau of Reclamation) for more than 250 hours? You can apply for a free Volunteer Pass by applying through the Interagency Pass Program or by visiting Volunteer.gov for more information.
Seniors get in for (almost) free
If you're over the age of 62, you can pay just $10 for a Lifetime Pass if you apply in person at any federal recreation site, or $20 for a processing fee if you choose to apply via mail. The pass also includes a 50 percent discount on certain fees that are normally charged by the parks for camping, boat launches, swimming, and other activities. Please note that Golden Age Passports are no longer being sold, but will be honored if they've already been purchased.
We're huge fans of our national parks and try to visit them as much as possible. In Hawaii Volcanoes National Park, I had the chance to view lava from the visitor center, walk through the dormant Thurston Tunnel, and hike along a path that looked down onto active steam vents. In South Dakota's Badlands National Park, my other favorite, each stop at one of the "scenic overlook" markers becomes a scene you'll never forget, a postcard with every view. Want to visit a handful of amazing national parks and monuments in one road trip? Try Southern Utah's National Park circuit through Capitol Reef, Bryce, Zion, Arches, and Canyonlands -- with a stop at Monument Valley in Northern Arizona -- for the summer road trip of a lifetime.
We want to know: which national park is your favorite? Is there a certain one you keep going back to? Which ones are still on your travel bucket list? Sound off below!
Related