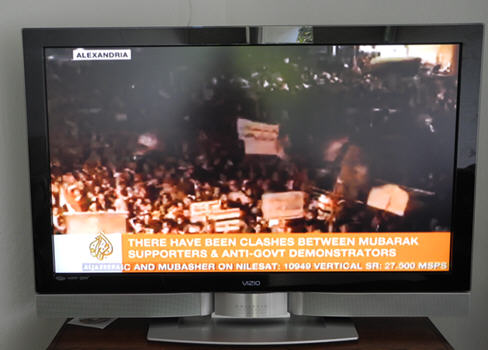 Live Al Jazeera English program on TV via the Roku (Photo credit: Larry Magid)
The Qatar-based network Al Jazeera has been doing an amazing job covering not only the crisis in Egypt but its implications for the entire Middle East. And, in addition to its Arabic service, Al Jazeera also has an English language network called, Al Jazeera English.
You can watch 24-hour streaming video on Al Jazeera's web site and keep up with blogs from its reporters on the ground in Egypt and other Middle Eastern countries, but most Americans can't watch the network on their TV sets because most U.S. cable companies don't carry it.
There is, however, a way to watch Al Jazeera on TV thanks to the Roku set top box. Earlier this week Roku added Al Jazeera to its Newscaster channel.
The Roku device, which starts at $59, is small and incredibly easy to set up, especially if you have a WiFi network in your home. $79.99 gets you the Roku XD with 1080p HD video for some programming and for $99.99 you can buy the XD/S with dual-band video and a USB ports so you can use to watch your own content.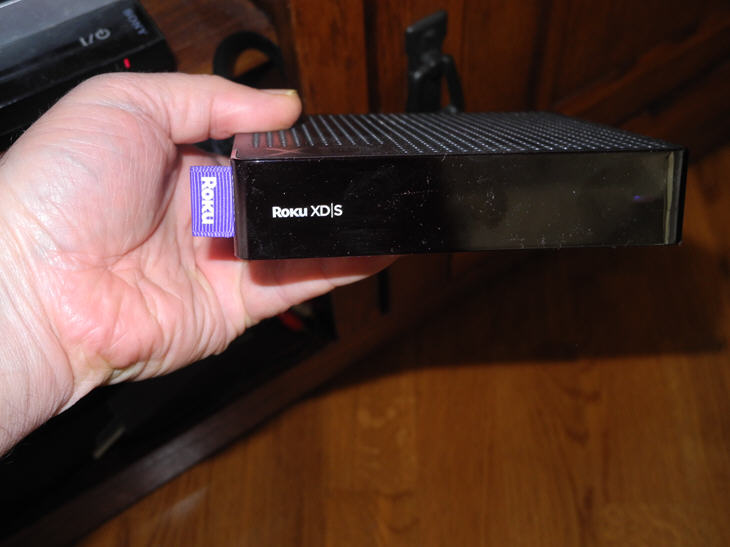 The Roku XD/S (Photo credit: Larry Magid)
In addition to Al Jazeera, you can also use the Roku to watch Netflix ($7.99 a month for streaming service), Hulu Plus, Amazon movies on demand and numerous other channels. There is no monthly charge for Roku though some channels (like Netflix and Hulu Plus) do require paid subscriptions. There is no charge for watching Al Jazeera.
Other channels include Pandora, MLB.TV, This Week in Tech and, though Newscaster, selected content from major U.S. TV networks.
We have Roku boxes in our living room and bedroom and I find myself watching it often, especially for Netflix movies and old TV shows.
Basically all you have to do is plug it into the wall, connect an HDMI cable between the box and your TV and configure the Roku with your wireless security password. You can also plug it into a wired Ethernet port.
Adding Al Jazeera to Your Channel Line-up
Once you have the Roku installed, from its home screen you select the "channel store" and navigate to "Roku Newscaster" to add the channel. There is no charge for watching Al Jazeera's programming.

Calling all HuffPost superfans!
Sign up for membership to become a founding member and help shape HuffPost's next chapter