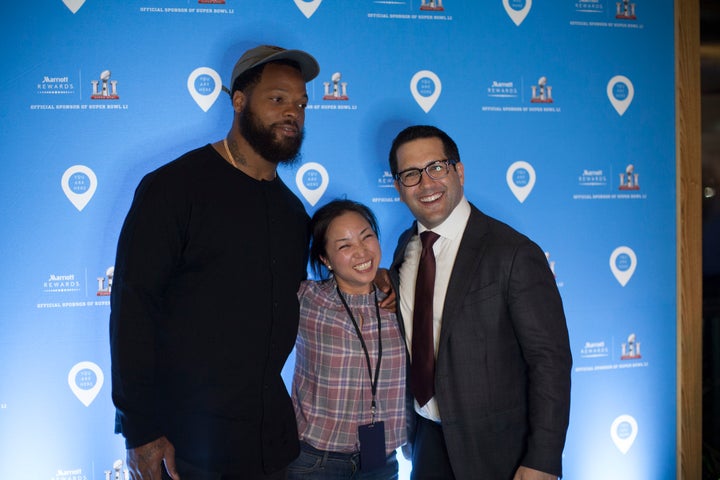 NFL and fantasy football fans alike are used to seeing "sources tell Adam Schefter" fill their Twitter feeds and ESPN's bottom line. If it's coming from Schefter, you know it's real. So how did the NFL Insider get coaches, GMs, and players to go to him with their breaking news?
"I've always tried to be fair to people and do my job the right way. You just hope that people notice that and appreciate it and it goes where it will," Schefter humbly explained during a phone interview. "28 years [in this business] enables you the privilege to meet and know a lot of different people."
For fantasy football owners, this inside information is essential to helping them make draft day and waiver wire decisions. So what if I told you that you could have the opportunity to speak with Adam Schefter every week of the NFL season, to coach you through your weekly fantasy football lineup? For the second year in a row, Schefter has teamed up with Marriott Rewards for a special bidding experience, giving one fan a "master class" weekly call with Schefter to discuss strategy, advice, players to target, and behind-the-scenes tips to help you win your league.
"I have a season-long relationship with the winner. Me and this person are going to be dating all-year long. That's what it's like," Schefter said. "We enjoy the victories together and we commiserate over failures together."
Last year's winner, Mike Cabral, made it to his championship game with Schefter's help, although he lost in the finals. Schefter said that, even after the season ended, Cabral and him kept in touch through Twitter. Cabral even reached out to him recently to say that he was trying his best to win again this year. If he doesn't win, Schefter hopes he can connect just as well with the next winner.
"I hope the person who wins it is someone that loves fantasy as much as I love it. You want to have that connection and care about it in the same way," Schefter said. "If they're into it, they're going to be really happy [with the experience]."
So how can you enter for a chance at a weekly call with the NFL's fantasy football insider? Fans have the chance to bid on the experience on the Marriott Rewards Moments platform now through August 24th by bidding on the opportunity to win. It's inspiring to see Marriott Rewards have such an understanding for who their Rewards members are, offering them personalized moments to tap into their passions.
"It's a personal touch. I think anyone in any business wants to feel like it's personal. And Marriott Rewards really likes to let it happen in this particular case," Schefter said. "They give us a personal experience. The winner of this content, it's a season-long relationship."
Since Marriott Rewards was inherently giving me my own personal experience with Adam Schefter by setting up this call, I took the opportunity to ask him for two insider tips entering into the 2017 fantasy football season.
One, Schefter likes to limit himself to two fantasy football leagues per year.
"I couldn't play in more. It takes too much time, energy, and focus," Schefter said. "If your team goes into the tank in one, you can go with the other team. [Two teams] gives you two different options, three or 10 just gets a little unruly. It's not worth it."
Two, who's a late-round sleeper you're really high on this season? Schefter immediately went with Pierre Garcon.
"He's use to playing with Shanahan before. He's probably the number one target in San Fran and will catch a lot of passes for PPR leagues," he said.
From NFL experiences to culinary ones, there were 6,000 experiences offered across Marriott Rewards Moments & SPG Moments in 2016, and that number is expected to increase this year. Learn about what other once-in-a-lifetime experiences Marriott Rewards members can participate in here or sign up to be a Marriott Rewards member today.
Related
Popular in the Community