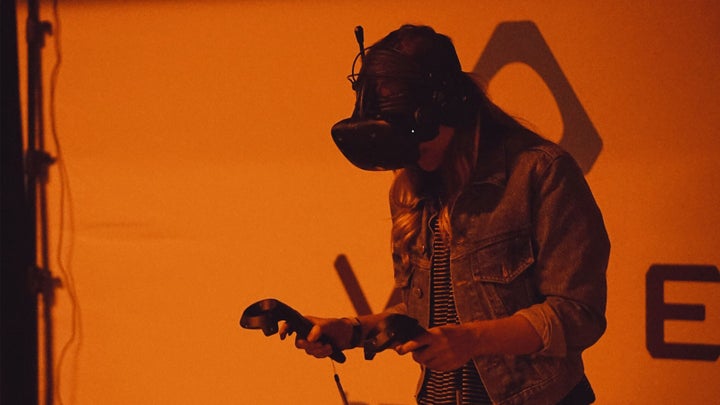 BY THE ISOBAR BOSTON HACKATHON TEAM: AN EXPERIENCE DESIGNER, A CREATIVE & A STRATEGIST
We live in a risk averse world, causing each of us to focus on repeating our, or others, successes. However, a learning mindset is what lies at the root of innovation. This learning mindset celebrates a process of discovery and experimentation and it rewards results without requiring perfection. This mindset is particularly important when working with emerging technologies.
So how did an experience designer, a creative and a strategist, with no developer experience tackle a VR hackathon? Well, as Nelson Mandela once said, "It always seems impossible until it can be done."
In June, Isobar hosted its first inter-office hackathon. The 50+ individuals, with representation from Boston, Chicago, Detroit, New York and Porto Allegre, who participated had just over 54 hours to create a VR experience that fit into the theme of "Learn by doing." By the end of the weekend, expectations were to have a functioning prototype that could be distributed to each office.
Realizing our tech skills were nowhere near the other teams, we concentrated our efforts on our strengths. We focused on the idea and what story we were trying to tell…then worried about figuring out how to make it happen.
We started the same way we would start any client project. First we analyzed the business (in this case the client being VR), focusing on finding and leveraging their strengths.
Next, straight to the white board, writing, sketching, gesturing out ideas, just trying to find something that stuck.
The initial goals challenged us to think objectively about what these ideas were saying and how they used VR's strengths. A winner arose because the experience could not be conveyed in any other existing technology.
The winner: Common Ground.
If only for a moment, what if we gave the world an enriching perspective. With the ultimate goal of a mutual, more comprehensive understanding of what it might feel like to be someone with a disability. A VR Experience that lets users see, in first person, how various disabilities impact daily life.
From there, on to the hard part: actually making it happen.
Step 2: Map it out. Figure out what the experience might do, what would make the best demo and who would do what. Our designer created the environment, our strategist researched 3rd party cod e and our UX designer, with limited coding experience, could start to bring it all together in Unity.
Ultimately, every decision made, every object created, every line of code dropped in, laddered up to the idea which helped us remain focused on creating one unified message. Before beginning the entire project, we all agreed our definition of success for the weekend was to make a minimum viable product (MVP)—a proof of concept, not an experience of perfection. With this sharp focus on MVP and keeping the experience simple, we were able to get a working prototype on the HTC Vive by day two of the three-day event.
After all was said and done, we reached our goal and came out with a few takeaways and learnings for the next time.:
As with all projects, you must think idea first, technology second and this proved to be no different in VR
Focus on simplicity and MVP over perfection. Figure out the simplest way to execute your idea and then see how it works. Build from there, and loop in the experts once you've gained traction on the concept.
Never underestimate the planning process. A task list was needed to focus attentions on our knowledge gaps and we used time efficiently to close those gaps. None of us know everything there is to know, but all of us learned a little something as we approached our goal.
Uncover and then leverage your team's strengths and collaborate. Even though our designer had never used 3D software, they have a great sense of spatial relationships that helped create an appropriately sized world. Our strategist is a great researcher, and was able to uncover pre-written code and theories on how to simulate disabilities. Our experience designer had only used Unity once before, and was able to pull together the team's assets into an interactive VR world.
In an experience such as this, it's all about connecting the dots and finding correlations. Each person and tool you have at your disposal helps. Collaborating in real-time allowed us each to leverage our strengths, and leverage our collective knowledge.
The Isobar Boston Hackathon team is made up of Brayden Varr, Jenessa Carder & Corey Chainsman
Related
Popular in the Community