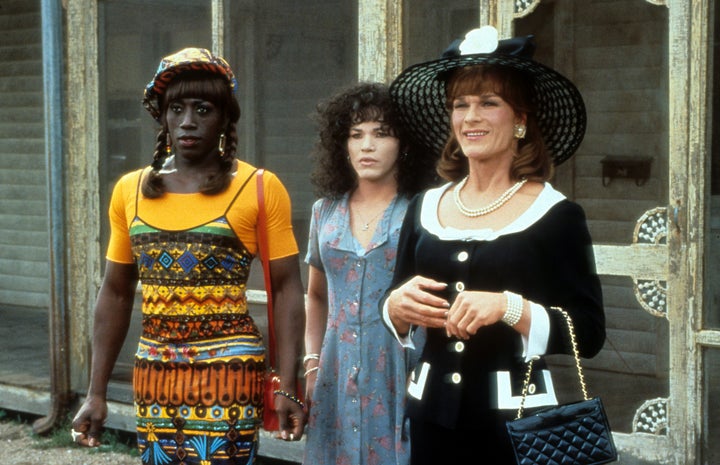 There's a scene early on in the 1995 comedy "To Wong Foo, Thanks for Everything! Julie Newmar," in which our three protagonists ― Vida Boheme, Noxeema Jackson and Chi-Chi Rodriguez ― find themselves pulled over on a lonely backwood road by a small-town cop. It's the middle of the night, and they are in full drag.
In an effort to avoid handing over a license that lists her non-drag name (Eugene), Vida (played by Patrick Swayze) tries to placate the obviously bigoted cop who's stopped them. But their encounter soon escalates when the officer, Sheriff Dollard, asks Vida to exit the car, throws around a few racial slurs and attempts to sexually assault her, to which he receives the iconic reply: "Get your hand off my dick, buddy!"
Vida ends up knocking Dollard to the ground, and as the queens quickly flee the scene, you can't help but breathlessly root for them to get away.
The scene sets the stage for the rest of the movie, a farcical romp that follows three characters stranded in a small town en route to a drag competition ― and now on the run from the cops. A decade before the premiere of "RuPaul's Drag Race," "To Wong Foo" (which happened to feature RuPaul as a character named Rachel Tensions) presented a story that prompted mainstream audiences to cheer for queens on screen rather than simply laugh at them ― a seminal, if complicated feat.
Imperfections abound, but just as "Drag Race" ― which launches its milestone 10th season on Thursday ― has done, "To Wong Foo" triggered a small yet palpable shift in the pop culture landscape by providing a reluctant audience with what it needed at the time: a campy, glamorous lens through which to process its own transphobia. Long before "Drag Race" could exist and thrive as a critically acclaimed commercial television hit, there was this film, infiltrating movie theaters and challenging people's stereotypical perceptions of queer people. 
In the early 1990s, mainstream familiarity with drag as an art form was nearly nonexistent. Sure, RuPaul was already a well-known drag queen with a Billboard hit ("Supermodel" in '93). But when "To Wong Foo" came out, theatergoers had yet to see "The Birdcage" or "The RuPaul Show" on VH1, both of which debuted in '96. 
It was in '95 when "To Wong Foo" introduced the world to its queens: Swayze, Wesley Snipes and John Leguizamo. Swayze was the heartthrob, Snipes the macho action star, and Leguizamo the professional goofball. The trio hardly seemed likely, but it was purposeful: the image of the three famous men in full drag on the movie posters appealed to unsuspecting, straight fans comfortable with the kind of "man in a dress" humor they'd seen in older movies like "Some Like It Hot" and "Tootsie."
An early trailer highlighted the "manly" status of its leads, declaring, "These tough guys are about to tackle the most physically challenging roles of their careers," cutting to a shot of all three in head-to-toe red ensembles.
While the marketing communicated one thing, the story of "To Wong Foo" was something different ― one that humanized its characters and paid real homage to drag as a culture. Comedic spectacle often took precedence over nuance in the film (the three main characters unfortunately never appear out of drag), but just beneath the movie's sugary coating lay a new way of engaging with queer stories in the mainstream.
What's so key about this is that "To Wong Foo" didn't ask the audience to cackle at the main characters' expense. Instead, the idea was to side with the queens and boo Dollard, the transphobic police officer who becomes obsessed with tracking them down. 
In one of the most subtly disruptive scenes in the film, Dollard sits alone at a bar, muttering to himself, "Men wanting to be with one another ... men touching each other ... their stubbly chins rubbing up against one another." It's a soliloquy that's comical on one level, but also incredibly revealing of the absurdity and fragility of heteronormative masculinity and gender norms. 
Indeed, for better or worse, the townspeople who are won over by Vida, Noxeema and Chi Chi by the end of the movie operate much in the way that the straight 'Drag Race' fanbase has.
Still, "To Wong Foo," as with many beloved movies of pop culture past, is fraught with problematic language and concepts. Written by white, gay screenwriter Douglas Beane, it is chock full of racist quips (especially about Leguizamo's Latinx character), it paints its gay characters as largely sexless and it perpetuates a trope in which gay men are worth empathizing with only when they "fabulously" fix the lives of tragic straight people.
Indeed, for better or worse, the townspeople who are won over by Vida, Noxeema and Chi-Chi by the end of the movie operate much in the way that the straight "Drag Race" fanbase has. For drag to become cool to straight people, it had to, at first, be stripped entirely of its context, and presented as a colorful and entertaining spectacle. Only eventually could the complexity, nuance and commonality shine through. Acceptance came gradually.
This approach makes sense, and it was seemingly effective. "To Wong Foo" was actually a surprise hit. On the weekend of its release, it debuted at No. 1 at the box office, earning $36,474,193 domestically during its run. Later, Leguizamo and Swayze would both receive Golden Globe nominations for their performances.
"To Wong Foo" was, in many ways, a progenitor of "Drag Race," a show that now garners a viewership just shy of 1 million. But while "To Wong Foo" succeeded in infiltrating the mainstream by playing on the expectations of straight people, "Drag Race" has transcended those expectations by crossing over to a new VH1 audience without watering itself down.
"Drag Race," which first debuted on Logo in 2009, has been able to do much more than "To Wong Foo" ever could. Particularly in later seasons, which have included some of the most powerful, patently queer moments in television history. Over the years, we've seen the entertaining competition format encompass moments of real vulnerability ― when Roxxxy Andrews revealed on the catwalk that she was abandoned by her mother at a bus stop at 2 years old, when Peppermint revealed her identity as a trans woman, when Trinity K. Bonet came out as HIV positive. Suddenly, "Drag Race" was broaching real, vital conversations about queer life ― everything from grappling with acceptance and rejection to the concept of a "chosen" drag family. 
In just under a decade, the reality competition show, still pitting drag queens from all over the country against each other in the search for America's Next Drag Superstar, has gone from a cult favorite to a VH1 hit and one of the most-watched and most-discussed reality shows on television today. 
And judging by the legacy of "To Wong Foo," it's entirely possible that whatever its faults, "Drag Race" is carving out an even bigger space for the next generation. 
CORRECTION: An earlier version of this article stated that "RuPaul's Drag Race" premiered 2001. It premiered in 2009.  
Calling all HuffPost superfans!
Sign up for membership to become a founding member and help shape HuffPost's next chapter
BEFORE YOU GO