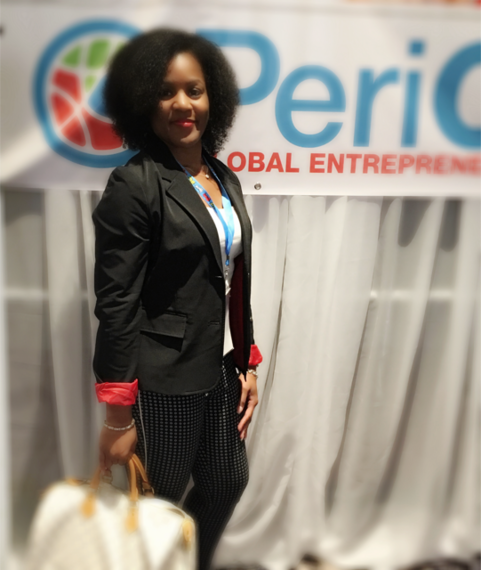 I'm not a conference type of chick. The whole I meet you, we smile and before moving onto the next person, I slide a business card in your hand, secretly praying you're "the one."
It feels unnatural to me. I'd much rather smack away at the keyboard or talk with no expectations of you wanting my card.
Anyways, PeriCON has made me a conference-lovin'-I-can't-wait-until-next-year type of chick.
You see, Jai Stone and the PeriCON team wasn't hyping me up to go home with a stack of business cards. Instead, they were encouraging me to build meaningful relationships and make get-your-ass-in-action power moves.
And that's what it's all about. I discovered I didn't do conferences because they suck, I didn't do conferences because I was doing what everybody else does at conferences and they suck.
Let me break this down for you:
A conference or any other marketing/networking strategy is only as good as how you leverage the opportunity.
So if you got all casket sharp, ordered a box of fabulous business cards, collected 200 cards and are now at home still taking the same baby steps, you probably should've saved your money. #RealTalk
Me, on the other hand, I don't like wasting my time and especially not my money. So if you're anything like me, you're gonna love these 3 tips on how you can work the hell out of your experience at PeriCON:
1. Keep Your Word. So I met the beautiful and talented Charli Penn (Relationships Editor at Essence.com) at PeriCON. I told her I had a great story for her and that I'd email her that night. Guess what I did? I emailed Charli that same night. You get one chance to show up like a boss, so if you promised to send someone something, do it.
2. Email Your Connections NOW. You see that stack of business cards you collected at PeriCON? Um, they won't do you any good sitting there like decoration. Grab the stack of business cards, divide them into three piles: prospects, vendors and referral partners. Grouping your contacts makes it easier to personalize your emails based on the type of connection. Here are two sample emails you can send: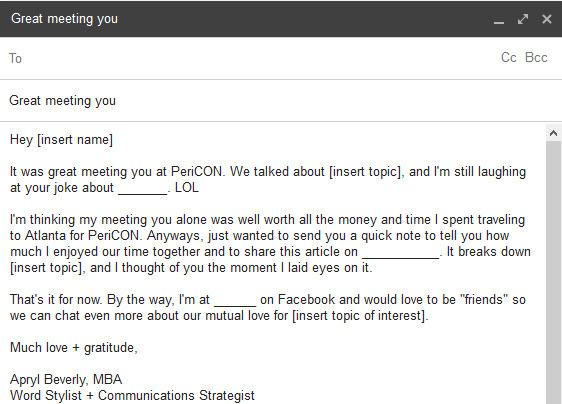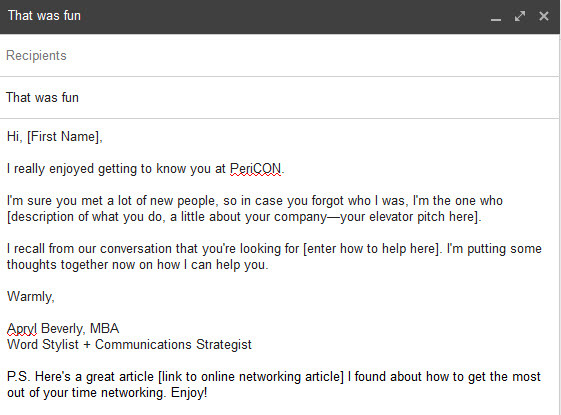 Now, go ahead and add your own flava, but you have no excuse not to send that email today because I just did most of the work by telling you what to write (you're welcome, love!)
And remember, this email is not intended to sell your contact anything (unless, of course, they are waiting to hear back about your services). The point of this email is to move the relationship from "some random Joe/Jane I met at a conference" to "that incredible, helpful chick/dude I met at a conference who I need to stay connected with."
3. Follow Up. Very few business relationships flourish from just one email or phone call. I know you're incredible, and all, but even Jai Stone, Kim Coles, and Mario Armstrong follow up with people - so drop the ego, boo.
There's certainly an art to following up that I can't dig all into for this article. For now, I want you to stamp this stat from Implisit in your head:

Not following up is like stepping outside your house with three stacks of hundred dollar bills, going to stand in the middle of the street and throwing the money in the air when you see a car coming - straight up CRAZY!
So because I love you, here's a short follow-up email you can send: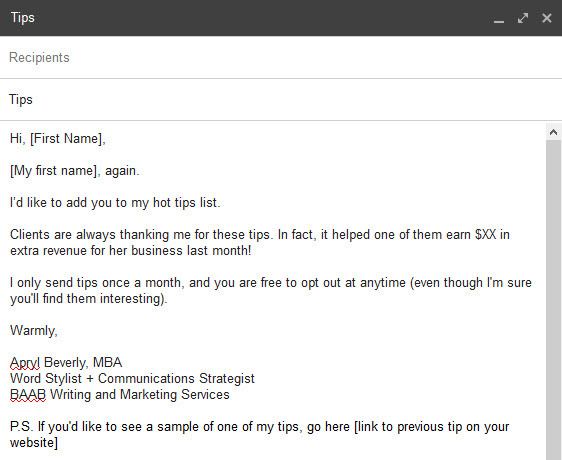 Now, it's too early in the relationship to be a stalker, so send the follow-up email about 5 days after you send the first email.
Remember to stay classy and helpful every step of the way. The goal here is to serve, not slap folks over the head with a sales pitch. Send the first "tip" 10 days after your first email and the second tip monthly as promised and so on to build a meaningful relationship.
These are the first few steps of working the heck out of your PeriCON experience, but it's enough to get you headed in the right direction. Your new clients are waiting for you!
And that's it. Now, sharing is caring so if you loved these tips, be sure to blast this on Twitter, Facebook and Instagram with #PeriCON16 and tag Jai Stone (@jaistone) for creating the vision behind such an incredible conference.
Apryl Beverly, "The Word Stylist," is a bestselling author and award-winning copywriter who slings million-dollar smack-the-buy-button sentences for solo entrepreneurs, small business owners, CEOs and marketing executives of big profitable brands.
Known for her educated, "tell-it-like-it-is" writing style, Apryl has broken just about every grammar rule she ever learned and survived the wrath of her English teachers. Grab your copy of her wildly popular, book, "Shots Fired: How to Write Copy that Pierces Hearts (And Opens Wallets) and see for yourself why it smashed the Amazon Best Seller's List by hitting the #3 and #4 spots in 3 high-profile categories within 24 hours of its release.
Calling all HuffPost superfans!
Sign up for membership to become a founding member and help shape HuffPost's next chapter