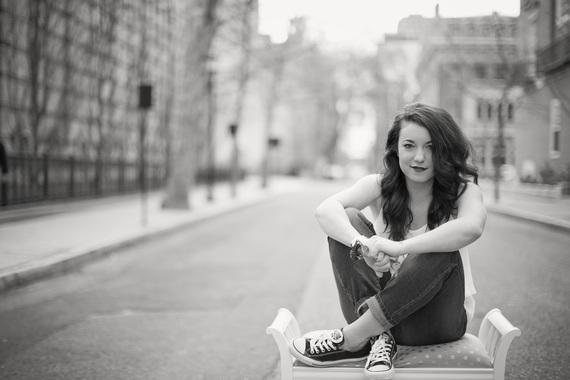 In 2010, Hannah Brencher was riding the 4 Train in New York City, feeling sort of mellow.
She'd moved recently, from Boston, and was struggling emotionally.
Across from her on the subway, she noticed an older woman.
"She looked so lonely," Brencher recalls. "And I really wanted to reach out and grab her and have a massive heart to heart."
Instead, she wrote her a letter, leaving it behind on the seat.
"If you find this," she scribbled, "it's for you."
She instantly felt better, and wondered whether she'd lifted the stranger's spirits, too.
Inspired to action, Brencher, then 23, began leaving a trail of short "love letters" throughout the City: tucking them inside library books, coat pockets; in coffee shops, and church pews.
Today, the Connecticut-native leads an army of letter writers; gentle warriors who help out at More Love Letters, the non-profit she's since founded. I recently caught up with Brencher to ask her about life in New York, what it's like to speak at TED, and how words have the power to heal.
First of all, I have to ask: was it totally terrifying, delivering a TED talk?
I wanted to vomit that whole night. And I was one of the last ones to go! So terrifying.
But when I got on stage, peace met me, and I knew I was supposed to be up there.
What's scary is the title of TED. What's not scary is the reason why you are on stage to begin with: to tell people a story they haven't heard before.
I knew I could do that much.
Can you describe your early experience of New York?
I grew up having a love affair in my head with New York City -- that's the only way to say it. I romanticized it. I couldn't wait to grow old enough just so I could move there.
I had this whimsical belief that I would move to New York City and all my little writer dreams would unfold for me. That was definitely not the case.
The Bronx; on the third floor of an immigration center. I was working as the UN representative for a human rights organization.
It wasn't the New York I wanted or expected but it became the New York I needed.
New York taught me so much about my place in the world; purpose, faith, love, and what it means to be committed to the things that matter.
You've spoken about riding the train from the Bronx into Manhattan; how you would 'feel all the feels.' What were you feeling exactly?
Frustration. I felt a lot of uncertainty. I saw poverty.
I could see problems with the system at every angle. I didn't understand things. I was asking a lot of questions and felt like I was only coming up with more questions, and no answers.
Being the empath that I am, I couldn't help but cry as I would ride the train and watch the people and wish I could say or do something that would let them know I was trying to figure it out, and they weren't alone.
Is that what prompted you to write to the lady on the train that day?
Honestly, I have no idea. I don't know why I picked that woman in the red hat -- out of all of the people -- to write to. I never saw her again.
That woman has morphed into my memory as someone who needed to come along -- without a name -- and push me towards all the others. She is out there somewhere and she has no idea that she changed my whole entire existence but I am thankful for her, wherever she is.
How did the project then grow, from that singular moment on the subway?
I started leaving dozens and dozens of love letters across the City for others to find and be encouraged by.
As it usually unfolds when social media joins in, people began requesting love letters from me. The people were from all across the world with all shapes and forms of heartbreak.
I wrote about 400 of them before I decided that the world really needed a lot more than just the love letters of one girl. I fleshed out the bigger picture, built a website and just went with it.
I honestly thought the website would die out in a month or two... but this proved it had momentum overnight. Now, we get to deliver hundreds of letters all over the world to people in need. We are fueled by the pens of thousands all across the globe, just ordinary people showing up for one another.
How would you describe your mission?
We believe in the power of connection. We believe in innovation through social media and using the online community to band and rally together.
We are not about love letters so much as we are about what love letters stand for in this digital age: intention and presence. We want to see more of that.
That's the heart behind everything we do.
The book is a memoir that tells the backstory of More Love Letters. But it's also a journey of faith and figuring out adulthood.
So much of my story resonates with young people because it was really just me asking a pivotal question in my early 20s that a lot of us face: Why am I here?
I always knew the book was inside of me but after my TED talk went online and literary agents began reaching out to me, I knew it was time to start writing.
Why words? Why not pictures, or music, or something else?
Words are everything to me. They are power. They are the reason I exist, if I can be a bit dramatic. And the movement (of MLL) is fueled by words. It's not about stamps or stationery, it's about using your words to give someone hope, and show them who they are becoming.
We need more of those good words in the world.
What's been the most surprising thing so far about your journey with More Love Letters?
I mean, I never anticipated this. I would have never believed you if you told me this would be my path five years ago. I love people too much and I am hopeful to a fault. More Love Letters is the company I needed when I was 17 and at odds with the world.
Today, that's why I do what I do. I want to help people connect and find community and ultimately know they are powerful beyond what they could possibly think.