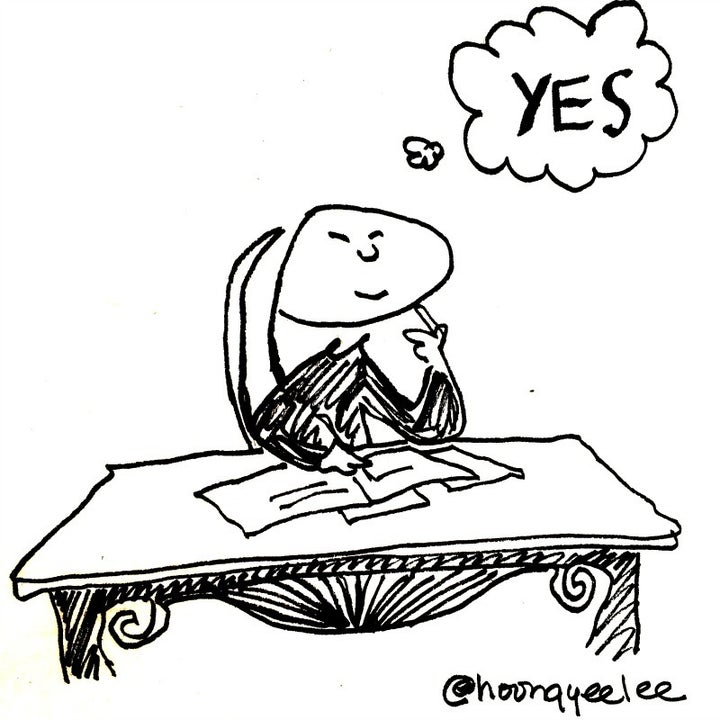 She stared at the envelope in her hand.
With a deep breath, she closed her eyes and slowly pulled out the letter.
Her fingers told her the paper had a nice weight to it, a linen finish, 2 or 3 paragraphs of text, an embossed logo. Impressive.
Her instincts told her nothing. They were wrestling with conflicting outcomes, each one invested with tremendous emotions.
If I get the grant, my life and career as an artist will be successfully transformed. If I don't get the grant, I will be crushed, dejected and consumed with self doubt.
If you are an artist who has written grants for your work, chances are you have been in this moment of truth situation. Anyone who has put together proposals or pitches knows that this is simply part of the territory of fundraising and awareness building of who you are.
Getting grants is important for more than just the cash award that comes with it. A certain validation and recognition comes with grant awards. Some artists have developed long lasting relationships with their funders who have grown into loyal fans and collectors. And in some cases, getting your first grant can open the doors to getting grants from larger funders.
This was actually my path to becoming a grant supported artist in the beginning of my career. Now, after spending over a decade in the arts as a grantmaker in Queens, NY, a grantwriter and a grant reviewer for many foundations and corporate philanthropies, I know that the ability to put together a clear and well written proposal is the most powerful skill an artist needs to build a successful career.
No one likes spending a lot of time and effort putting a proposal together that gets shot down and feeling that your work isn't worthy of funding. This is the time all those pesky demons start coming around to fill your head with self doubt and thoughts of giving up. But you keep wondering, "How do other artists get grants? What are they doing that I'm not doing?"
Here's what you may be thinking
"I'm an artist, not a writer."
Yes and no. This is an excuse. Being an artist does not exempt you from being to communicate clearly whether it is about your work or directions to your studio. That knowledge, insights and a deeper understanding will emerge when you spend some time asking yourself clarifying questions about your work. You can write with confidence once you know what it is you want to say.
"My art can speak for itself."
This is the second part of the first excuse. The only thing your art will do is open up a million reactions, none of which you will have any control over. People are drawn to the back story of the art as well as the actual piece. In a grant proposal, it is the story that is important. The art illuminates your artistic process and thinking.
"I don't know where to begin."
You start by asking yourself some important basic questions to understand the why, what and how of your project. The answers will help you understand why your work deserves to exist. In a grant environment, this is what builds passion and support for a proposal to be funded.
Mastering the art of proposal writing will give you a powerful tool to benefit all parts of your creative career. These skills impact how you talk to people about your work, how you pitch your projects to funders and donors, what you say in your elevator speech or while you are waiting on line at the bar during a reception.
Most proposals are written close to the vest. Just you, your project and your computer. You are the best person to give life to this project and at the same time, that closeness can make it hard for you to communicate that in a compelling way that rises to the top in a competitive grant review process.
After spending over a decade around grants as a grantmaker, a grantwriter and a grant reviewer for foundations and corporate philanthropies around the country, I have seen certain things that grantwinners do that reflect a distinct mindset and focus.
There are some things you can control and some things that you cannot control.
You don't know how your proposal will land. Your proposal may be the first one out of the gate to be read, it could be the one after the morning coffee wears off, it could be the last one of the day. This is something you cannot control.
There is something that can be your superpower if you use it well, or your worst nightmare if you don't. This is something you engage when you think about how your proposal lands.
You need to write as if you are going on after the Beatles.
By engaging your superpower: Readability
This is your most powerful weapon against panelist fatigue, panelist rage (yes, this can happen, but I will show you how to turn around to work in your favor), and will position you ahead of your competition.
I have 6 time tested strategies to sharpen your readability skills:
White space
Shorter sentences and text blocks
Bullets
Consistency
Clarity
Kill your darlings
MASTER MINDSET: YOUR EYES NEED AIR
When I am faced with a stack of proposals that look like walls of text, I can feel overwhelmed and less than ecstatic about trudging through them. I get tired and frustrated when I have to dig further or navigate through a seemingly endless sea of sentences to find the answers. My eyes seek places to land and anchor myself.
With e grants and their specific word counts, writing becomes a challenge for you to distill your thoughts into a highly skimmable and readable form, not a place to dump everything you want to say.
Use shorter sentences. Choose a simple word over a ten dollar word. Avoid jargon.
This is a place where you can turn every answer to the questions into a compelling reason why you are the best candidate for the grant.
Many fiction writing teachers tell their students that each sentence they write must exist to do one thing - to move the story. In a grant, the purpose of every sentence is not to present yourself as the best artist, but to position you as the best candidate for the grant by answering the questions.
If you do this well, you will be way ahead of the game. The narrative is not a soapbox for your artistic statement or vision. It is not a place to present yourself as the best artist but as the best candidate.
Your eyes have to come up for air. White space around text has this curious effect of compressing importance and urgency into a space that we can focus our attention on.
When you section off your responses, you make it easier to find the information we are looking for. It makes things look less daunting, less confusing. The breaks in your text, which I love, set the pace for an easy to read, clear and balanced flow of information. It gives our brain a moment to absorb what we have just read and retain what you want us to remember.
E grants often have set word counts and other limits. You will be doing yourself a big favor by using white space in your narrative where ever possible.
MASTER MINDSET: BULLETS ROCK
They don't call these things bullets for nothing.
Bullets make your data pop. Bullets make you look professional.
They make it easy to take in and remember key points. Use bullets to highlight important data that support your answers.
I have heard other grant panelists easily make a case in support of a proposal by simply rattling off bullet points to support their opinion.
MASTER MINDSET: CONSISTENCY IS ATTRACTIVE
Patterns make it easier to navigate and remember information.
To be memorable, be consistent.
If you are using numbers i.e. "2", be sure you do not spell out "two" somewhere else in your narrative. If you are using the third person voice, maintain that voice throughout your writing. If you capitalize your captions, capitalize all of them.
E grants offer limited formatting options, sometimes you will only be able to capitalize or use numbers. Still, strive to create a pattern of consistency in your writing with what you are given to help grant panelists read and retain information. They will remember you for that.
MASTER MINDSET: DON'T MAKE ME WONDER
Write as if the person reading your proposal does not know who you are. Chances are, they don't.
If you are writing about an organization with a long name, identify it with an acronym the first time you mention it.
For example, Queens Council on the Arts (QCA)
Focus on answering the questions.
If the question is really several questions, you can set off each response to make it easier to find the answers.
Remove anything else that does not support positioning you as the best candidate for the grant. Unless specifically requested, remove quotes and testimonials.
MASTER MINDSET: GIVE ME ONLY WHAT I NEED
This is your next best step. Be ready to kill your darlings.
Grant writing is best done with many eyes.
Write your first draft and let it sit. Ask other people to review your work and be a ruthless editor.
To avoid writing that is weak and ineffective, be ready to, as Stephen King famously said to aspiring writers, "Kill your darlings."
This way, you deliver exactly what a grant panelists needs, that and only that. Take out whatever doesn't clearly answer the questions so that you are left with a proposal that is well written, lean and powerful.
Follow these 6 strategies to write a proposal that places you in the top 10% of the field and delivers what a grant panel needs to know to say YES to your proposal.
Deploy readability, your superpower, to avoid panelist fatigue, panelist rage and to position yourself as the best candidate for the grant.
Hoong Yee is a writer who draws. She is the author of Rabbit Mooncakes, a children's picture book and the Executive Director of the Queens Council on the Arts. Hoong Yee is married to a nice Jewish boy and they live in Rockaway Beach, NY with their family. Visit her website at hoongyee.com
Popular in the Community