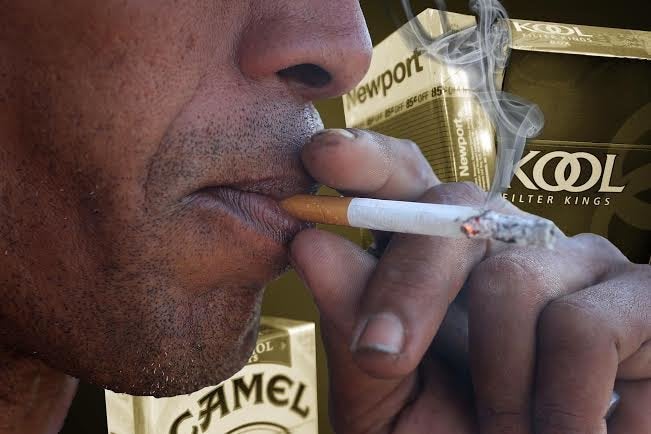 Lincoln Mondy's asthma is probably the only reason why he's never smoked a cigarette.
Doctors warned his parents about the dangerous effects their smoking habit could have on their son, but it was almost impossible to stop because in Farmersville, Texas, "tobacco is everything," according to Mondy. At the age of 14, Mondy took matters into his own hands when he made a PowerPoint presentation for his mom, whom he lived with, which warned her about tobacco's adverse effects. With the support of Mondy and other family members, his mother eventually quit smoking by the time he was 15. But getting his father to quit was a different beast to tackle.
"My black family all smoked menthol," Mondy, who is biracial, told The Huffington Post about a pattern he noticed on his paternal family's side. "Like why do they smoke menthol but my white side dips and smokes cigarettes that aren't menthol?"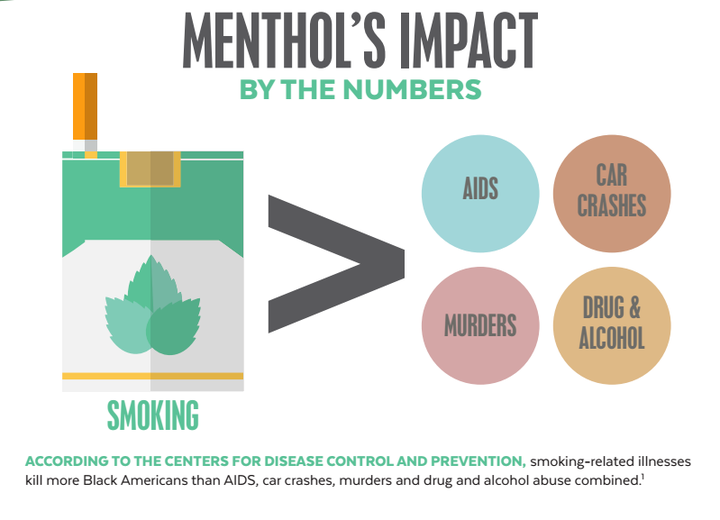 Menthol is a flavoring additive that makes it easier to inhale smoke which makes it more addictive than non-menthol cigarettes, according to the Center for Disease Control. More than 70 percent of black smokers prefer menthol, as shown in the infographics (above and below) by the African American Tobacco Control Leadership Council. After learning that black people are more likely to die from smoking-related diseases than whites, Mondy realized his father's affinity for menthol wasn't a coincidence.
The now 22-year-old senior at George Washington University, started to research the campaigns big tobacco companies used to target black communities for his film project,"Black Lives/Black Lungs." The film was published in March in conjunction with Truth Initiative, and he found some very disturbing facts.
Check out "Black Lives/Black Lungs" in the video below and keep scrolling to continue the story.
Mondy searched for keywords within the Truth Tobacco Industry Documents database like "ethnic," "ghetto," "lower income" and "negro." He found countless documents that outlined tobacco companies' strategies in its campaigns which were aimed specifically at black people. He said the latter three search terms yielded results that surprised him, but it was a document from Lorlliard Tobacco that said "negroes" smoke menthol to "mask a real/mythical odor," which he said disturbed him the most.
"They started really seeing [that] saying menthols would make people think 'fresh breath,'" Mondy said of his findings. "So in like the '60s they started targeting on that. They really started going really hard on 'hey, smoke this, it's healthier, fresh breath, minty,' those kind of buzz words that would make people feel like its healthier than a regular cigarette."
In addition to the language used in advertisements, these tobacco companies would buy a disproportionate amount of ad space in black publications like Ebony, Jet and Essence in comparison to mainstream magazines like Life, Vanity Fair and Elle. In 1962, Ebony carried twice as many cigarette ad pages as Life. These ads showed black men and women with cool and even empowering demeanors as they held a cigarette.
Many tobacco companies were ordered in 2014 by U.S. District Judge Gladys Kessler to run corrective statements in many publications about their overall misleading messages about the negative health effects of smoking in ads, but black media outlets were completely ignored.

Mondy also found that businessmen from tobaccos companies would take "ethnic field trips" to neighborhoods highly populated with black people in the '60s where they would stay for hours and give away menthol cigarettes.
"You're getting them hooked for free," Mondy said of the these "disturbing" marketing tactics by the tobacco companies. "So they'd go and take really impressive research to kind of pinpoint the culture and see what people like, what people don't like. And then, maybe like three months later, after that one ethnic field trip, there'd be an ad targeted specifically to that population."
Phillip Gardiner, public health activist and co-chair of the African American Tobacco Control Leadership Council, wrote in his 2002 study "The African Americanization of menthol cigarette use in the United States" -- which Mondy refers to often in his research -- that tobacco companies saw the distinct traits of the black community, philanthropy included, and adjusted their marketing accordingly to build the community's trust:
"Because the industry was based in the South, and the majority of black people lived and worked in the South, even as many migrated to urban centers, it was to the advantage of the tobacco industry to develop a strategic relationship with the African-American community. Moreover, the tobacco industry was one of the first major corporate employers to hire and promote African-Americans, not just in the processing of tobacco but also as executives (Gardiner, 2001; Robinson & Sutton, 1994)."
Mondy called the tobacco industry's infiltration into the black community "strategic." Tobacco companies like Altria have donated millions of dollars to black institutions -- including the Congressional Black Caucus Foundation, historically black colleges and universities, and the NAACP -- over the years. In 2014, Altria donated one million dollars to the Smithsonian National Museum of African-American History and Culture which opens this year. Mondy said these institutions would risk vital funding which could ultimately help them to have a positive impact on the black community if they spoke up against the tobacco companies.
"They have no choice," he told HuffPost. "In the '70s when the NAACP needed funding for meetings, the tobacco industry was there, no one else was there. The tobacco industry was there to give money to them so they couldn't say smoking is bad."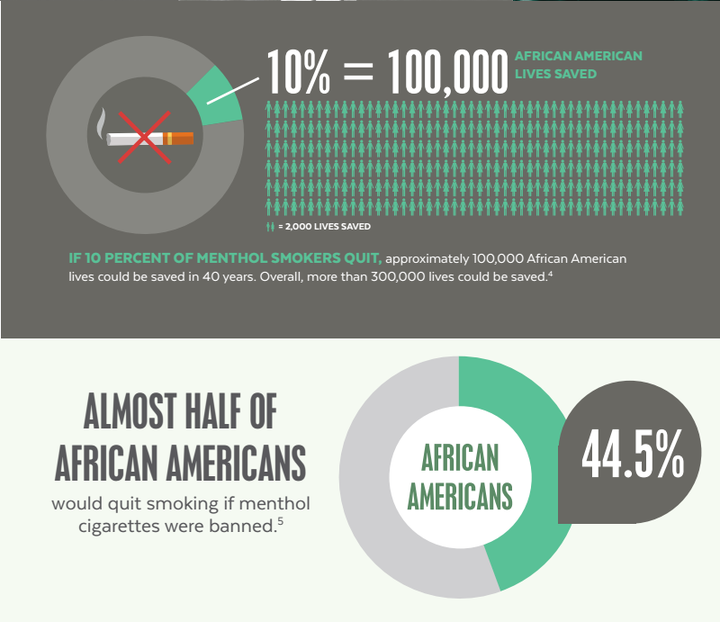 Mondy said he believes the reason it hasn't been banned is due to political reasons -- Lorillard, the company which produces Newports, has donated to more than half of the black democrats in Congress compared to just under 3 percent of non-black Democrats in 2014.
In 2015, Lorillard, whose sales depended on menthols for roughly 85 percent of sales the year prior, merged with Reynolds American Inc. -- the company that owns R.J, Reynolds Tobacco Company. Jacob McConnico, a spokesperson for the R.J, Reynolds Tobacco Company, provided a statement to HuffPost in regards to claims about marketing practices that specifically targeted the black community in the past few decades and today:
"I am not able to provide any insight to claims related to alleged marketing activities of up to 50 years ago. I can tell you, as it relates to our marketing today, our marketing efforts are designed to reach a wide and diverse audience of adult tobacco consumers. Those efforts are designed to include elements of interest for all adult smokers, regardless of their ethnicity or gender. Adult African-Americans, Hispanics, and other minorities have the same ability and right as the rest of the population to evaluate and make informed decisions about whether or not they want to use tobacco or any other consumer product. It would not be appropriate to exclude minority audiences or media from our brand communications."
Steve Callahan, a representative for Altria Client Services, the company which owns Philip Morris USA brands such as Marlboro, Virginia Slims, among others, also said that he couldn't speak on marketing campaigns from the past in a statement to HuffPost. He said there has been tighter regulation on tobacco companies due to the 1998 Master Settlement Agreement which changed the way brands market tobacco and the 2009 Tobacco Control Act in which the Food and Drug Administration began regulating the manufacture, distribution and marketing of these products.
Also, Callahan said to HuffPost that Philip Morris USA is "committed to marketing our products responsibly by building relationships between our brands and adult smokers while taking steps designed to limit reach to unintended audiences." He added, "Philip Morris USA markets its menthol cigarette brands using the same marketing approaches it uses for its non-menthol cigarette brands."
Advocates like Gardiner, however, aren't convinced that tobacco companies shouldn't be held accountable.
"The bottom line is that African-Americans prefer menthol cigarettes because the tobacco industry pushed these products on and created the demand among this population," Gardiner wrote in his study. "Did the industry do this on purpose? The answer to this question is an unequivocal yes."
Despite tobacco's deep impact on the black community, Mondy said he's using his "Black Lives/Black Lungs" project as a vehicle of hope. With the help of Truth Initiative, he plans on interviewing key players in the fight to ban menthol and turn his findings into a documentary which he intends to premiere this summer. His efforts aren't to shame smokers because quitting tobacco can be a hard feat, especially, if a person may have smoked his or her entire life. Instead, he said he wants to educate people on the issue.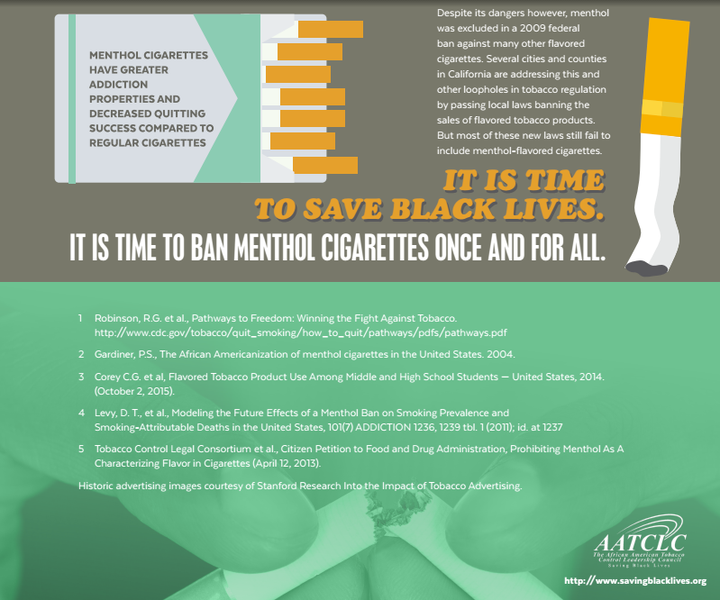 Mondy's approach to informing others has even made his father take quitting more seriously. He said his dad texted him in February to tell him that he had gone 30 days without smoking a cigarette, the longest in Mondy's lifetime.
"This is like so engorged into our community," he said. "I think it's important to equip people with the education and information and so like, I'm not going around saying 'smoking is bad, stop smoking.'"
Instead, Mondy said he hopes the research he provides will lead people to make an informed decision on whether they want to quit smoking or "keep buying from these companies that benefit from black death."
Learn more about the tobacco industry's targeted campaign on the black community with "Black Lives/Black Lungs" and watch the video above.
Popular in the Community