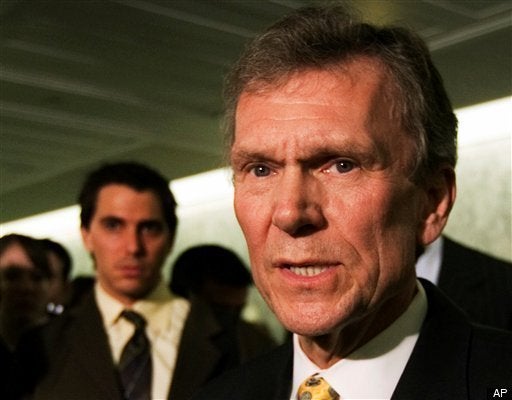 Former Senate Majority Leader Tom Daschle will soon move from one big lobbying firm to another even bigger lobbying firm. It's a career boost for a first-rate K Street powerbroker -- just don't call him a lobbyist.
Lobbyists, after all, are required to register with Congress and file quarterly reports disclosing their actions on behalf of clients. The South Dakota Democrat, like a growing number of people in his line of work, has made sure he doesn't have to do that.
"I've not made a call nor made a visit since I left the Senate on behalf of a client. And I don't have any expectation that I'll do that in the future," Daschle told the New York Times recently.
By claiming that he never picks up the phone on his clients' behalf, Daschle is not legally obliged to declare himself a lobbyist, even if all his work for those clients falls under the general definition of "lobbying activity." That means he can keep his clients' identities and how much they pay him entirely secret.
At the Huffington Post, we've coined a new phrase for this tactic: influence laundering.
In December, Daschle starts his new job as a "senior policy advisor" at DLA Piper, a massive law and lobbying firm that represents a range of corporate and foreign government clients. He has said he plans to focus less on health care, his main issue since losing his 2004 re-election bid, and more on international issues.
Even if Daschle refrains from directly contacting former colleagues on his clients' behalf, however, that doesn't mean DLA's lobbying clients won't receive the full benefit of his contacts and expertise, and that those assets can't be used to influence legislation.
For instance: clients of Alston & Bird, the firm Daschle joined in 2005, said this summer that Daschle sometimes advised them "indirectly" through the firm's registered lobbyists. So whatever news Daschle picked up on his many visits to the Hill or to the White House he could pass on to a client by telling one of his colleagues at Alston.
And one might well say Daschle indirectly lobbied his former colleagues when he promoted home health care during a panel on Capitol Hill in July. The National Association for Home Care and Hospice, an Alston client since 2003, has paid the firm $230,000 so far this year.
"We can provide low-cost good quality access in part through home healthcare. Home health is by far the most effective way to start producing wellness promotion and primary care," Daschle said during a roundtable discussion hosted by the American Association for Homecare, for which he earned a speaking fee. The association was an Alston client that paid the firm $280,000 from 2004 to 2006, according to disclosure forms filed with Congress.
A spokesman from the American Association for Homecare told HuffPost that since it terminated its lobbying relationship with Alston, the group has had no relationship with the firm or with Daschle except for the July event.
The benefits of Daschle's association with the Alston probably spilled over into the lobbying arena. Alston's lobbying revenue, much of it from health-industry clients, nearly tripled the year Daschle joined the firm.
And behind closed doors, who knows what happens? The Government Accountability Office audited lobbying firms last year to check the accuracy of their disclosures. The GAO found that while most firms could back up income statements, only 35 percent could provide written documentation of who acted as a lobbyist for a particular client.
Reporters Chad Terhune and Keith Epstein wrote that Daschle "advised UnitedHealth in 2007 and 2008 and resumed that role this year. Daschle personally advocates a government-run competitor to private insurers. But he sells his expertise to UnitedHealth, which opposes any such public insurance plan. Among the services Daschle offers are tips on the personalities and policy proclivities of members of Congress he has known for decades."
Daschle told the magazine that the folks at UnitedHealth "just want a description of the lay of the land, an assessment of circumstances as they appear to be as health reform unfolds."
Congressional disclosure forms contain no information about Daschle's relationship with UnitedHealth. The company is not a lobbying client of Alston & Bird's.
Other former politicians have found their way to non-lobbyist gigs at DLA Piper, including senators like Mel Martinez and George Mitchell, who, like Daschle, is a former Senate majority leader. In January, the Obama administration appointed Mitchell as special envoy to the Middle East.
At the beginning of the Obama presidency, Daschle, too, seemed destined to be the top health-reform adviser in the White House -- and secretary of Health and Human Service to boot. But his nomination crashed and burned when it came out that he hadn't paid more than $140,000 in taxes over three years on a luxury car and driver. But many observers were even more unsettled by how blatantly Daschle cashed in after leaving office, earning $5 million in just four years, much of it from the health industry.
Neverthless, Daschle remains one of Obama's mentors, visiting the White House 11 times in the first six months of this year, according to recently-released visitor logs.
Another unregistered lobbyist who spent a significant amount of time at the White House has been accused of breaking the rules. This month, conservative groups asked the Justice Department to investigate whether labor boss Andy Stern, who visited the White House 22 times and Tweeted about fundraising activities, was acting as a lobbyist. But a spokeswoman told the Wall Street Journal that Stern spent less than 20 percent of his time contacting government officials -- below the legal threshold for whether a person must register.
Daschle's work fits squarely within the legal definition of "lobbying activity," which includes "preparation and planning activities, research and other background work that is intended, at the time it is performed, for use in contacts, and coordination with the lobbying activities of others."
But a person must register as a lobbyist only if he spends more than 20 percent of his time for a client on lobbying activity and makes more than one "lobbying contact" seeking to influence legislation, rulemaking, grant-awarding, or a nomination on behalf of the client.
Craig Holman, a lobbyist with Public Citizen, tells HuffPost that while Daschle may not be violating the letter of the law, he's certainly violating its spirit.
"He gets paid a fortune, he spends more than 20 percent of his time on lobbying activities and he's regularly meeting with covered government officials," Holman told the Huffington Post. "That guy is just flouting the law."
Julian Hattem contributed to this report.
Correction: This article originally reported that the American Association for Homecare remained an Alston & Bird client after the firm reported the relationship terminated in 2007. The group has not been an Alston client since then.
Popular in the Community