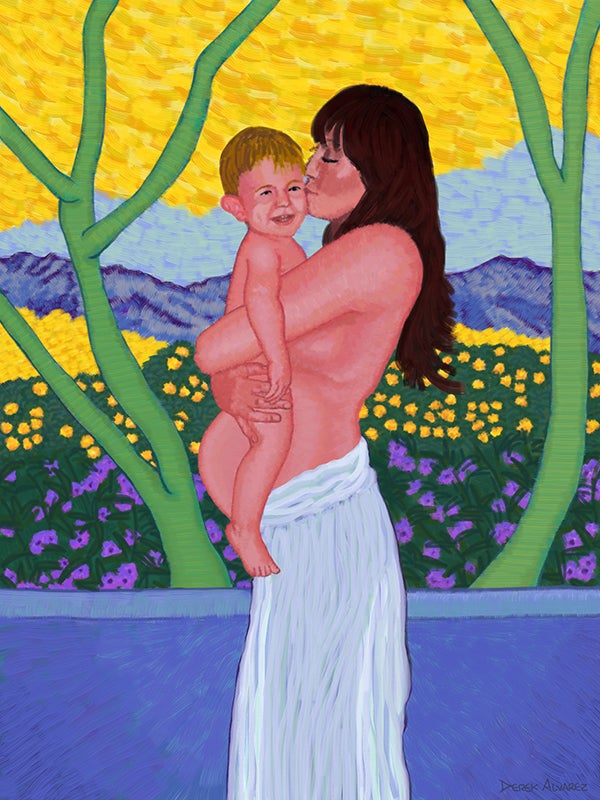 I am a person who decides what I want and boom, I make it happen. Motherhood was not that way for me.
It's late. I am working on a blog post and my oldest son is snuggled right beside me in bed. I look down to admire his fair skin and wavy blonde hair. He'll be three in January and I can hardly believe it; I swear I was just holding him in my arms for hours on end.
The desire to become a mother first hit me in 2011.
Before that time I was convinced that having kids wasn't for me. Perhaps my time volunteering in orphanages contributed to my belief that the world had plenty of children that needed love. It may have been approaching thirty five years old, or my excitement about creating a business that was thriving. In any case, I felt the urge to have babies. As fulfilling as it was to have a booming business, the fast pace of downtown San Diego had taken its toll on me. I wanted more time to take care of myself so I could be in absolutely the best health before getting pregnant.
The obvious next step for me was to get out of the U.S. and travel.
Our plan was to move to Albania in early 2012, get pregnant, and raise our kids there. It felt like a solid plan. Surely spending my days lying on the empty beaches of Saranda would be enough to relax me. The slow pace of life was exactly what we needed, and we took time to explore not only Albania, but also Greece and Montenegro. We celebrated our fifth wedding anniversary at the Sveti Stefan. Having our first overseas adventure as a couple was incredibly bonding and a breath of fresh air. Our time there turned out to be everything we hoped it would be, except for the baby part. I never got pregnant and I was beyond disappointed. I was devastated.
I lost my focus and gave up on my dream.
As a result, we returned to the States in the fall and that alone threw me into depression. Being back in my home town was anything but comforting. Instead, it was a daily reminder that I was not where I wanted to be, both figuratively and literally.
It was an extra cold winter that year and, as a way of lifting our spirits, we took a train ride in Durango on New Year's Day.
I can't stand to be cold but on this day I almost welcomed it. I wanted to be numbed from the pain I was feeling. There was a father with two little boys sitting front of us who kept taking their jackets off in spite of below zero temperatures, and had a fascination with sticking their heads out the rattling windows.
I wondered if I would ever have two little boys, and if I would ever get back to traveling.
A couple weeks later I had the idea to return to the practice that had soothed me in the past: I decided to open a yoga studio. There was no studio yet in Cortez, and it would give me a reason to get out of bed every morning. I found the perfect little spot on Main Street.
The grand opening was in April, and immediately after the celebration I found out I was pregnant.
I ran through our house unable to contain the joy I felt. I wanted to run through the streets and announce the news to every single person I met. My next thought was, We have to live outside the U.S. Having a family and traveling go hand in hand for me. It was my travels, after all, that showed me the value of family. It was outside of my home country where I witnessed how children and elders are to be treated.
I felt a steel determination take over at that moment.
The new life within me inspired me to find a way to create a lifestyle that was conducive to a rich family life. You see, these were the only circumstances under which I wanted to be a mother. I see how Americans do family, work, and relationships. I know what is accepted by the masses, but I was never willing to accept it. I do not want to raise my kids in the United States. There. I said it. Burn me at the stake but I won't change my mind. I am unwilling to send my kids to be taken care of by someone else all day long. I will not work for another person, giving them forty, sixty, or even eighty hours a week of my precious life. I absolutely will not sit in traffic for one or two or more hours a day so I can buy a big house, drive a nice car and appear to be living the dream. That is not my dream.
I have one gift that I wish to give my children, and that is the gift of a happy mother.
It's not easy being a happy mom when you are balancing work, marriage, and self all at the speed of light. I won't bow to a culture that insists I put a greater emphasis on material possessions than on anything else. I won't succumb to a norm that preaches success at any cost. I will put people first. I will put experiences high on my priority list. I will keep my children by my side in this adventure called life, and I will travel with them to every amazing and beautiful place that calls our name. I will give my husband the space in my life needed to cultivate intimacy and deep love. And last but not least, I will pave the way for other mothers. For those who are brave enough to say, 'There must be a better way,' I can assure you that there is.
Today I'm watching my two little boys run through the hotel lobby as we vacation in Mexico City.
I'm seeing my dreams in physical reality. Motherhood and the lifestyle I dreamed of did not happen on my timeline or according to my plan. I had to first learn that I could trust my body, the Universe and the desires of my future children. I had to give up control. I had to release my plan no matter how solid and well thought out it seemed to be. Now it doesn't matter how it all came together. I am full of gratitude that we are traveling and that we are redefining what family, work, and relationships look like.
I don't know what dream you may be holding onto by a thread, but I want you to encourage you.
Your dreams aren't too much. They aren't too complex. They aren't too unconventional. Your dreams are in your heart because you have the capacity to manifest them. Some days the right thing may be for you to hang on and on other days, know it's ok to let go. May you find comfort in a divine distraction and strength for the unique way the Universe delivers your desires to you.