After many years of dreaming about it, my daughter and I finally took a summer trip to Europe. For months, this trip was all I could think about. Along with trying to stuff as many things as possible into a tiny suitcase, I tried to cram as many cities and events into our schedule as possible. At some point though, I did stop and wonder, "Why are we doing this? Why do we travel? Why pull ourselves away from the comforts of home and familiar habits and allow ourselves to be thrown happily and sometimes recklessly into the unknown?" On this trip, I hoped to find an answer.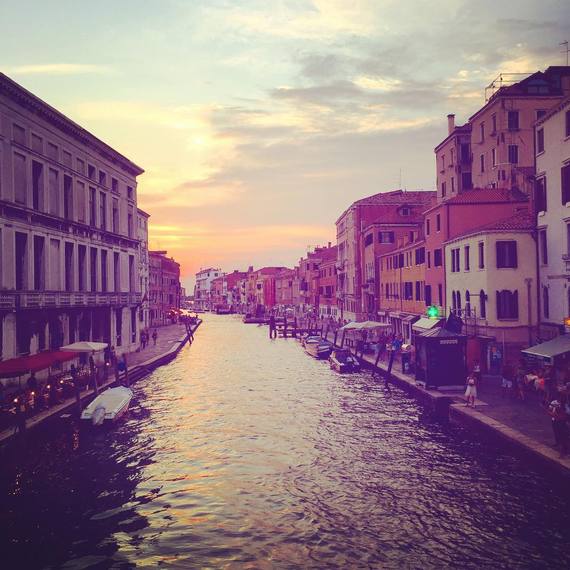 In Italy we are charmed by romantic Venice, and we spend a lazy morning feeding the pigeons in the Piazza San Marcos. As I watch the birds surround my daughter, I can't help but wonder how much history the thousands of generations of pigeons have witnessed. Maybe they saw Casanova escape through the roof of his prison cell or witnessed Lord Byron swim the length of the Grand Canal. They must have seen Marco Polo's ship sail into the harbor, bringing his exotic tales from the east. Maybe they witnessed Michelangelo's disappointment as he lost the contest to design the famous Rialto Bridge. They may have even caught a glimpse of Hemingway as he sat writing or drinking whiskey at one of the glossy, walnut tables in Harry's Bar.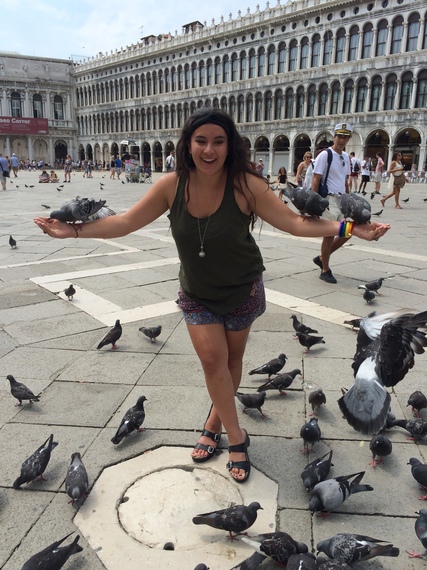 In Verona, the city that inspired Romeo and Juliet, stands a Roman Arena once used for gladiator fights and for throwing Christians to the lions. Walking down the darkened stone corridors into the belly of the arena we can still feel the overwhelming power that was Rome. We enter the Arena in our finest clothes, just as the Romans must have done to watch their entertainments, but instead of bloody combat, we are here to watch a lavish production of the opera, Aida. Everything is larger than life here: massive, glistening, gold pyramids, blue and gold sphinxes and giant pharaohs tower over the stage with the arches of the arena lit up against the night sky. Despite the sweltering heat of summer, the emotion-filled voices singing of love and despair give me chills and bring me to tears.
Milan is a peaceful, pleasant city. Here, Leonardo Da Vinci's Last Supper is housed in what was once the Dominican monks dining hall of Santa Maria Delle Grazie. The price of our ticket allows us 15 minutes. I envy the monks who saw Leonardo's masterpiece at every meal. The painting is serene and resilient but doesn't give up its secrets easily. As we are leaving, we learn that Leonardo da Vinci had a house and garden just next door and he lived there for 23 years. Now on the site of his garden, they are cultivating the variety of grapes he grew 500 years ago. They hope to produce the very wine Leonardo drank. "A good reason to return to Milan," I think.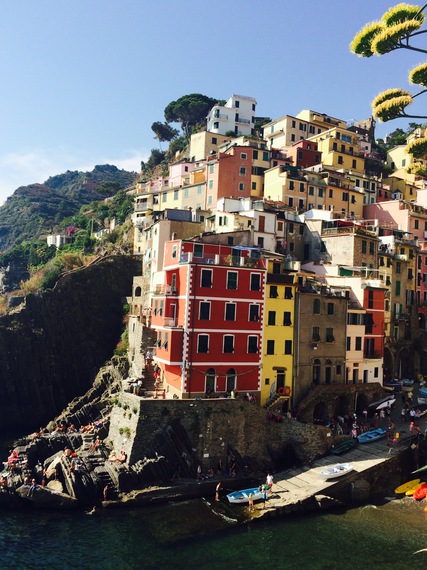 On our way to Florence, we find the five tiny, fishing villages known as Cinque Terre. The houses are built into the sheer rocks and cliffs with thousands of terraces of grapes and olives beyond. It's a magical, colorful place, a good place to rest.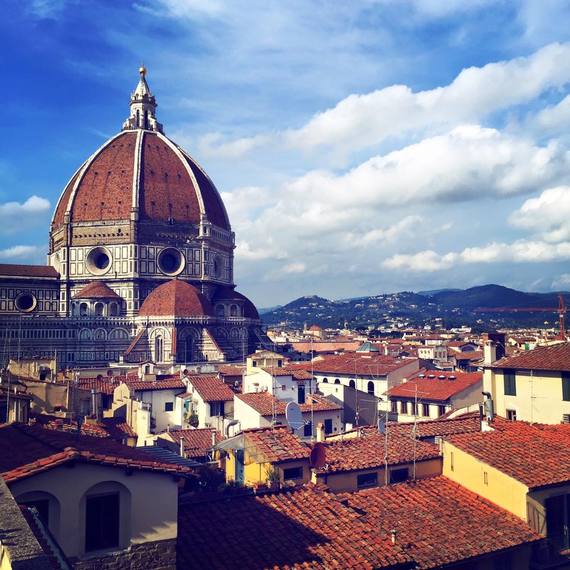 Finally in Florence, the rooftop terrace of our 500-year old building, now an AirBnB, offers an incredible view of Brunelleschi's dome. The seven flights of stairs are worth the climb and I sit on the terrace at night with a bottle of wine. I'm even serenaded from the street below. One night it was carnival music, another night it was classical from a nearby concert, and on the last night it was drunken love songs sung in Italian accompanied by an equally drunk accordion player. Beyond Florence, we love Tuscany with its fields of sunflowers, rolling hills, wine tasting and food. Despite being certain that we will tire of pasta, we never do.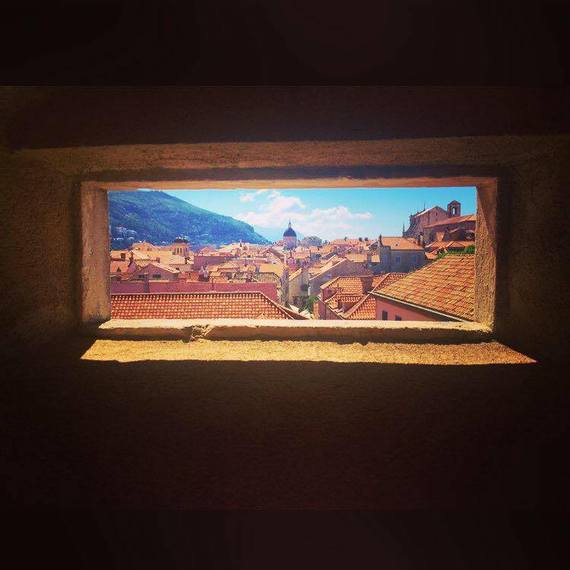 We take a side trip to visit beautiful Dubrovnik in Croatia. How surprised the medieval builders would be to learn that the city with its massive, sea walls and splendid views has been turned into a giant stage for the filming of King's Landing in Game of Thrones. From the battles of Blackwater Bay to Queen Cersei's walk of atonement, the fantasies of today and the historical events of the city sometimes mirror each other. At the end of the day, there's even a chance to sit on the Iron Throne.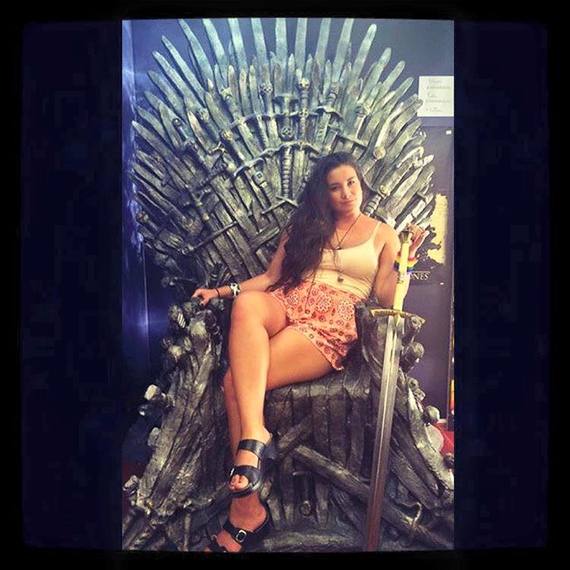 From this point on our trip is mostly about art (and occasionally shopping).
We try to see it all: from Leonardo's lovely faces,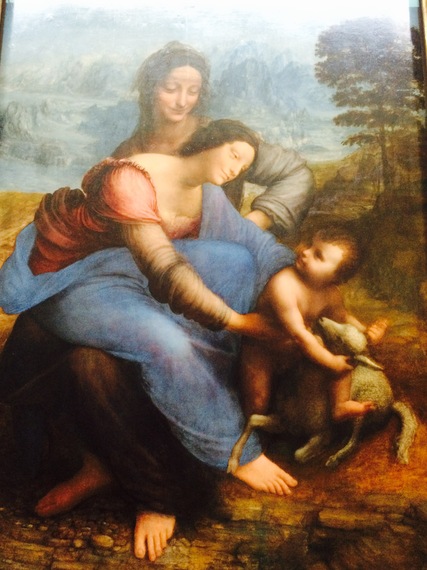 to Botticelli's fantasies,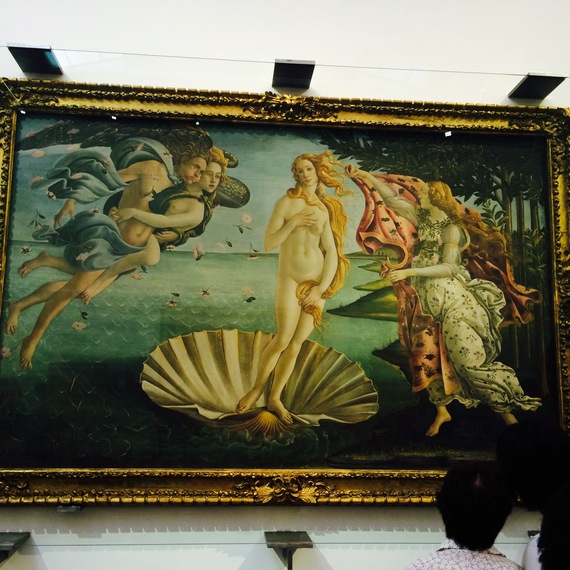 from Monet's gardens, to Cezanne's oranges,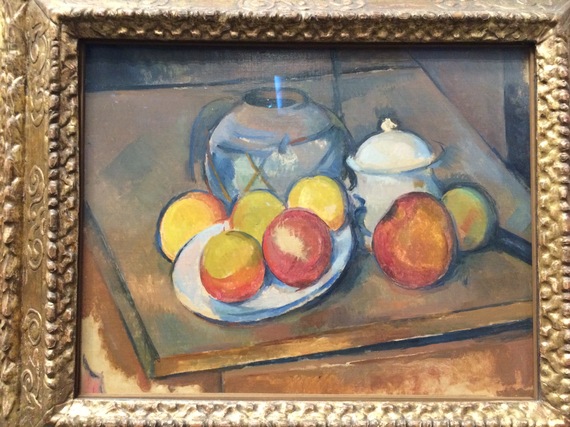 and from Picasso's experiments to street artists hoping someone will discover them.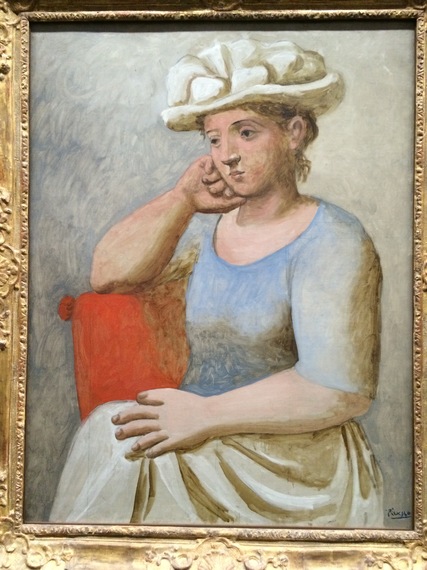 In Paris we visit the rock star of the art world, Mona Lisa. After hurrying down a long corridor of ignored masterpieces, we find her surrounded by an international mob. Some tourists stand and stare at her. Others push and shove to get to the front of the crowd and take obnoxious selfies. A few pull back and look at the painting from afar. I work my way through the crowd and have a brief moment at the front before the overworked, security guards, who look more like bouncers at a posh, European nightclub than museum guards, make everyone move. Some visitors refuse to budge. I can't blame them. After all, Mona Lisa is Leonardo's beloved creation with a thousand secrets and he carried her with him until the day he died. My daughter and I give up fighting the crowd and move to the side. Reluctantly, after an hour in her benevolent gaze, we leave.
Our trip is nearing an end and I'm beginning to understand why we travel. After five weeks on the road, we're not the same people we were when we left. Travel allows us to fill our lives with adventure. It gives us unlimited opportunities to experience dreams we didn't even know we had. We have a chance to reap the world's riches for inspiration and return home to create something wildly different and new. We take with us the kindness, charm and humor of the people we meet along the way and we leave some of ourselves behind too. In spite of all the money we spend, we are far richer at the end of our travels than we were at the beginning.
We still have a few days left, so after leaving Paris, we head to London. We take in everything, from a five-hundred-year-old comedy at Shakespeare's Globe to Sherlock's fictional haunts, from the gold-encrusted gates of Buckingham Palace to Harry Potter's cupboard under the stairs. And London serves to remind us that sometimes, travel is just about having as much fun as possible.