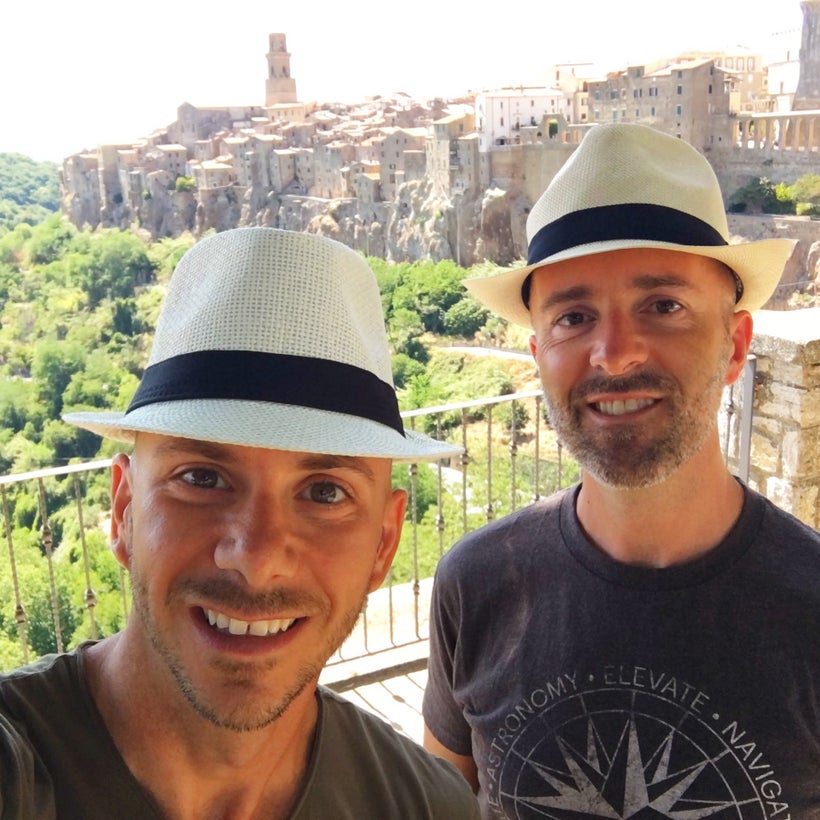 My husband Adrian and I are constantly planning yoga and meditation retreats, but for us those trips are work. What little travel time is left over in our annual calendar is usually devoted to family visits. This year, for the first time in our four years together, we decided we needed a real vacation. No students, no family, no retreats, no work.
We returned three days ago from an epic, two-week journey to Europe — in many ways the trip of a lifetime. We are jet lagged, but so grateful for the many incredible things we saw and experienced — almost too many to remember and describe. Even as we are getting back to work, our minds are still reeling and processing it all. Something deep within us was changed by our travels, but we haven't yet figured out exactly what.
Mark Twain wrote, "Travel is fatal to prejudice, bigotry, and narrow-mindedness, and many of our people need it sorely on these accounts. Broad, wholesome, charitable views of men and things cannot be acquired by vegetating in one little corner of the earth all one's lifetime."
Paris dazzled us with its charm and elegance, its sophisticated food and art. We tore through the city on tour buses, on boats, in taxis, and on foot, seeing more sights in three days than seemed humanly possible. The day we arrived, Adrian's first impression was that Paris was just another big Buenos Aires, but the next morning (while I slept) he went for a solo run along the Seine, through the courtyard of the Louvre, to the Eiffel Tower and the Champs Elysées, and he came back from that run utterly in love with Paris, and knowing that it's unlike anywhere else in the world. Impulsively one afternoon, we jumped on a train and left the city to visit Chateau Fontainebleau.
Rome shocked us with its chaos, electricity, dirtiness, and noise. On our first day, we weren't at all sure that we liked it much. But we visited the Vatican Museum and saw the Sistine Chapel, and then St. Peter's Basilica, where something happened to me that I have trouble describing, something approaching a religious experience. I walked into the cathedral and immediately tears of awe began streaming down my face, and didn't stop for 20 minutes.
On our second day in Rome we attended an audience with the Pope (yes, that Pope), and then toured the ancient sites of Rome on Segways. We walked through the Pantheon with a British archaeologist who explained its significance, and we stumbled into a little bookstore run by an old man who specialized in books on spirituality and occult subjects, like something out of the Roman Polanski film "The Ninth Gate." At night, we strolled to the Fontana di Trevi and the Spanish Steps. After feeling a little bit repulsed by Rome on our first day, we left the city feeling a little bit in love with it. Such a chaotic and strange mixture of ancient and modern, religious and artistic, sacred and profane.
We rented a car in Rome to drive north to visit a friend's house near Tuscany — a terrifying proposition in itself, because Romans are the scariest drivers I've ever seen. We got lost in the Italian countryside looking for our friend's house, which turned out to be an abandoned 17th-century convent that she bought and has renovated into a place of enchantment, with lush gardens and lemon trees and rosemary bushes and walls of jasmine and sheep roaming through the valley below with bells on their necks, and a fully functional swimming pool. We arrived to find no one home — she had simply left us the keys to a 17th-century convent for the weekend. We loved every moment of our stay, and strolling through the nearby medieval, walled village of Pitigliano.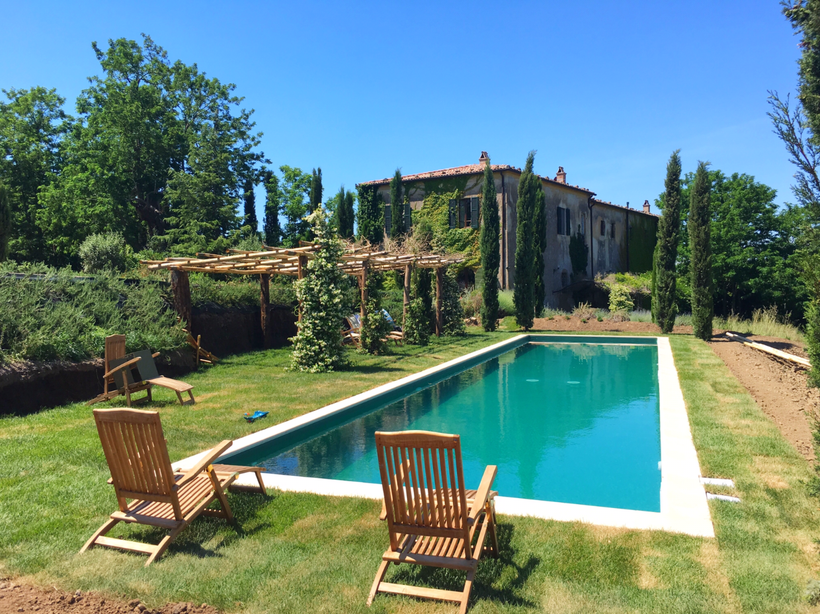 We drove back to Rome and flew to Catania in Sicily, where we rented another car. At the rental counter, Adrian insisted on a convertible ("We're in Sicily," he pleaded, "When will we be in Sicily again?") so we ended up in a convertible Volkswagen Beetle with our suitcases in the back seat.
The sea and sky and rugged, vertical landscape at Taormina took our breath away. This destination had been on my bucket list for 20 years. Our hotel was perched high on the cliffside, and we had to take three different elevators to get to our room overlooking the sea. We took a long and winding staircase down to the ocean and swam among giant rocks, jumping off of them into deep tidal pools in the Ionian Sea.
On our last full day in Sicily we drove two hours across the island to Cefalu, where a cathedral from 1131 AD sits beneath a giant vertical rock the size of a mountain. We took another boat excursion and snorkeled and swam off the shores of Cefalu, jumping from the side of the boat into the water over and over like children at play. The sea at Cefalu was warmer and clearer than the sea at Taormina. We didn't want to leave the water.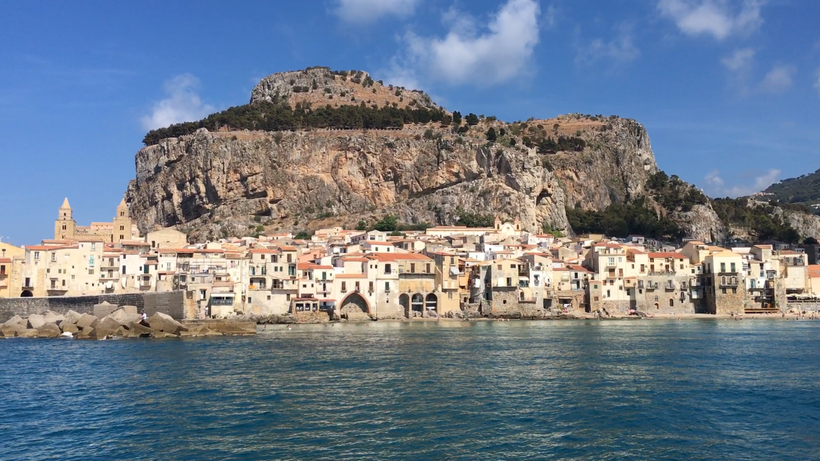 We flew back to Paris for one last night, staying at the same hotel we had chosen when we first arrived. Our concierge had a surprise for us: a free upgrade to the penthouse suite, a multi-level room with the largest bathtub I've ever seen and garret windows overlooking the rooftops of St. Germaine des Pres. After being dazzled by the 12th-century stained glass cathedral of Sainte-Chapelle, we walked through Le Marais and stumbled upon a fantastic, intimate restaurant where our final meal in Paris included escargots and chateaubriand.
Three days home, I'm jet-lagged and getting back to work, but feeling like a huge chunk of my heart is missing — left scattered in several places across France and Italy. I know the only way to get it back will be to return someday and find it waiting for me there, where I left it. In the meantime, the net effect is that my heart and mind feel more open — more tolerant and understanding of cultural differences and of how small and limited my little corner of the earth actually is.
I've been bitten once again by the travel bug, and I won't wait so long this time to plan my next real vacation. Of course, traveling abroad costs money, and is not always within everyone's means. I know I'll have to wait until we recover financially from this trip before planning another one. But what I also know more clearly now than ever is that life is short, and there is a whole world of unscripted, mind-opening experiences waiting out there.
Calling all HuffPost superfans!
Sign up for membership to become a founding member and help shape HuffPost's next chapter
This post was published on the now-closed HuffPost Contributor platform. Contributors control their own work and posted freely to our site. If you need to flag this entry as abusive,
send us an email
.