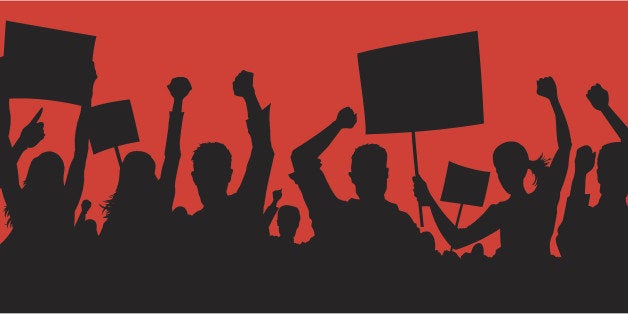 In the media, Donald Trump and his allies have sought to "appeal" to Bernie Sanders supporters. But at GOP rallies and in Congressional votes, it's a different story.
"I heard Bernie Sanders will drop out today," Donald Trump crowed to a Georgia audience at an Atlanta rally I attended in June of 2016. The crowd erupted in cheers. A bearded man with glasses yelled out only one phrase: "Feel the Bern!" That man was surrounded by angry Trump supporters who chanted "Trump! Trump! Trump! Trump!..". He was promptly escorted from the Fox Theater by security forces while some college students near me yelled "[Expletive] Commie!"
That was my first clue of how Trump and fans really feel about Bernie Sanders and his supporters. The second that day came later in that rally, when Donald Trump said he was in favor of free trade. "I'm not against free trade," he told his supporters. He also told a Manchester, New Hampshire rally in June "I am a free trader."
Donald Trump announced his opposition to the World Trade Organization recently. But given that he likes free trade, it isn't for the same reasons Bernie Sanders doesn't like the WTO.
Trump is betting that he can campaign against free trade deals using the specter of targeting illegal immigration. But I attended a Bernie Sanders rally in Birmingham, Alabama in January of 2016, and spoke to many supporters. I couldn't find any xenophobes or anyone who thought building a wall to keep Mexicans out was a good idea. In fact, they were a pretty tolerant bunch, on racial and ethnic issues.
Sanders himself didn't do any race-baiting or denigration of ethnic groups in his speech. In fact, his MLK Day speech was very liberal on race relations and appealing to all people.
Trump and Pence have given somber looks whenever they discuss "how Clinton treated Sanders." But there's no indication that they would have been any nicer. Both have had harsh words about Sanders' socialism that you never heard from Hillary Clinton. In fact, her campaign was much more professional toward Sanders than the insults Trump and other Republicans lobbed at the Vermont Senator, before he was even the nominee. Trump just called Sanders "weak and pathetic." Sanders called Trump "the worst candidate."
So I say this to the Bernie Sanders supporters. Support your candidate, your issues, and your passions, during and after the DNC. Just know that Donald Trump only wants your disgruntled vote, and wouldn't deliver a single policy that you value. He despises your candidate and what he stands for.
John A. Tures is a professor of political science at LaGrange College in LaGrange, Ga. He can be reached at jtures@lagrange.edu.
REAL LIFE. REAL NEWS. REAL VOICES.
Help us tell more of the stories that matter from voices that too often remain unheard.