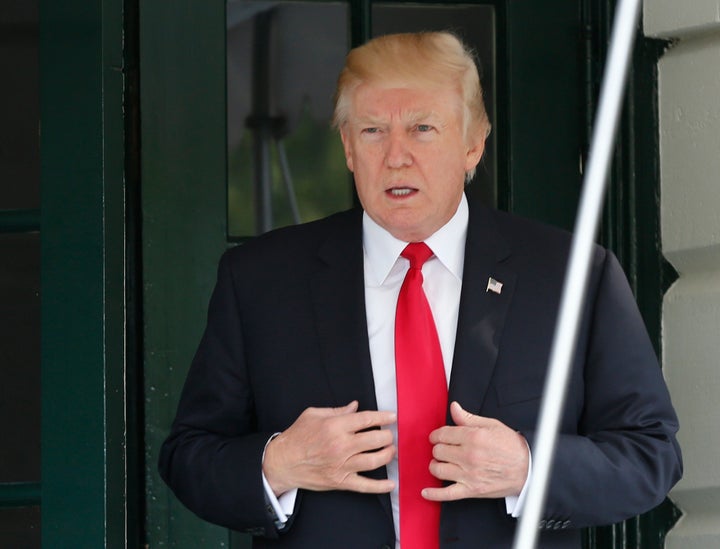 In the past couple of weeks, Polish Prime Minister Jarosław Kaczyński has moved to take over Poland's independent courts, Turkish president Recep Tayyip Edrogan has intensified his seizure of businesses seen as operated by people unfriendly to the regime, and the ruling Hungarian Fidesz Party of Viktor Orban has plastered Budapest with large posters of a grinning George Soros and the slogan, "Don't let Soros have the last laugh." In case the message was not clear enough, friendly thugs then obliged by adding anti-Semitic graffiti, such as "Stinking Jew."
These all happen to be leaders admired by our own president, Donald Trump.
Earlier this month, Trump went out of his way to make Poland the first stop on his European trip.
In Warsaw, he gave a fawning speech praising the current Polish government for holding back the assault on Western civilization. The speech included scarcely a word about one of the most important contributions of our common civilization, namely political democracy and religious tolerance; and not a word cautioning the Polish government about its increasing repression. Instead, the speech was a paean to Polish nationalism, Christianity, and the triumph of the will.
The State Department Friday issued only the most tepid, pro forma statement objecting to Kaczyński's assault on the courts, in the form of a press release by spokesperson Heather Nauert. Here is the entire statement:
"The Polish government has continued to pursue legislation that appears to undermine judicial independence and weaken the rule of law in Poland. We urge all sides to ensure that any judicial reform does not violate Poland's constitution or international legal obligations and respects the principles of judicial independence and separation of powers.
Poland is a close ally of the United States, and a strong and healthy democracy in Poland is vital to relations between our two countries.
We remain confident about the strength of Poland's democracy and the ability of Poles to address these issues through dialogue and compromise to ensure Poland's democratic institutions and system of checks and balances are fully functioning and respected."
Nothing from the secretary of state, much less from the court-defying President Trump, who knows a kindred spirit when he sees one. In the meantime, the badly divided European Union has been trying to work up its collective courage to deliver on threatened sanctions against Poland's previous assaults on democracy, but with no help from Washington.
It's hard to prove direct cause and effect, of course. But Trump's wet-kiss embrace of the current Polish regime surely signaled that further repression in Warsaw would produce nothing to fear from Washington.
Nor did the Trump government push back against either Erdogan's increasingly dictatorial moves, or the anti-Semitism of Orban. Trump is pretty good at dog-whistle anti-Semitism himself, most recently on that same trip to Warsaw where he calculatingly passed up a chance to visit the memorial to the Warsaw Ghetto.
As autocrats have moved to weaken democracy across the globe, one of the most important bulwarks had been Washington's use of soft power. Under President Obama, the State Department and U.S. ambassadors regularly warned incipient dictators of serious consequences if the free press, independent civil society groups and political opposition were menaced. Under Trump, this has pretty well ceased, and even gone into reverse.
Trump has gone out of his way to embrace even the crudest of dictators such as Rodrigo Duterte of the Philippines. Trump singled out for praise Duterte's program to deal with the drug problem, which boils down to murdering alleged or suspected drug dealers, never mind due progress of law. In the transcript of a phone conversation with Duterte, Trump told the dictator: "I just wanted to congratulate you because I am hearing of the unbelievable job on the drug problem."
Unbelievable — Trump got that right.
Under Trump, autocrats have felt empowered and validated by the President of the United States, whose fondest aspiration is to join their ranks, without the pesky interference of courts, a free press, and balky legislators.
Trump is doing huge damage at home. Let's not forget the damage he is going in other threatened democracies, not just to America's reputation but to democracy itself.
Robert Kuttner is co-editor of The American Prospect and professor at Brandeis University's Heller School. His latest book is Debtors' Prison: The Politics of Austerity Versus Possibility.
Popular in the Community