"Reality has a way of catching up with you," President Barack Obama counseled the incoming administration in his farewell address, and so it did on January 28 as tens of thousands showed up at dozens of US and international airports to protest an executive order barring entry to all immigrants and visa holders from seven majority-Muslim countries for 90 days, and all refugees for 120 days (refugees from Syria are now banned indefinitely). The rapid mobilization of so many impromptu allies on behalf of tens of thousands of legal immigrants and visitors to the United States served notice to the president and his allies in Congress that similar efforts to deport undocumented immigrants and their children, numbering in the millions, would be met by fierce resistance.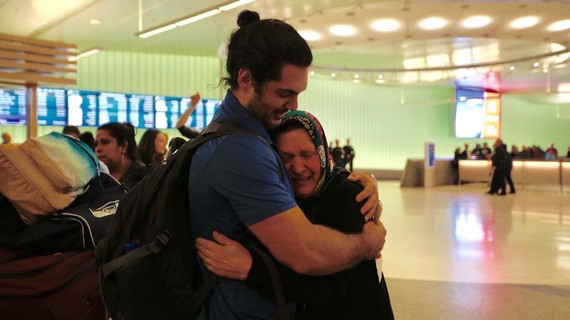 (Francine Orr / Los Angeles Times)
As remarkable as the diligence of the gathered crowds were the circumstances of those being detained by Customs and Border Protection officials, a scientist bound for Harvard to study cardiovascular medicine, a former interpreter for the US Army during the Iraq war returning home with his family, a grandmother rising from a wheelchair to embrace her grandson after spending more than seven hours in detention. Footage of a 5-year-old reunited with his mother after being held alone and in handcuffs crippled the imagination and effectively undermined the notion that any of this was about national security.
Defenders of the President's travel ban have pointed to supposedly equivalent policies under the Obama administration. Although the specific comparisons are laughable, the fact that Donald Trump's actions are part of a larger context of American foreign policy in the Muslim Middle East and Africa is not. Critics of the president rightfully point out that since 1975 there has never been an American killed in an act of terror by a foreign national from one of the embargoed countries, yet three---Syria, Sudan, and Iran---have been designated by the State Department as "state sponsors of terrorism" since at least the 1990s, an incongruence that, because it is largely ignored by Trump's opponents, only enables him to pursue his current policies.
Out of all the countries affected by the travel ban, it is the country at the top of the terror list, Iran, that sends by far the largest number of its citizens to the United States, more than 35,000, a figure that does not include the 40 percent of applicants rejected outright by the State Department, or the many more deterred from applying (with no American embassy in Iran, Iranians must travel to Turkey, Tajikistan or to Dubai, in the United Arab Emirates, to apply for a visa).
When Iran sends its people, it sends its best. The New York Times reports that colleges and universities in the U.S. hosted about 17,000 students from the seven banned countries last year. Of those who came here last year, more than 12,000 were Iranian nationals. Many of these same Iranians featured prominently in the coverage this past week, their stories a roll call of accomplishment. Mixed in with the many grandparents, parents, and retirees who make the long and melancholy journey from Iran to be with their family here in the States, is the story of Ali Abdi, an Iranian PhD student in anthropology at Yale and green card holder, now in limbo between Afghanistan, where he planned to do his fieldwork, Iran, where he was born but cannot return to because of his outspokenness about human rights violations there, and the United States, where he lives as a student and permanent resident.
There is the case of Samira Asgari, a molecular biologist who, on her way to Boston from Switzerland in order to start a postdoc research project on genomics of infectious disorders at the Harvard-affiliated Brigham and Woman's Hospital, found out that she was barred from entry despite having a valid visa. Nima Enyati, an Iranian-born bioengineer, was due to begin research at Stanford University on robotic surgery. He too was refused entry, turned away at check-in at a Milan airport.
Given that female students dominate Iranian universities, many of those barred entry have been women, including Niki Mossafer Rahmati, a gifted mechanical engineering student at MIT, Amene and Marzieh Asgari, two sisters from Iran, both on their way to Harvard University, one a visiting scholar in philosophy and the other starting a postdoc at the medical school. The contrast between these individuals and an official policy that classifies all Iranians as potential terrorists represents an unsustainable contradiction, one left unresolved by U.S. District Judge James Robart's decision on Friday night to block Donald Trump's ban in its entirety.
For Iranian-Americans watching events unfold at home, many of whom are old enough to remember when being from Iran carried an aura of glamour and prestige, only to be lost completely in revolution and an American embassy held hostage, the sight of so many "real Americans," amrikaiha ye asil, rushing to the defense of Iranians and other Muslims has been dizzying, to say the least. Not since the protests of the 2009 Green Movement have Iranians been so visible, or taken so seriously as individuals with ambitions that lie beyond the usual narrative threads of the veil, the pursuit of jihad, or the destruction of Israel. It is a peculiar and particularly satisfying twist of fate that authoritarians in the US and Iran have managed to restore the reputation of millions. By their actions, they have made ordinary Iranians great again.
That the airport is the locus of this transformation is somehow fitting. The long drive out to Imam Khomeini Airport to see off a green card holder or the university student who has secured a visa and a scholarship, is an exceptional experience, a cause for gathering and celebration, and a major part of contemporary Iranian culture. The ordinary traveler could be certain that she would be made extraordinary upon her return to Iran, forced to endure a loving if chaotic and crowded embrace by family and friends. It is at the airport that that same traveller begins the process of assimilation, the point at which the immigrant begins to become someone else, less Iranian, more American.
So it goes with countries. The airport has provided some of the most visible measures of how we've changed as Americans since 9/11. Who we are, what we've lost, is right there, in the mechanism of boarding a flight, in how we are treated, and treat others, upon arrival. An entire generation of citizens knows only the spectacle of removed shoes and full body scans, cossetted in a theater of security - nothing of the joyous grief of walking the length of terminals to see a loved one off at the gate.
There came word this past week that US border officials are now checking the social media accounts of visa and green card holders before allowing them entry into the United States. There is precedent for this. Dual-nationals and foreign visitors to Iran anticipated the same treatment entering and leaving the Islamic Republic of Iran during the 2009 protests. Evidence that it was happening to travelers who fit "the profile" was mostly anecdotal and hearsay, but hardly incredible or surprising given the nature of the regime. That it's now happening here in the United States, as part of a crisis self-inflicted by incompetents and promptly endorsed by Republican members of Congress at the highest levels, reveals its own set of uncomfortable and ugly truths. We have, it would seem, begun to become someone else, if not more Iranian, then less American. It is, for many new Americans, the loss of hope beyond despair.
This essay first appeared in Muftah. Shervin Malekzadeh is a Visiting Scholar at the Middle East Center, University of Pennsylvania. He can be contacted at www.shervinmalekzadeh.com.
Related
Popular in the Community