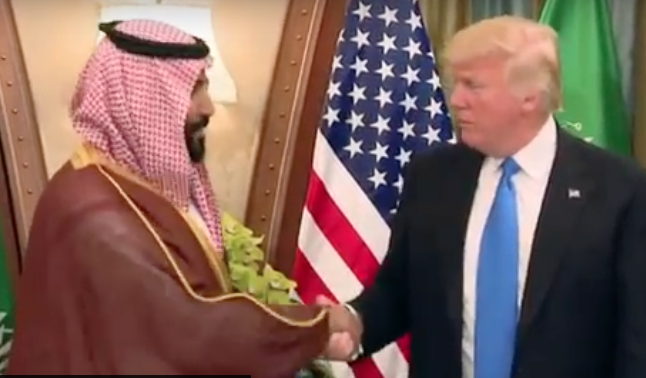 The split inside the Trump administration over how to deal with the Qatar crisis has opened a dangerous situation that could soon lead to armed conflict.
The State and Defense Departments have largely sided with Qatar, but the White House has undermined the leverage the U.S. has over Saudi Arabia to rein in Riyadh's aggressive behavior towards its neighbor. President Donald Trump last week called Qatar "a funder of terrorism at a very high level,"ignoring that Saudi Arabia is a big supporter too.
Tension between Qatar and Saudi Arabia (with its main allies the UAE, Bahrain and Egypt) has been building for years. Earlier in June the four nations imposed an economic blockade on Qatar and cut diplomatic ties. They closed their airspace to Qatar Airways and food imports, on which Qatar depends, were blocked at the country's only land border, which is with Saudi Arabia.
After U.S. Secretary of State Rex Tillerson urged an end to the economic embargo and called on the Saudis to make "reasonable" proposals, Riyadh on Friday released a list of 13 demands that was designed to be rejected by Doha. Saudi Arabia laid down a 10-day deadline for Qatar to respond by July 7. The Saudis did not say what would happen next, but there are ominous signs.
Qatar has already rejected the demands as unrealistic. Among them is for Qatar to break all ties with Iran, stop supporting the Muslim Brotherhood and to shut down the Al Jazeera television network. The Brotherhood seeks to institute an Islamist agenda through the ballot box, a threat to the monarchist Saudis. Al Jazeera's broadcasting helped stir up popular revolt during the failed Arab Spring, a threat to Saudi rule. If Riyadh intends to go to war with its regional rival, Shi'ite Iran, it needs U.S. support. The largest U.S. military base in the Middle East is in Qatar, which would have to be on board for an attack.
In Syria and Afghanistan Trump has left decisions largely up to the military, rendering many of his tweets and statements irrelevant. But Trump is asserting himself in the Gulf crisis. He even tried to take credit for the embargo after his visit to Riyadh last month, where he also met the Qatari emir. While the Pentagon and the State Department want a mediated settlement, White House spokesman Sean Spicer said on Friday said the crisis should be left up to the participants to solve.
"The four countries that are part of that - we believe it's a family issue and that they should work [it] out," Spicer said. "If we can help facilitate those discussions then so be it," he said. "They want to, and should work [it] out for themselves."
Spicer's remark reminded Ali al-Ahmed, director of the Institute for Gulf Affairs in Washington, of the George H.W. Bush administration's ambassador to Iraq, April Glaspie, telling Saddam Hussein in 1990 that the U.S. had no "no opinion on inter-Arab disputes, such as your border disagreement with Kuwait." Eight days later Saddam invaded Kuwait.
Al-Ahmed thinks Spicer's remark is similarly a sign that Trump has given Riyadh a green light to invade Qatar. He said the elevation last week of Mohammed bin-Salman to Saudi Crown Prince is another ominous sign. Bin-Salman, who has shown his aggressiveness as defense minister with a two-year, open-ended disastrous attack on neighboring Yemen, replaced Muhammad bin Nayef, who was "seen as too close to Qatar, and had to be pushed out," al-Ahmed told me.
Bin-Salman will want to consolidate his power in his new position the way he did when he was named defense minister, by launching a war, al-Ahmed said. He drew another parallel with Saddam Hussein who invaded Iran a year after he came to power to shore up his authority, with U.S. support that time too.
The disastrous war in Yemen has drained the Saudi treasury. So there is also the matter of seizing control of Qatar's supply of natural gas, the world's third largest, through a puppet regime Riyadh would seek to install in Doha, al-Ahmed said.
Fearing a Larger Conflict
Given the dangers involved, instead of staying out of it, the White House should send an unequivocal message, he said. "The U.S. should make clear that the use of violence against another nation is not acceptable and will have consequences," he said. With the leverage Washington has, "I think if the U.S. really wanted this resolved, it can achieve it easily."
Giorgio Cafiero, chief executive of Gulf State Analytics in Washington, told me the U.S. itself would benefit by resolving the Gulf crisis. "Unquestionably, it serves Washington's interests to see its Sunni Arab allies maintain a semblance of unity and cohesion, thus this rift represents a major problem for the U.S. and its foreign policy in the Gulf region," Cafiero said.
With the U.S. largely butting out, Kuwait has been leading an effort for the Gulf Cooperation Council to solve the crisis without outside help. With its "mixed messages" on the crisis, Washington "appears to be in a relatively weak position to facilitate a restoration of diplomatic and economic relations between the involved states," Cafiero said.
And that could only spell danger. "The longer this stalemate prolongs, the more politically costly it will be for either side to back down," Cafiero said. "In the event that Saudi Arabia and the UAE's pressure on Qatar fails to achieve Riyadh and Abu Dhabi's goals, there are risks of escalating tensions."
"A military confrontation cannot be dismissed as a possible outcome of diplomatic failures to resolve the row, " Cafiero said. But that may indeed be what Trump wants and why he seems to want no part in solving the crisis.
If Trump wanted the U.S. to act like a Great Power he would go even a step further to use American leverage to force an accommodation between the Saudis and the Iranians. Their rivalry has impacted conflicts in Syria, Lebanon, Yemen, Bahrain, Afghanistan and now Qatar too.
In May bin-Salman threatened to directly attack Iran and Iran returned the threat. The Saudis and Iranians blame each other as aggressors. But neither is going anywhere. A balance of power is needed to bring stability to the region. Instead of facilitating this, Trump is lowering the U.S. to the level of the sectarian combatants, openly siding with Sunni Riyadh while threatening Iran, thus risking an even larger regional war. A U.S. green light to invade Qatar could well be the prelude to an attack on Iran.
Iranian President Hassan Rouhani told the Qatari emir in a phone call on Sunday that "Tehran will stand by Qatar's government" and that the "siege of Qatar is not acceptable for us," said the website of Rouhani's office. "Iran's air space, ground and sea will be always be open to Qatar as a … friendly nation," said Rouhani, adding that "pressure, threats and sanctions" are not the way to resolve the crisis.
If the Saudis do indeed invade al-Ahmed believes U.S. troops stationed in Qatar would secure infrastructure in Doha but would otherwise not stand in the way. Doha might not be able to rely on a contingent of Turkish forces that have been rushed to Qatar, he said, because the Turkish troops deployed do not have the heavy weapons needed to repel an invasion. The Qatar military can succeed in defending its county only if the population fights with them, said al-Ahmed.
"The Qataris should start arming every man now," he said.
Support HuffPost
The Stakes Have Never Been Higher
Related
Popular in the Community