If you would like a succinct peek at the present online art scene, sit down for a chat with California-based comic artist and animator Andrew Stewart.
Stewart (also known as @Viruul), like so many of his colleagues, is knee deep in an artist renaissance, which, unlike previous artistic blooms that were typically tied to specific neighborhoods and cities, is moored within the social media world -- specifically sites like Tumblr, Twitter, Instagram and deviantART.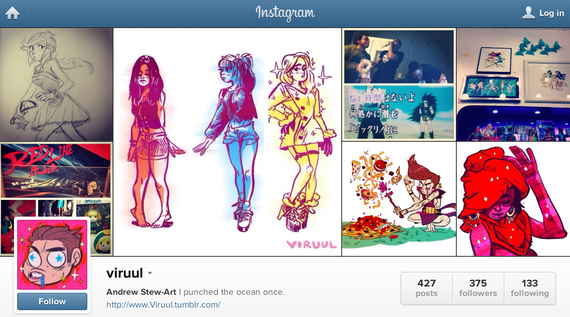 Andrew Stewart on Instagram
These social networks are providing artists with professional and artistic development, moral support, new jobs and opportunities, and loads of fun. The growing popularity of art collabs (themed artistic collaborations whereby artists submit contributions to a just-for-fun project via Twitter and Tumblr) provides an excellent example of what's happening online.
I recently spoke with Stewart about his experience with the present online art scene and the collab he organized, in which he invited his friends to contribute illustrations of their favorite characters from a long-running and beloved anime series called One Piece.
Our interview below touches on the inspiration behind this particular collab (which is still taking in submissions), the relationship between social media and an artist's career, and the manner in which sites like Kickstarter, Instagram and Facebook are enabling artists to expand their horizons in inspiring new ways.
Simone Collins (SC): What inspired you to choose One Piece for the theme of your collab?
Andrew Stewart (AS): One Piece is a huge inspiration for me in so many ways and its something I knew was beloved by so many other artists. Its a series that has touched people around the world. I also knew it had over like 400-plus characters to choose from so there was enough to go around.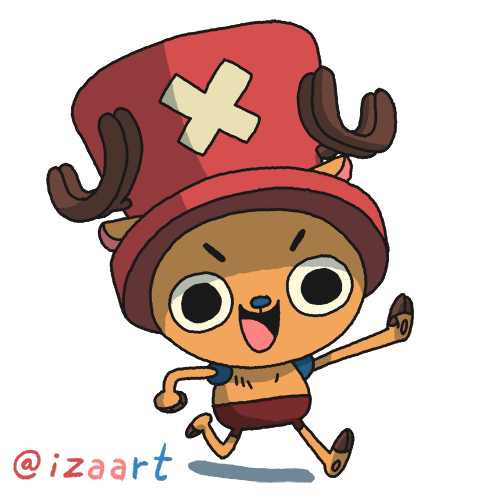 Chopper by Iza
SC: What sets One Piece characters apart from other characters in popular anime shows? Does the show's animation style set them apart? Or is there something different about their personalities that makes them particularly fun to draw?
AS: The characters in One Piece are different not only in their designs, but in their personalities. No two characters are designed or written the same. Well, unless they're supposed to be designed as a matching pair! Most of the One Piece characters have a unique laugh, personality quark, habit, problem, etc. People actually signing up for the collab had such a hard time choosing between a main character or a minor one because the designs are all just so appealing.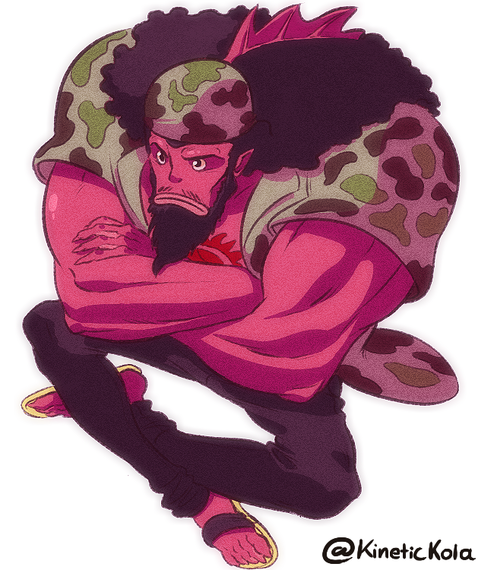 Fisher Tiger by KineticKola
SC: What character have you chosen to contribute to the collab, and what drew you to that character in particular?
AS: I chose to draw Nightmare Luffy and King Riku Dold the III. I gravitated to Nightmare Luffy first because I love Luffy, but I didn't want to nab the main character from my own collaboration. So I chose my next favorite version of him. I then chose King Riku Dold the III because I wanted to draw someone from the more recent chapters of the manga. He has become an instant favorite for me. I love his strange salt and pepper hair and pajama like garb.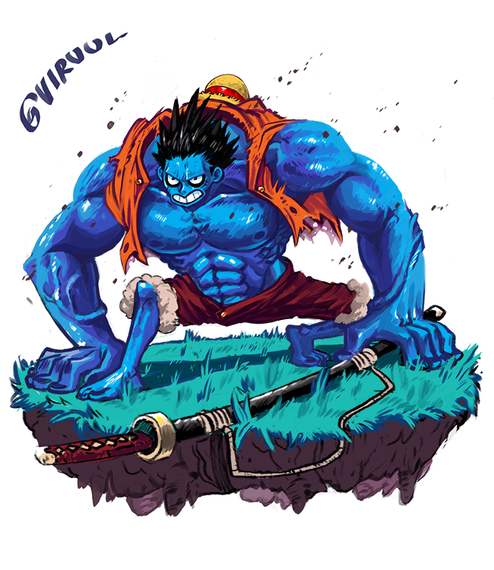 Nightmare Luffy by Andrew Stewart
SC: Could you elaborate a bit on your background as a storyboard artist, comic artist and 2D animator?
AS: So far I've only done freelance storyboarding for various commercial studios and art tests for cartoon studios. As for Comic art I am currently a colorist for the webcomic VIBE created by Dan Ciurczak and his short comic series The Adventures of Big Red. I am currently producing my own webcomic that will come out this year called Prom Fight and a mini comic called Space Coppa. They will both be hosted on the website Cup of Comics.
SC: Has your involvement in social media-related art stuff online (such as collabs) ever led to job opportunities, or is this purely for fun and development?
AS: Social media has led me to a few freelance illustration jobs. I thank Twitter because of it being a huge communication tool to organized the collab. Though I didn't start the One Piece collaboration with the mindset to get any jobs from it. I originally started it because a friend of mine Dan Jones and Justin Chan started their own for Zelda Monsters and Pokemon collab for fun.
SC: How has social media (e.g. deviantART, Tumblr, Twitter, etc.) influenced your development and career as an artist?
AS: Websites like Twitter, Tumblr, and Instagram have helped me thrive as an artist; A LOT! Twitter as I said earlier lately has been a huge help for me getting some small freelance work. I like that it's able to be used like you're texting someone on your phone, but without the hassle of giving out your phone number. I use Tumblr as a blog/portfolio site where I post sketches, drawings, and miscellaneous stuff. I oddly enough really enjoy Instagram, but not for taking selfies or food photos. I use Instagram more to post traditional sketches kind of like a digital sketchbook.
SC: Do you think that social media is shaping the evolution of art, design, cartoons, and even fine art in any significantly new ways, or are developments in the art world happening the same way you imagined they happened in artistic communities in the past (that just happened to be offline- in artistic niches of cities like Paris and Vienna)?
AS: I believe Social media is shaping a new era for art and artists in all kinds of ways. Websites like Kickstarter, which use crowdfunding to allow people to make things like video games, cartoons, music, films, and so much more. People can then use Twitter, Tumblr, Instagram, Facebook and all these social networking websites to promote their creative projects. Kinda like how I used twitter to promote the One Piece Collab!
Art communities use to be on small forums and specific sites like deviantART, SheezyArt, and GaiaOnline. It was these small cluster of places that isolated different types of artists from each other. Now I feel like artists have found homes in so many different social media websites that are not just specific to a type of art group.
This allows us to branch out to all kinds of creative people you would never encounter or find on a closed art community website. Places like Tumblr and Twitter allow me to to find so much more than artists that draw similar subjects that I do. I find find artists, musicians, writers, bloggers, youtubers, and so much more. These websites have made for a beautiful creative home for people all around the world and I love it.
I would like to advise people not to overwhelm themselves with social media or become obsessed with becoming popular online. As long as you can keep a good balance, it's an amazing place for creative people to come together and share their work.
REAL LIFE. REAL NEWS. REAL VOICES.
Help us tell more of the stories that matter from voices that too often remain unheard.