Jostein Solheim is the CEO of Ben & Jerry's
Mike Brady is the CEO of Greyston
Greyston has been baking brownies for 35 years and not one employee working on the production floor was interviewed before being offered a position in this world-class bakery. We are proud that Greyston now bakes 35,000 lbs. of brownies every day for Ben & Jerry's using the pioneering practice of Open Hiring.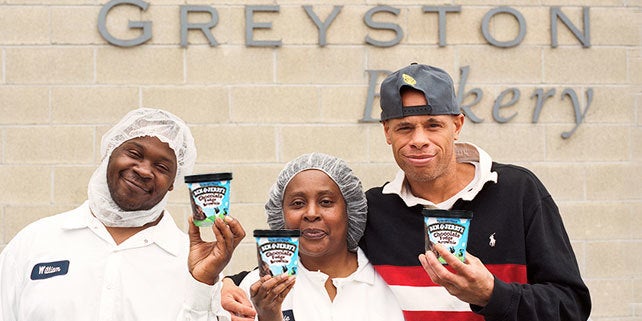 At Greyston, everyone contributes, regardless of his or her past. Everyone working on the production floor of Greyston's bakery is employed through the transformative Open Hiring™ Model. Any person who wants a job at the bakery is offered the opportunity to experience the dignity of work – no questions asked. Greyston hires without background checks, applications, interviews, references, or resumes.
Working together our two companies produce not only delicious brownies and ice cream but we are also delivering social justice. Together, Ben & Jerry's and Greyston are working to overcome systemic discrimination and are breaking the devastating cycles of crime, poverty, and recidivism that are a blight across generations and neighborhoods. As we continue to see one crisis after another--from hurricanes to acts of violence, from Charlottesville to Las Vegas--we must not lose sight of these underlying challenges that confront our nation and the business community. Finding solutions to such complex systemic problems is critical for the social stability we all need to thrive – as citizens and as companies.
This innovative and disruptive business practice holds the potential to fundamentally change the world – one person, one job, one company, one community at a time. As expressed by Dion Drew, Supervisor of Training at Greyston, "If it weren't for Greyston, I would be either dead or in jail, honestly. It's is not all about the money, it's about being a man, and doing the right thing."
While the ideals of our great democracy remain a beacon of hope across the world, we have not yet fully executed on them. While we see racism and discrimination in Charlottesville, and we hear calls for equality and respect from Black Lives Matter, business leaders can act to upend discriminatory barriers embedded in human resource policies. Research indicates that job applicants with "white sounding names" get call-backs for second interviews almost twice as frequently as their "black sounding" counterparts. Open Hiring also levels the playing field for more than 700,000 returning citizens released from prisons annually. Having served their sentences yet facing an uncertain future, these returning citizens are often not even considered -- at the same time that many companies report now being unable to fill vacant positions.
In keeping with the Buddhist principle of non-judgment, and contrary to traditional practices, Greyston recognizes people for their present contribution rather than judge them by their past. In the United States, companies spend almost $2 billion on background checks annually. Imagine what can be accomplished if a fraction of this spend were allocated to training and development as part of a whole new paradigm for employee onboarding. Greyston invests to bring people in, rather than spend to keep them out. Open Hiring offers a hand-up not a hand-out; a pathway into the mainstream economy for people who have often been systemically excluded.
This is not about a trade-off between serving people and maximizing profit. Recruiting, training, and retaining talent is much more challenging today as millennials search for meaning at work. According to Deloitte, in 2016 more than 87% of millennials surveyed believe that "the success of a business should be measured in terms of more than just its financial performance." While brownies are the product, Greyston also serves more than 5,000 people in Yonkers every year through community programs such as gardens, a community kitchen, early childhood learning and on-going workforce development.
What Greyston has proven in a small section of Yonkers is grounded in our nation's highest ideals of fairness, equality and inclusion. It is time for companies to align hiring practices with corporate values and to reposition HR for innovation rather than risk management.
Greyston's success over 35 years is based on an employment model whereby "we don't hire people to bake brownies; we bake brownies to hire people." Ben & Jerry's and Greyston share a common vision, where thriving communities all over the world are supported by an economy that puts people first. Open Hiring is what a responsible business does in the 21st century.
Popular in the Community