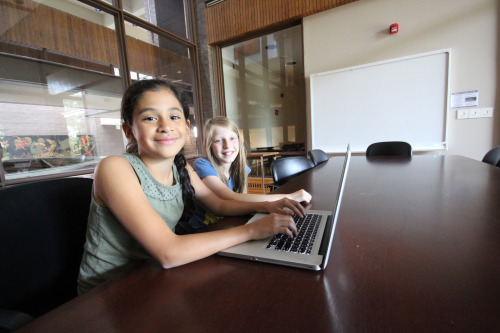 Meet Maya and Lucy, two middle school coders from New Jersey. These girls not only have big aspirations - a professional soccer player and a star on Broadway - but have also already started using their knowledge of technology to help change the world!
After hearing about the water crisis in Flint, Michigan, Maya and Lucy wanted to help. They built a website, "Get The Lead Out," to educate middle and high school students about lead poisoning and how to prevent it. They hope to take a trip to Flint to interview those affected by the water crisis and help bring awareness to the problem.
Read the Q&A below to learn how Maya and Lucy aren't letting their gender or age stop them from building technology that can improve society.
Tell us about yourselves.
Lucy: I am 11.5 and go to the Hoboken Charter School.
Maya: I am 12 years old and also go to the Hoboken Charter School.
Lucy: I have 3 ideas. I want to be an engineer, a computer scientist or sing on Broadway.
Maya: I love to play soccer. I wanna be a soccer player or biochemist.
Why did you join Girls Who Code?
Lucy: Our math teacher convinced us to do it.
Maya: We though it was a cool to be able to make websites.
Maya: We've learned to build a website with HTML.
Lucy: It was really interesting learning how to make a website from scratch. You have to be very precise.
You created a website to educate other students about the Flint water crisis and lead poisoning. Where did that inspiration come from?
Maya: We do community service every year and this year we learned how some people don't have clean water to drink. When we heard about what was happening in Flint, we wanted to help because kids like us are being affected by it. Our website teaches people what lead poisoning is and how to prevent it.
Lucy: People can take a survey after to tell us what they learned and how we can make it even more helpful. It's directed towards middle and high school students. There's also an interactive map that shows areas in the US that have the highest risk of lead poisoning. There are different colors on a scale of 1-10.
Maya: We want to expand the website so there's more content and maybe even go to Flint to interview kids there.
Calling all HuffPost superfans!
Sign up for membership to become a founding member and help shape HuffPost's next chapter