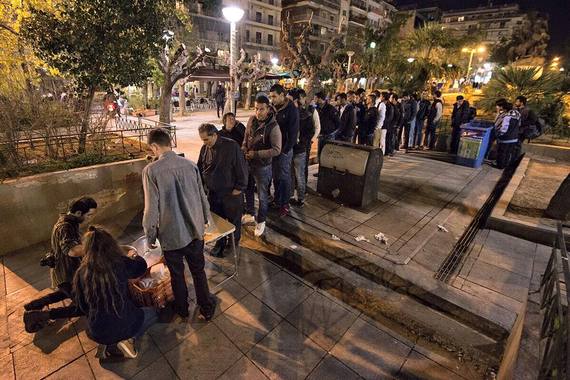 When the trains arrived at Keleti Train Station in Budapest during the summer and fall of 2015, bringing the often exhausted and scared refugees and migrants, Let's Help Refugees in Hungary and Europe volunteers were always there to warmly greet them and provide basic assistance. At Hauptbahnhof Train Station in Vienna, Train of Hope volunteers fulfilled a similar mission. Launched by well-meaning individuals, the two groups started off as social media platforms, which managed to build momentum among thousands of volunteers, who wanted to support fellow humans in need. As the train stations became increasingly empty after Hungary's decision to close its borders, preventing refugees from crossing its territory, both organizations underwent moments of crisis, during which they had to redefine their focus, in order to continue their work. Due to the particular contexts in their countries and societies, their restructuring approaches have been dissimilar, but equally highlight ways in which crisis-born initiatives can transition into long-term sustainable organizations.
Let's Help Refugees started its work before Hungary made international headlines with images of the refugees stranded in Keleti train station, as the government prevented them from boarding trains to Austria. It was originally a Facebook group, created by Nora Koves, a human rights expert, with the intent of gathering volunteers and coordinating their activities. For Lidia Balogh, one of the group's members, it was "a guerilla movement," subverting the Hungarian government's policy to provide the bare minimum for the refugees. Luca Laszlo, Let's Help Refugees' Representative , a 20-year-old political science student with sharp managerial skills, recalled: "We launched the platform in June 2015, when around 30-40 people were arriving daily to Budapest. It was the first of its kind in the capital. In July, volunteers started preparing around 50 hot meals at home and offering them to the refugees and migrants at the station. At that time, there was no central location or storage room."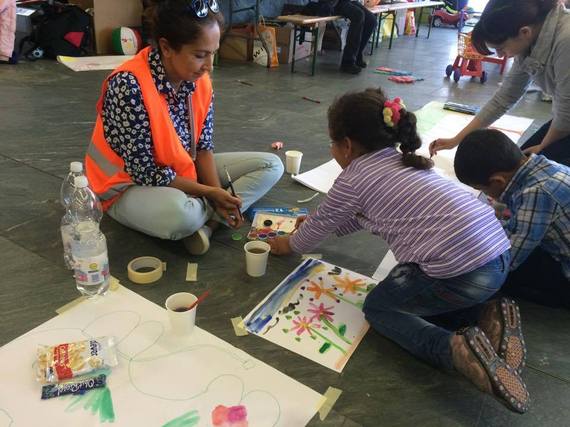 Providing hot meals to the asylum seekers remained a staple of Let's Help Refugees, when thousands of refugees were arriving in Budapest on their way to Western Europe, including when the train station was shut down and people were stuck there. At that point, the volunteers could no longer independently cook enough food, so the group started looking for a space, where they could collectively prepare the meals. They were fortunate to soon find a community center, called BK41, close to Keleti Station. The volunteers cooked day and night warm meals for the refugees and distributed them in the train station. In July and August, they were providing 300-400 portions of hot meals and over 1,200 sandwiches, while also handing out fruit, yogurt and jarred baby food. By the end of August, the number of hot meal portions went up to 1,000.
Cooking food created a sense of unity and belonging between the volunteers, despite the fact that they came from different generations and social backgrounds. It also created a stronger bond with the refugees, since sharing warm meals, which take time and effort to prepare, is one of the most profoundly human gestures in the world, displaying kindness and affection for the recipients.
When they prepared 130 portions for the first time, the volunteers bought the ingredients themselves. They quickly realized that it would be unsustainable, so they started accepting product donations through Facebook. Luca explained: "We would post ingredient lists on our Facebook group, specifying the quantity, and people would just purchase what we needed. We were not accepting money from individuals." The volunteers usually prepared vegetarian meals with rice or pasta, but sometimes added halal meat, donated by local Muslim shop owners. They also offered warm black tea and Ayran, a cold yogurt drink popular throughout the Middle East. With increasing numbers of people willing to make donations, Let's Help Refugees expanded their assistance to providing toiletries, including soap bars and shampoo bottles, toothbrushes and men's razors. They also ensured diapers and baby wipes.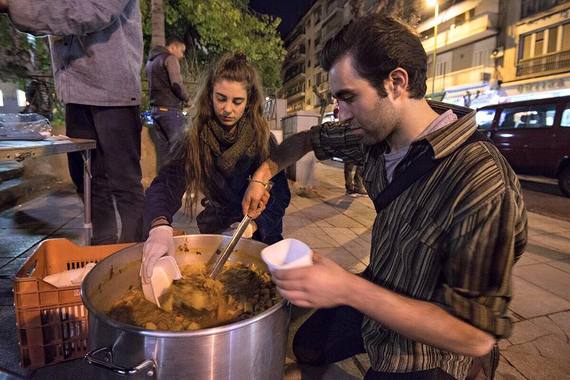 At the Hauptbahnhof Station in Vienna, Train of Hope was involved in similar activities. Launched by Katrin Bernreiter, a young nonprofit professional, Train of Hope welcomed the refugees and migrants in front of their trains and guide them to their 'shop,' where refugees and migrants could go and pick up anything they needed, ranging from food and clothing to medical supplies. Train of Hope also had translator, legal and medical teams, ready to help those in need in any way they can. Just like Let's Help Refugees, Train of Hope would request item donations on their Facebook page. They could also accept financial donations, since they quickly applied for and obtained official nonprofit status. Posting photos of the volunteer activities and the product distribution process became an accountability method for both organizations, while helping them maintain interest and communications with people who cared and wanted to help, but could not always be physically present in the train stations, either because they were busy or lived abroad.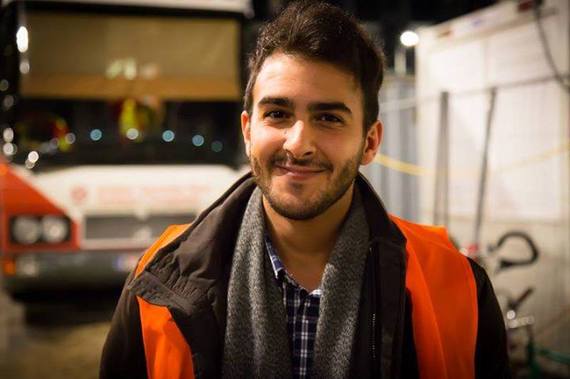 Zaid Salah, one of Train of Hope's Iraqi volunteers, who was also an asylum seeker himself still waiting for his application to be processed by the Austrian government, was impressed with the commitment shown by everyone involved in the organization. He confessed: "Without sounding sappy, it was truly a special moment. I had never felt such love and dedication before. Most of the times, you didn't want to go home. You wanted to help as much as you can. So, in the end, you found a corner somewhere around the train station, slept for a few hours, and then started again." Everyone stepped up and helped in all fields when needed. Zaid also personally credited involvement in the organization as changing his life in Vienna, by allowing him not just to develop a solid group of friends, but to be active and find purpose in helping others.
When Hungary closed its border with Serbia in September 2015 and started transporting refugees and migrants by train from the Croatian border to the Austrian one at Hegyeshalom, the numbers crossing through Budapest drastically dwindled. The Let's Help Refugees volunteers decided to shift their priorities and work structure, by focusing on transporting food packages and water bottles to Hegyeshalom. Luca added: "We also distributed similar assistance to two Hungarian refugee centers in Bicske and Vamosszabadi, while sending clothes to the detention center at Nagyfa. At this time, the numbers of volunteers also went down, with 20 working regularly, mostly because there was no need and no activities in Budapest." Their work at Hegyeshalom proved to be short-lived also, since Hungary closed in October its border with Croatia, forcing refugees to travel to Austria through Slovenia.
This led to the most fundamental crisis in the organization: Should they continue their initiative, now that no refugees would be passing through Hungary? While there were different views held among the key members of Let's Help Refugees, Luca explained the reasoning behind their final decision: "Since we had built that extraordinary volunteer momentum, we decided to formalize our activities by becoming officially incorporated as an association in November 2015. We have not been recognized yet, because the bureaucratic process in Hungary is slow, but this new status will give us a legal setting to accept financial donations." In seeing the process along, a Board was appointed and Luca was selected as the nonprofit's first President.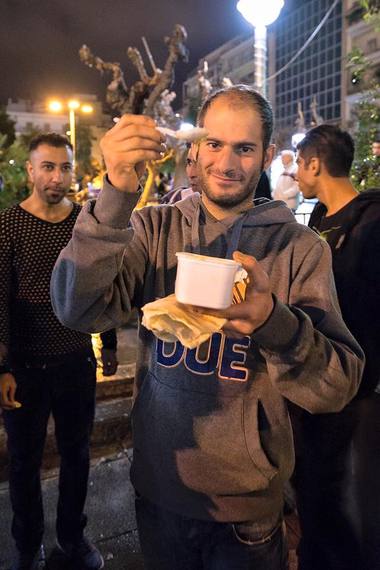 Additional questions sprung up regarding the mission: Would they focus on refugees and migrants in other countries or shift their attention to individuals in need in Hungary, ranging from homeless people living in Budapest to refugees already in Hungary's asylum centers? Luca recalled: "Given that the current refugees' efforts to arrive to Western Europe was the reason why we created the group in the first place, we decided to continue supporting refugees along the Balkan Route. After operating for a short period of time in Dobova, Slovenia, we started working in Athens in December 2015. One volunteer was always posted in Victoria Square in the Greek capital, the main area where the refugees and migrants gather, cooperating with other local volunteers, grassroots movements and international aid workers." Let's Help Refugees periodically sent down cars full of needed items that the volunteer distributes there. Now that refugees have started entering Hungary again and living in parks in Hungary, the nonprofit is striving to distribute to them
When Hungary closed its borders, the impact was immediately felt in Austria as well. Train of Hope faced a crucial time of change, requiring the members' full commitment and creativity. They had to figure out how to maintain their initiative relevant. They decided to transition from providing immediate relief to long-term refugee integration support and to switch its focus from the refugees transiting through Austria to those applying for asylum and staying in the country.
Zaid confessed that, apart from restructuring its leadership, a process that had not been finalized at the time of our conversation, the organization had as main upcoming project building a House for the Refugees that would provide assistance in all integration aspects. The goal would be to ensure asylum seekers a place to live, German language courses, Austrian and European history classes, while also supporting them with legal and medical assistance. The local authorities in Vienna have been very favorable to the nonprofit's initiative. Train for Hope wishes to eventually become involved in helping refugees find independent housing and jobs soon after obtaining their official status.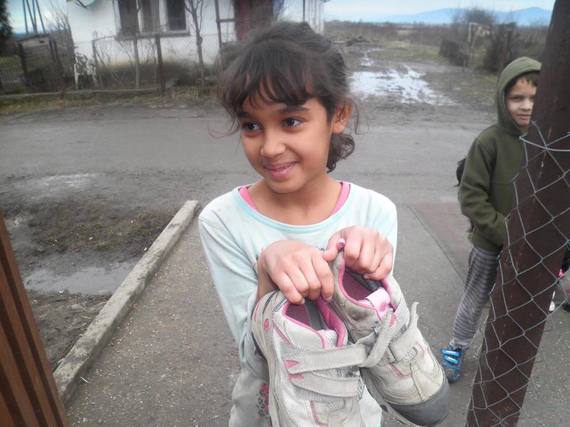 In Hungary, Let's Help Refugees has also been directing its assistance to those in need in Hungary. It is currently helping the homeless in Budapest, those in need in the countryside area, including Roma minority members, and other marginalized groups. One of their key activities remains preparing hot meals once a month that they distribute close to Janos Pal Papa Ter to the homeless in the surrounding neighborhood. They periodically take clothing and products to villages in the eastern part of Hungary, the country's most impoverished area, where many Roma ethnics live. Lidia emphasized that another initiative, which the organization has been supportive of have been micro-volunteering projects, which appear spontaneously on its Facebook page. Posted by volunteers, they are one-time efforts to raise small item donations to help one family, homeless person or individual in need. They are usually filled quickly with great immediate impact for those assisted, while motivating the volunteers to continue their support.
In the near future, the group is hoping to launch a program working with imprisoned refugees to distribute clothes and provide them basic psychological support. It also wishes to help refugees moving into the capital from reception centers outside of Budapest, in finding employment and housing, which is often a problem. Dedicated to ensuring the organization's success long after she would be gone from its helm, Luca confessed that she has already started thinking of setting in place succession plans.
Both Let's Help Refugees and Train of Hope have managed to successfully transition from online-based platforms to fully operating groups They have harnessed and continuously nurtured volunteers' desire to help and maintained their momentum, while adapting to the quickly changing realities that they faced. While they have managed to transition from crisis assistance to long-term support, the two nonprofits have the on-going task of creating projects that create a difference in the life of those they are assisting and maintaining volunteers' and donors' enthusiasm and support.
Calling all HuffPost superfans!
Sign up for membership to become a founding member and help shape HuffPost's next chapter