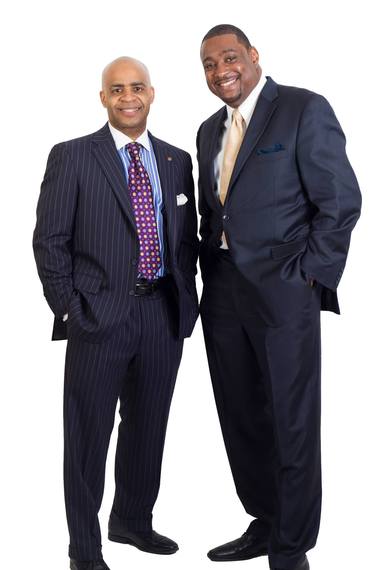 These men decided to fill a void in the economy based on the close relationship they each had with their mothers and the passion they watched their mothers dismiss because of lack of support, information and direction.
Meet Che Brown and Trevor Otts founders of the Peak Performers Institute. Motivated to make a difference for mothers with dreams. They decided to create a mega support system that would push women into their DESTINY.
"We were saddened to think of what could have been if only our mothers had just one person supporting them in that dream," says Trevor Otts.
"At that time, being a black middle-class mother, meant being the mom that stayed at home with the kids or the mom who worked outside the home at a prestigious job. Starting a business was not that common. If you did want to start a business, the options were makeup or Tupperware" says Trevor Otts.
"My mother wanted to do something much more substantial, but no one was there to encourage her. My father was not excited about her idea, and most of her female friends had no business experience or advice to offer her. She just stopped pursuing her dreams. She has always told me that I could do anything I wanted to do. But somehow she never got to pursue hers" says Trevor Otts.
Today, when topics like equal pay are still up for debate, owning one's own business is a very appealing option.

"When women want to start or grow their business, they seem to run into a lot of advice which does not result in success. The biggest problem I see is that they often do not have a clear plan on how to create revenue. People say they hate selling and yet, have no consistent way to bring money into their business" says Che Brown.
"Without a systematic way of bringing in revenue, their business is going to close. Learning the sales side is crucial to success. I focused on creating ways that women can sell and still be themselves" says Che Brown.
With Trevor Otts focused on the automated systems needed for business success and Che Brown focused on the sales and revenue strategies needed to keep a business alive and thriving, they decided they would make sure that no woman anywhere would feel discouraged about having their own business. Together they created platforms where women could grow their business, become speakers and even helped launch entire brands for women entrepreneurs.
"I know how frustrating it can be to run around in circles, buying different things for your business, only to find a year later, your business is no better off. After that happens a few times, anyone will begin to doubt her abilities and wonder, if she should even bother going for her dream." says Otts.
Che Brown and Trevor Otts created events like Operation H.O.W. (Honor Our Women), 4 Divas 4 Divas,
WomenPreneur15 Conference, The Head Ladies In Charge Movie and now The Rise of the Womanpreneur Documentary to help women everywhere know they can be successful.
These events were made specifically to promote female speakers, coaches, and business owners. 4 Divas 4 Divas had over 100 speakers. The Head Ladies in Charge Everywhere Movie, directed by Dr. Letitia Wright, was just released in August and received rave reviews. 33 women went on film to tell stories of triumph and success despite some terrible circumstances. Audience members remarked that they could see a part of themselves in each woman that told a story.
"We wanted any woman who had ambitions to create her own business to have all the resources they needed. Our mothers did not get this kind of help. We want to be there for every mother, daughter, sister, aunt, female cousin, family friend or woman anywhere and give her access to the tools she needs to be a success." says Trevor Otts.
No matter who they are, they can be assured Che Brown and Trevor Otts support their entrepreneurial endeavors.
Keep your eyes on these men who support women. I feel an economic shift happening for women everywhere.
Check out their profile on Social Media and connect with them at the upcoming Activate Conference in Atlanta Sept. 18th to the 20th. www.activateconference.com
Calling all HuffPost superfans!
Sign up for membership to become a founding member and help shape HuffPost's next chapter