While volunteering at a homeless shelter for women and children, Candice and Jaci witnessed things that motivated them to expand their own family. In this Huffington Post Gay Voices RaiseAChild.US "Let Love Define Family™" series installment, contributing writer David Humiston shares their story.
It is just a few days until Candice and Jaci's wedding. Three days after I met with them, their lives would be forever altered. Yet in the time we spent together, they spoke only, and earnestly, about Candice's biological son and the events that led them to foster their son Tyshan, whose adoption is scheduled to finalize in October.
Last year, on Oct. 29, Candice received a call from their social worker about a boy named Tyshan who was ready to be released from the hospital. Jaci was at work at the time, so Candice rushed home to get the house ready for their baby. "Their baby"… the magnitude of those words would only begin to sink in, Candice explained, after six hours of paperwork and an elated family ride home from the USC Medical Center. Their baby slept the whole way home in LA traffic.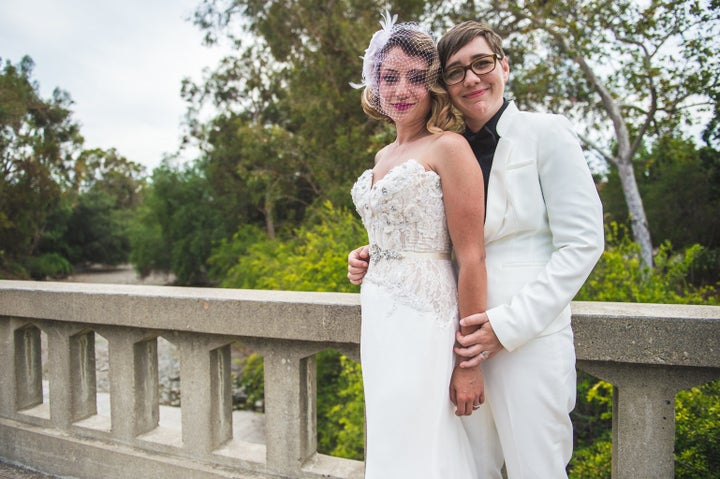 The experience of volunteering at a homeless shelter for women and children in Santa Ana, California, was pivotal for Candice and Jaci. The couple was touched by the incredibly strong and loving children they were working with -- some of whom, through no fault of their own, had bounced back and forth between their biological parents and various foster arrangements. The hours Candice and Jaci spent as volunteers at the shelter impacted them greatly and fueled their desire to expand their family. The women felt driven to give the children they saw, or others like them -- the love and stability they deserved. So they leapt at the opportunity to take fostering certification classes when they were offered nearby.
One class in particular, "Creating Safe Space for LGBTQ Youth," served to sharpen their parenting aspirations. This is a state-mandated course for families wishing to foster children. The class convinced them that they were even more desperately needed than they thought, because the other parents-to-be in attendance were stunningly uneducated and startling frank with questions regarding how to "fix" gay children they might adopt. The instructor was a little thrown off by the reaction of the class but sensitive and respectful of differences. However, the potentially horrible impact of such misguided parent-candidates and the cold reception this same-sex couple received by the other attendees certainly hardened their resolve to make a more positive impact in the lives of relevant children in need.
Not content with merely leading by example, Candice now runs a bi-weekly "Parent and Me" group for families with children aged 0-6 at the Orange County LGBT Center, where she sings songs, reads stories and provides play and craft activities for children. In her words, "It's nice for the children to have exposure to more diverse family situations and it is a good opportunity for parents to discuss the issues that affect us specifically."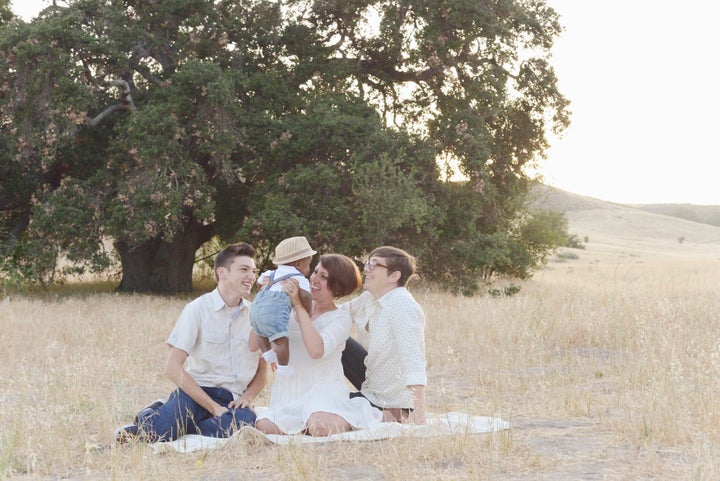 Once they were certified and began fostering, Candice and Jaci felt the emotional pangs of not knowing if or when a child they were fostering might be taken back to a biological parent. They had seen it happen when they worked at the women's shelter, but with additional heartstrings now attached, they feared the loss more deeply. They spoke candidly about the process and explained, "Although it's not an easy process, the well-being of the foster children is of the utmost importance. Regardless of the outcome, we feel privileged to be a part of providing a family during the time a child really needed one or growing as a forever family when the opportunity arises."  
Candice and Jaci's first placement were twins that were eventually reunited with a biological parent before they were able to adopt them. As difficult as such things are for foster parents, Candice explains that additional heartache was felt, as Parker, her 16 year old biological son, had to deal with the loss as well. She told me that siblings in the foster-to-adopt system can often get separated from one another, as fostering parents may be selective about who they can take. That is why Candice and Jaci have little or no restrictions on which children they would foster. "We'll take 'em all," Candice happily shared.
She pointed out that, when fostering or adopting siblings isn't possible, bridges may be built between fostering families that allow siblings in other households to maintain an ongoing relationship. At the time they were on the list for a baby under one year of age and were open to mild developmental delays. Candice's background in early child development was ideal for a child who might need extra support meeting age appropriate milestones. Tyshan had some issues associated with a lack of prenatal care. It was determined that Tyshan would benefit from occupational therapy, which he responded to quite well. He is now "thriving" and there are "absolutely no indication" of previous challenges. Tyshan has grown to be a "bright, funny, and curious boy" who "loves books, music and skateboards." 
As we spoke, Parker was taking his little brother out for a walk so we wouldn't be interrupted. There was a wedding to prepare for soon, and the family was growing and looking for a new home. I said my goodbyes, I wished them the best, and left feeling certain that another beautiful family was being assembled, not by biology, but certainly by destiny. 
RaiseAChild.US is the nationwide leader in the recruitment and support of LGBT and all prospective parents interested in building families through fostering and adoption to meet the needs of the 400,000 children in the foster care system. RaiseAChild.US recruits, educates, and nurtures supportive relationships equally with all prospective foster and adoptive parents while partnering with agencies to improve the process of advancing foster children to safe, loving and permanent homes. For information about how you can become a foster or adoptive parent, please visit www.RaiseAChild.US.
Calling all HuffPost superfans!
Sign up for membership to become a founding member and help shape HuffPost's next chapter