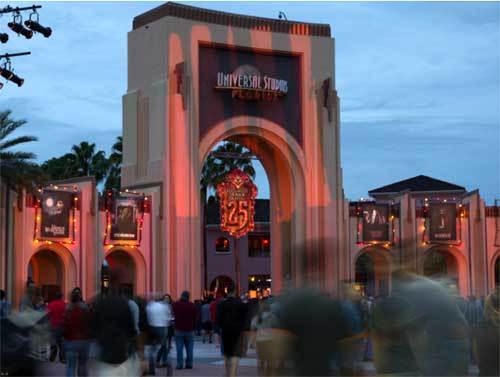 So how exactly does Universal Studios Florida pull off this park-wide transformation in such a teeny tiny time span? Well, it takes a lot of coordination between various departments across the theme park. Not to mention months & months of advance planning.
"The real key to successfully pulling off this park-wide change during the 30 nights that we present Halloween Horror Night is the pre-planning. As soon as we lock in what the themes for that year's scare zones are -- and that can literally take place months ahead of the actual event. We're already in talks about the scare zones we're thinking of presenting at Halloween Horror Nights 2016 -- we then begin reaching out to all of our partners here at the park about the props and scenic pieces that we're going to need to properly stage in each of these zones," Wallace explained.
Take -- for example -- this year's "Pyschoscareapy - Unleashed" scare zone. Which is presented in the New York Street section of the movie and TV show-based theme park. The back story for this particular scare zone is that a bus from Shadybrook Asylum has just crashed. Which then allows the criminally insane inmates who were seated inside of said vehicle to spill out onto the streets of New York. To make matters worse, this neighborhood's annual Halloween block party was just getting underway when that bus crashed.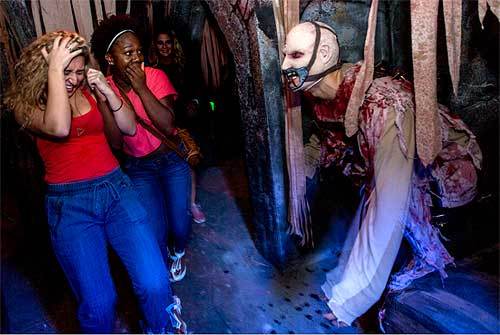 So given this block-party-crashed-by-the-criminally-insane scenario, how does Lora and her team go about properly dressing New York Street for this particular Halloween Horror Nights scare zone? To hear Wallace talk, you first have to take the Universal Superstar Parade into account. Which is this daily street pageant filled with beloved cartoon characters that moves through much of this theme park.
"Since the parade route that Universal's Superstar Parade takes goes through New York Street every afternoon ... Well, that really limits the sorts of scenic pieces that we can leave standing in place in this part of the park. I mean, we can't have anything that actually intrudes out into New York Street. Because that would then make it difficult for the parade floats to pass through this area or for our performers to dance in the street. That's why we have to wait 'til park sweep before we can then start bringing out our big 'Pyschoscareapy - Unleashed' set pieces. Like our pumpkin carving station and our bobbing-for-apples display," Lora continued.
Now you may have noticed Wallace using the term "park sweep" in the above paragraph. This refers to what happens at a theme park right after it closes for the day. Which is when security -- starting at the very back of that park -- begins to gently noodge those remaining guests toward the exits. In effect sweeping these people out of that theme park.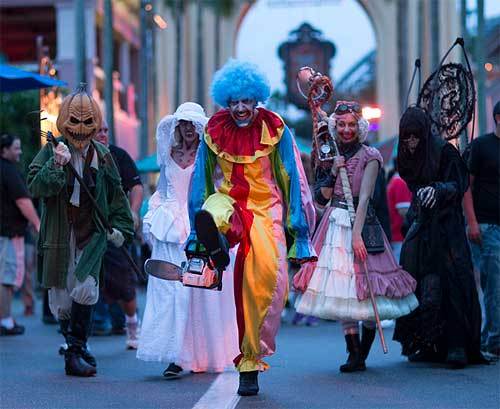 "And as security is sweeping Universal Studios Florida, we're right behind them. Hauling out scenic pieces, props and decor from where we've got them stashed backstage and then putting them into place," Lora stated. "This is led by Universal Orlando's great tech team., who then start plugging things in and making sure that all of the effects work."
Meanwhile behind-the-scenes, there's this team of make-up, prosthetic & costume professionals who are getting wave after wave of scareactors ready to go out onstage.
"I know that some people may think that we bring our scareactors in very early in the day to get them prepped for Halloween Horror Nights. But that's honestly not the case," Wallace insisted. "Thanks again to all of the pre-planning that we do -- plus the fact that Universal Orlando has been presenting this event for 25 years now -- we can really get all of our scareactors ready in the hour to an hour-and-a-half prior to the start of each Halloween Horror Night. We just bring everyone in and they're then staggered about 15 minutes apart. First one group has their cast meeting and then heads into make-up and costuming. Which allows the second group to start its cast meeting and so on. It's that 15 minute interval and the pre-planning that makes this all possible."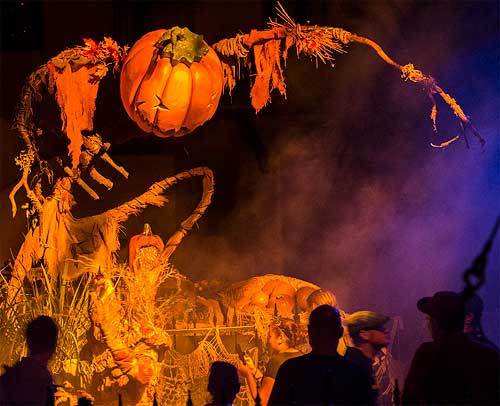 And would it really surprise you to learn that -- at the end of the night, as security begins sweeping Halloween Horror Nights attendees from Universal Studios Florida -- this process then gets reversed? That tech comes out and unplugs / turns off all of the lights & effects before then collecting each piece of decor & propping that had earlier in the day been carefully placed out onstage to properly set the scene for all five scare zones.
And each of these items is then taken backstage to some out-of-the-way storage area. Except for those bigger, blood-covered set-pieces that are just too awkward or too heavy to move offstage. Those get covered with tarps so that -- when families arrive at Universal Studios Florida early the following morning -- they then don't encounter anything too creepy as they race to their favorite ride, show or attraction.
"This is why our 'Stay and Scream' guests -- those people who get a pass to Halloween Horror Nights added to their daytime park ticket -- are always so impressed when they re-enter Universal Studios Florida later that same night. They've literally seen this place completely transform -- with huge set pieces like those four Icons vignettes that Nick Collins, who's our Senior Designer for streets, built -- suddenly appearing out on Hollywood Boulevard along with 50 some-odd characters that then encapsulate the entire history of Halloween Horror Nights at Universal Orlando roaming through the fog," Lora concluded. "And that transformation all happens in an hour because we've got such a brilliant team here and they've all worked together here for years now."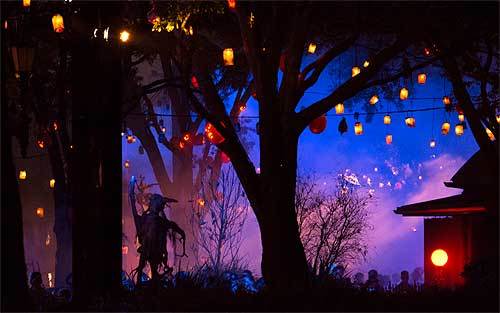 Which begs the question: What could you transform in your own life in just 60 minutes if you had a big enough team and did some ... Well, a lot of pre-planning?
Calling all HuffPost superfans!
Sign up for membership to become a founding member and help shape HuffPost's next chapter