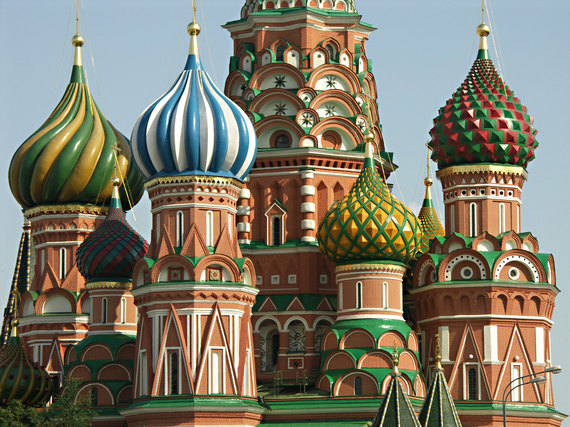 Image: Stock Photo. FreeImages.com/Evgenia Pronina
Most residents of the former Soviet Union hate the corruption that prevents everyone but a tiny minority from having a shot at a better standard of living.
In a sop to the widespread anger about corruption, some countries in the region -- notably Russia and Armenia -- have set up anti-corruption councils. They have been window dressing, however, doing little or nothing to address the problem.
The few corruption charges that prosecutors do bring have spawned public cynicism rather than satisfaction, since most have been political -- that is, aimed at helping people in power either sideline political opponents or steal assets of the well-off.
Meanwhile, corruption is more rampant today in the Commonwealth of Independent States than in the days when the Soviet Union first broke up in 1991. It ranges from the Russian state seizing billion-dollar oil assets, which it then gives to cronies of top leaders, to the theft of a billion dollars from Moldovan banks, to a million-dollar Swiss bank account in the name of a man who is supposed to be a servant of God, the patriarch of the Armenian Apostolic Church.
These days the United States is putting smiles on the faces of those in the former Soviet Union who resent graft by going after corrupt officials and business people from the region.
U.S. law allows American prosecutors to seek prison terms or big fines against those from other countries who violate American business, trade, investment or money-laundering laws.
The United States has several tools for doing this. One of the most important is the Foreign Corrupt Practices Act, which prevents American firms or their foreign affiliates from using bribery to obtain contracts.
The latest example of the law being used to nail a big shot in the former Soviet Union involves the Russian mobile-telephone company VimpelCom.
The company, owned by billionaire Mikhail Fridman, just paid a whopping $835 million to settle U.S. and Dutch charges that it bribed Uzbekistan officials to obtain contracts there.
American law came into play because VimpelCom used U.S. banks to launder some of the money it used for bribes, according to the U.S. Justice Department.
The Netherlands, which has anti-overseas-bribery laws similar to those in the United States, opened a case against VimpelCom because, although Russian-owned, the company is headquartered in Amsterdam.
Although neither American nor Dutch prosecutors named the Uzbek official VimpelCom has admitted bribing, other court filings in the two countries said it was Gulnara Karimova, the daughter of President Islam Karimov.
VimpelCom "built their business in Uzbekistan on over $114 million in bribes funneled to a government official," according to Preet Bharara, the U.S. District Attorney for the District of New York. "Those payments, falsely recorded in the company's books and records, were then laundered through bank accounts and assets around the world, including through accounts in New York."
The VimpelCom settlement, announced on February 19, 2016, followed by only two months a U.S. judge sentencing a top official of the Russian nuclear company Rosatom to prison for four years.
Vadim Mikerin, who was president of Rosatom's American subsidiary, pleaded guilty to paying bribes to Russian nuclear-energy officials to obtain contracts for American companies involved in shipping uranium from Russia.
Congress passed the Foreign Corrupt Practices Act in 1977. For almost 20 years it applied only to individuals or businesses based in the United States.
The law was amended in 1998 to cover anyone living abroad who has a business connection with the United States. That amendment is what has allowed U.S. prosecutors to go after business people based overseas who use bribery to obtain contracts.
U.S. arrests of corrupt Russians living outside America but doing business in the States have generated howls of protest from the Kremlin. It maintains the United States has no right to arrest its citizens outside U.S. borders.
One reason the United States does so is that Russia refuses to honor America's requests to extradite Russian citizens to the States for trial.
The Russian stance isn't surprising, given that the country condones corruption and that Moscow has given safe harbor to notoriously corrupt officials from other countries, such as deposed Ukrainian President Viktor Yanukovych.
Russia underscored the depth of its anger over U.S. arrests of its citizens overseas with a public-relations broadside in May of 2015 that generated international headlines: It issued a travel warning to its citizens, urging them to be careful where they ventured overseas, lest U.S. authorities pounce on them.
The unfortunate truth is that America's stepped-up enforcement of its Foreign Corrupt Practices Act leads to the arrests of only a few hundred corrupt officials living in the former Soviet Union and elsewhere each year.
But the threat of arrest likely causes some to lose sleep these days.
And that anxiety has to sit well with the tens of millions of people in the region who abhor the way that corruption keeps their countries down.
Armine Sahakyan is a human rights activist based in Armenia. A columnist with the Kyiv Post and a blogger with The Huffington Post, she writes on human rights and democracy in Russia and the former Soviet Union. Follow her on Twitter at: www.twitter.com/ArmineSahakyann
Calling all HuffPost superfans!
Sign up for membership to become a founding member and help shape HuffPost's next chapter