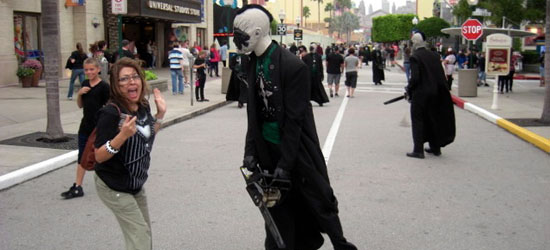 Photo Courtesy of 3viajeros/myBudgetTravel. Article by Kaeli Conforti of Budget Travel.
It's never too early to start planning for Halloween, and some theme parks start the festivities in late September. We've got the inside scoop on Halloween events happening this year at Universal Studios, Busch Gardens, SeaWorld, and Six Flags theme parks.
HALLOWEEN HORROR NIGHTS AT UNIVERSAL STUDIOS
In addition to annually updated shows like Bill & Ted's Excellent Halloween Adventure, this year the Hollywood park is home to The Walking Dead: No Safe Haven, a terrifying maze inspired by season three of the hit zombie t.v. show, The Walking Dead -- Orlando's park will have a Walking Dead haunted house attraction as well. Other haunted houses at Universal Orlando are based on The Cabin in the Woods, Evil Dead, Resident Evil, and An American Werewolf in London -- this year the park celebrates The Rocky Horror Picture Show with live tribute performances and audience participation shows nightly.
Dates: Sept. 27, 28, Oct. 4-6, 11-13, 17-20, 24-27, 31st thru Nov. 2nd. Gates open at 7 p.m.
Prices: General admission prices start at $44 per person plus tax when purchased online depending on which day you go -- they're from $69 per person plus tax at the gate. To enjoy time at the park during the day and during the event at night, you can buy the Day/Night Combo ticket for from $139 per person plus tax. Click here for additional ticket options.
Dates: Sept. 26-29, Oct. 3-6, 10-13, 16-20, 23-27, 31st thru Nov. 2nd. Gates open at 6:30 p.m.
Prices: Tickets start at $91.99 per person plus tax for one night. If you plan on visiting more than once, a number of options are available on the ticketing website.
HOWL-O-SCREAM AT BUSCH GARDENS AND SEAWORLD
Among this year's collection, take on The Basement, Zombie Mortuary, and The Experiment at Busch Gardens Tampa Bay, or get your nerve up for one of several creepy attractions including Cut Throat Cove, Catacombs, and Root of All Evil at Busch Gardens Williamsburg.
Dates: Sept. 27, 28, Oct. 3-5, 10-12, 17-19, and 24-26. Gates open at 7:30 p.m.
Prices: Tickets online range from $48 to $65 per person plus tax depending on which night you go. Groups of four or more can save by ordering Twisted Thursday 4-Packs for $30 per ticket online. Try the Thrills & Chills Ticket, starting at $89 per person to visit Busch Gardens Tampa Bay during the day and experience Howl-O-Scream at night. Click here to view additional ticket options.
Dates: Sept. 27-29, Oct. 4-6, 11-13, 18-20, and 25-27.
Prices: Busch Gardens Williamsburg offers the Fall Fun Card, allowing you to pay for one day's admission and come back anytime thru Oct. 27th. The card costs $72 per person plus tax (the same as a regular single-day park ticket, and gives you unlimited admission during the day and at night for Howl-O-Scream.
Dates: Sept. 27, 28, Oct. 4, 5, 11-13, 18, 19, 25, and 26th starting at 7 p.m.
Prices: From $49 per person plus tax when ordered online, and includes admission to the park during the day. Tickets to Howl-O-Scream cost from $25 per person for admission to the park after 6 p.m.
Halloween events takes place at various Six Flags theme parks around the country. Events, dates, and prices vary by theme park so check the Six Flags park's website for more details.