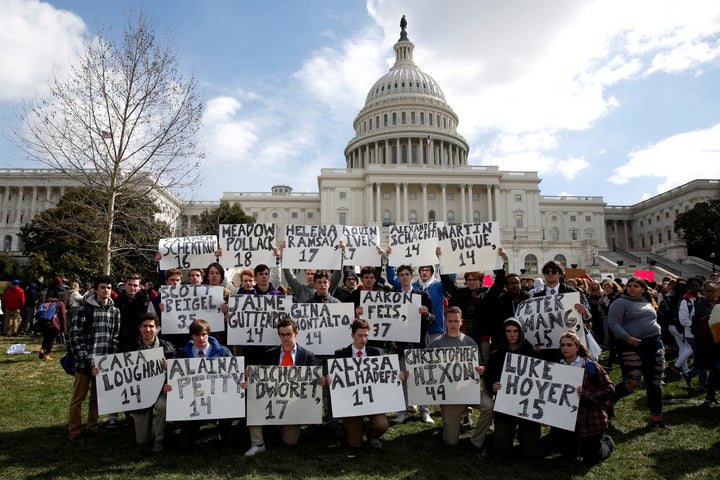 In the more than two months since that shooting, HuffPost and YouGov have conducted five surveys tracking Americans' views on guns. The results show a burst of support for gun reform in the two weeks after the shooting, followed by a gradual reversion to the mean. Once-heightened concerns about gun violence have tapered back to previous levels, as has a desire for stricter gun laws and a belief that gun restrictions can be passed without violating Second Amendment rights.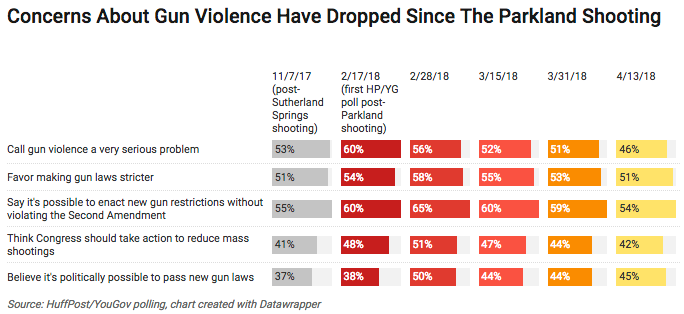 A few changes in thought, however, seem to have stuck.
The percentage of Americans who believe it's politically possible to pass gun laws has dropped several points since its high in late February, but it's still higher than it was in the aftermath of last year's massacres in Las Vegas and Sutherland Springs, Texas.
In the most recent survey, one-fifth of Americans also chose gun policies as one of the two issues they found most important. That remains a noticeable, if modest, uptick from the 13 percent who chose it as a priority following the shooting in Sutherland Springs. Other polling since the Parkland shooting also suggested gun control was carrying greater-than-usual prominence on the campaign trail, although it's unclear how much of that energy will remain until November.
That public opinion shifted at all in the wake of the shooting was striking. It's even more striking that it lasted as long as it did. Last year's shootings, by contrast, appeared to have little effect on Americans' views about guns.
One illustration of the uncommon nature of this year's debate comes from Google Trends, which tracks the level interest in various search terms. According to that data, searches for "mass shooting" usually dwarf searches for "gun control" in the aftermath of an incident, and both disappear soon after. After the Parkland shooting, though, interest in gun control significantly outpaced attention to the shooting itself.
Even now, specific gun reform proposals remain broadly popular.
In the most recent survey, conducted in mid-April, three-quarters of Americans favored strengthening background checks, while just 13 percent opposed the proposal. A 63 percent majority favored raising the age for gun purchases to 21, with only about one-quarter in opposition. And a 42 percent plurality of those polled said President Donald Trump was not doing enough to pass new gun laws, while about one-quarter said he's doing the right amount. Just 9 percent that he's doing too much. (At the end of February, 37 percent said Trump wasn't doing enough.)
Data from other pollsters, meanwhile, suggests that the national focus on guns is waning. But some find that the decline has stopped short of entirely erasing the changes post-Parkland.
Some of the most granular information comes from the progressive pollster Civiqs, which has been tracking data on gun control for several years. According to its data, voters' backing for such restrictions spiked from the low 50s prior to the Parkland shooting to a high of 60 percent ― a bigger reaction than in the wake of mass shootings in Charleston, South Carolina; San Bernardino, California; Orlando, Florida; Las Vegas and Sutherland Springs. Some of that change wore off in the weeks after, stabilizing around the 55 percent mark.
Civiqs' data only goes back through 2015. But support for enacting new gun laws in April was higher than it was after the shooting at a Newtown, Connecticut, elementary school in 2012, according to a Washington Post/ABC News survey, thanks largely to a movement among Democratic-leaning groups. A 53 percent majority of Americans told pollsters they believed student activism on guns were part of a lasting movement, while 43 percent said the rallies were "more of a one-time thing."
Another poll from Gallup found that the share of Americans mentioning guns or gun control as the nation's most important problem dropped from 13 percent in March to 6 percent in April ― a downtick that nevertheless leaves it as one of the highest-ranked national issues. In a recent NPR/PBS NewsHour Marist poll, a slim 53 percent majority of Democratic voters said guns will be a major factor for them in November, down 21 points since February.
"This finding raises a cautionary flag for voters who want gun policy to be front and center this election cycle," Marist polling director Lee Miringoff told NPR.
Use the widget below to further explore the results of the most recent HuffPost/YouGov survey, using the menu at the top to select survey questions and the buttons at the bottom to filter the data by subgroups:
Popular in the Community