Hey, the Brennan Center for Justice has their boots on the ground and are working hard to ensure that everyone who's eligible has got the means to vote. I figure that service members and vets risk their lives for us, and to thank 'em, the least we can do is register to vote and then actually vote.
The Brennan Center spent the last two years questioning over 70 election officials who oversee modernized voter registration systems in states across the country.
Their goal: Determine how these systems work, why they are beneficial, and how states implement them.
The folks over at the Brennan Center recently released a report highlighting experiences from states using electronic registration and online registration -- two of the most popular modernized methods of registering voters. Electronic registration requires that data collected at a government agency -- in most cases, a DMV -- is sent to election authorities digitally, instead of relying on paper forms. Online registration allows voters to submit their application over the Internet.
In 2015, we use computers and tablets to chat with friends overseas, but too many states still rely on ink and paper to sign up voters.
The report's the real deal. Here's an abbreviated version of what they found:
A total of 38 states now have electronic registration, online registration, or both. Electronic registration is available in 27 states, and 26 states have online options. In 2010, when the Brennan Center first studied these systems in depth, 17 states electronically registered voters, and only 6 allowed citizens to sign up online. (Check out if your state is planning on participating this year by looking at the chart on page 4 of the report...)
14 of 16 states with electronic registration saw sustained or increased registration rates at DMV offices through the 2014 election.
Election officials in almost every state interviewed reported that both electronic and online registration made their systems more accurate because staff no longer need to interpret illegible handwriting or manually enter voter information, thus reducing the chances for errors.
Not all states attempted to track cost savings, but of the 29 states that reported they did, there was unanimity that electronic and online registration reduces costs. Washington State, for example, saves 25 cents with each online registration.
Online registration offers more convenience for new and existing voters, who can access the online system at any time and from the comfort of their homes, rather than waiting in line at the county election office to fill out a paper form or waiting for a paper form in the mail.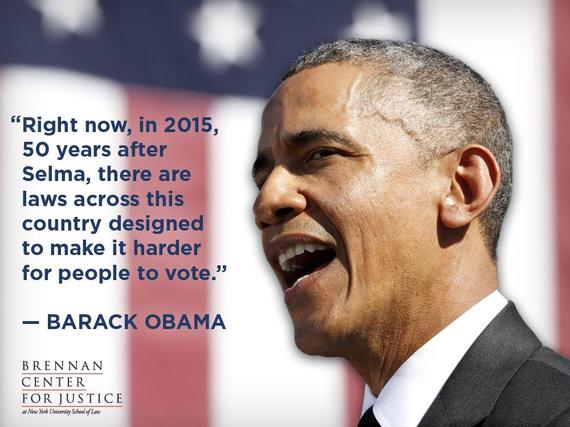 Calling all HuffPost superfans!
Sign up for membership to become a founding member and help shape HuffPost's next chapter