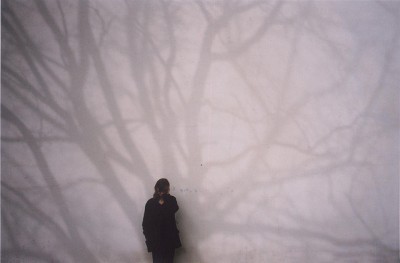 I believe that the Divine exists in every moment, experience and person. Not only exists in it... is it.
This was my challenge... find the Divine in Walmart.
I was hired as a cashier at Walmart recovering from a pretty big financial setback earlier last year and I was not thrilled at the idea in the slightest, but it was where I was and I was accepting it.

As someone who teaches people that they can have peace no matter what their situation, and fully aware of the Law of Attraction and the idea that what you focus on expands, I knew I had to find a way to be happy and at peace with where I was without focusing too much on "escaping" the present moment. I had to practice what I preach.

I also firmly believe that Spirit is in everything, so Spirit had to be in Walmart too... I just needed to shift my perception to see it.

Rooted in my mission, I created what I called the "Walmart Experiment"

It was simple, I would set a conscious intention before going to work and see what shifted.

Here is what happened:

The first two weeks were simply about learning the job and observing the "normal" work experience.

My coworkers and customers seemed generally unhappy and not thrilled to be there. Many employees would not make eye contact or even acknowledge me when I said hello to them. There was a prevalent mindset of: "What do I get?"

It made deciding my first intention easy.
I decided to start with the intention: "I intend to be of service to anyone who needs it."

I began looking for ways I could help make people's loads a little bit lighter.
This revealed itself in the form of giving unexpected compliments, telling a joke to make someone laugh or simply sending love to them as I listened to their woes.
Most of all, patience seemed to be what was being desperately craved -- patience with the customers, co-workers and themselves.
So I offered as much patience as I could.

About a month into my experiment, I began to notice people saying hi to me that would never look at me before and regular conversations were starting to happen instead of only complaints about the job.

The more patience I gave, the more patience I received.

I was having fun with the shifts that I was seeing, so I decided to amp it up.

A friend gave me the idea of asking Archangel Michael to stand where the customer stands during my shift and allow him to heal them.
I loved it, so I decided to go a little bit further.
My next intention was: "Archangel Michael, please join me at work today and may anyone who comes within 3 feet of me receive any healing they may need for their highest good."

Then I went to work and about my day.

I first noticed I wasn't as tired as I was the center of healing, I was receiving healing all day!
I felt great! This extra energy allowed me to be more present for those that I came into contact with.

This was a great chain reaction and I found more employees sought me out to chat and more customers left laughing.
I also had more people open up to me, hug me and even had customers choosing to wait in my line (even if it was longer) just because they "felt better" after talking to me and I even received people interested in working with me privately!

The more healing I gave (through AA Michael) the more healing I received!
I was loving this intention thing and within two months of working at Walmart, I was offered a job in New York that allowed me to travel in my RV full-time, just like I had set out to do!

It was then, that magic showed up.
People (co-workers and customers alike) were generally upset when hearing I was leaving.
I had only been there 2.5 months, but they bought me a cake, gifts and many many crying hugs when I left.

Who knew that in that short of time I could have such an impact!
I thought, "This. I have just discovered magic in this."

As I reflect on my time at Walmart, my purpose (and yours) becomes crystal clear to me:

You are living your purpose now. Every day and in every moment.

It does not matter what you do. You can be a cashier, a maid, a bus driver, a CEO, the president, a mom, a person who sits in a rest home. What matters is HOW you do it?

HOW you do it... this is what will change the world.

It does not matter if you speak to one person everyday (yourself) or you speak to millions (like Oprah) what matters is HOW YOU SHOW UP.

Are you patient, kind, compassionate and loving? Do you seek to understand before trying to be understood?
Are you demonstrating through your words, thoughts and actions the change you want to see in others?

Change your world in five minutes a day by setting an intention and living it in every moment and yes, Spirit is alive at Walmart.