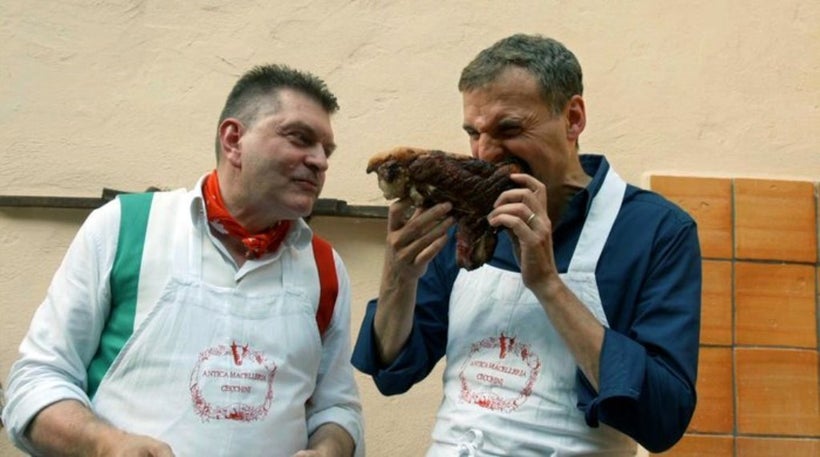 Last week, "45" finally hit bottom. For me, anyway. 
I mean, he said something that I couldn't just pass off as Trump Talk. He said something that nobody should pass off as just Trump Talk. Because of what it means not just to the people he insulted but also because of what it means to the whole world that America now has a president who would say such a thing.
Blatant escapism? You bet. But I knew it was the only thing that could lift me up.
You see, I discovered his first series, I'll Have What Phil's Having, first aired on PBS, a few days after 45 said something else I thought I'd never recover from. Hurt me personally, deeply, what Trump said. So much so that I shut myself away for a few days.
And yet, about five minutes into the first episode of Phil's first show, I was laughing so hard I had tears rolling down my cheeks. Tears of absolute unfettered joy.
The shows have a simple premise: Phil eats food. And I love watching Phil eat food. 
But even more than that, I just love watching Phil. That the way his eyes light up, the way he bounces up and down and giggles and gasps like a the happiest kid on the planet when he likes something or someone —I love that there's a person who eats life like that.
This isn't Anthony Bourdain being snarkier than thou. Now, I love that, too, by the way. Bourdain has created some masterpieces in his time. Vice worthy pieces that examine culture even more intensely than cuisine.
But there's a reason that women suddenly ask Phil if they can kiss or hug him after a few minutes of food and conversation. There's a reason that the best chefs in the world keep feeding him until he can't swallow anymore. 
When Phil closes his eyes and swoons, or gasps and bounces, these superstar chefs who should be jaded beyond belief suddenly become the young rebels they once were, long before the Michelin stars and "you can't get a reservation until the year 2030" stuff.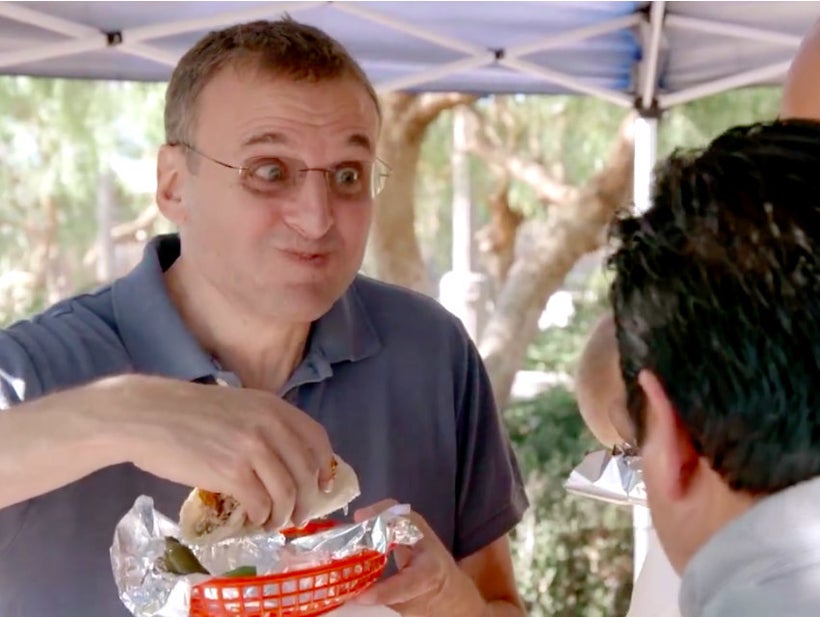 They cook new dishes for him, on the spot, or start bringing out everything on the menu and watching his face. Sometimes the camera crew — or his brother the producer, Richard — has to keep reminding Phil that they're on a schedule because the chefs keep begging him to try "just one more thing."
I totally get it. He reminds them of the first time they tasted these dishes. That moment when they knew they were "there." He renews their spirits, too.
My other favorite moments — besides his hilarious Skype sessions with his very Jewish parents back home — are when he goes to someone's home for a family-style, sit down dinner. 
He loves kids. He loves grandmas and grandpas and jokes and stories and will eat anything they put in front of him. Even a freshly beheaded shrimp that hasn't quite finished wriggling yet, he'll eat. Actually, that happened at a famous sushi restaurant in Japan, not at someone's home. But that just tells you what a madman he is.
One of my favorite moments from the first series is when he teaches a Japanese family how to make egg creams. They've gathered at their famous restaurant to see if this crazy American man will truly enjoy the house specialty: pond loaches. 
Yep, loaches. Tiny black eels that looked like a bowl full of wriggly worms.
Phil likes them every way they serve them. And the family loves his egg creams almost as much as they love him. In fact, watching him make them was as much fun as watching their faces as they took their first tastes.
This happens constantly, whether at a tearful reunion with old friends he met in Italy or Paris 'way back in the day, or cracking up food writers can't wait to show him everything they know about local cuisine or when he's just walking the streets in search of something amazing. 
It's never just about the food. It's always about sharing the love, along with the food. Sometimes he even feeds strangers on the streets. Expensive stuff, too, like picture perfect slivers of $500-a-leg jamón in Barcelona. 
"Go to the party," becomes his mantra after some epic, rooftop revelry in Spain. For Phil, the party is life itself. 
The new series begins in Thailand, and I refuse to give away too much. But I will say that the best moment in this one isn't at a restaurant. It's at an elephant "reserve," right toward the end of the show. Most precious thing, ever. And it made me laugh so hard I had to hit "pause" and walk away.
Wait, actually the most precious thing is in the second episode, when this tiny little Vietnamese girl sings him a song with "bad words" in it while her parents look on in horror and Phil pumps his fists like a teenage boy. 
No, hold it. When he's teaching English to a bunch of Vietnamese 4th graders like a PG-13 version of Robin Williams in Good Morning Vietnam — that's a moment to remember.
He's somewhat shell-shocked in New Orleans, I admit. But that, too, is endearing. Never pretends otherwise. And teases the locals right back — caught of few of them off guard, that did. Big ups for that, Phil.
After #metoo, I'm almost astonished that this lovely, loving man is a real Hollywood producer — co-creator of Everybody Loves Raymond, most notably. That's probably why he can get people like Allison Janney, Norman Lear, Martin Short and Larry Wilmore to meet him for lunch at delis and food trucks and open air markets. Where they, too, become giggling kids who'll eat anything. Almost.
But most of all, I'm glad I can always turn to him when I'm just about to lose all faith in humanity entirely.
Soul food. Go get you some.
Calling all HuffPost superfans!
Sign up for membership to become a founding member and help shape HuffPost's next chapter
This post was published on the now-closed HuffPost Contributor platform. Contributors control their own work and posted freely to our site. If you need to flag this entry as abusive,
send us an email
.