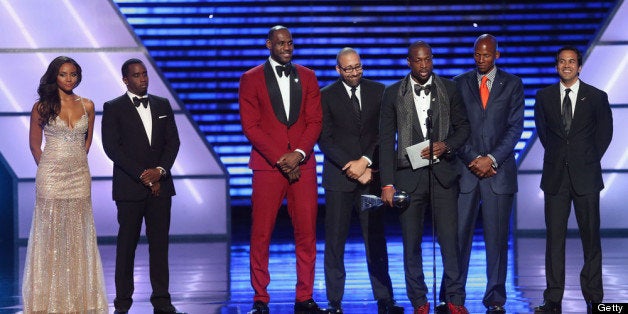 Mid-July, that awkward period of time between the end of the NBA and the start of football, a period once reserved for baseball -- but really? Even with the rise of Marlins ace Jose Fernandez, really? I usually enjoy summer horse racing, the ponies at Del Mar and Saratoga, but really? Really -- this year -- I can't get my mind off the Heat.
I attended 35 games this year, just buying tickets like a fan, and felt really connected to the season -- found inspiration in the acquisition of Ray Allen and Chris Anderson; the team chemistry in the Harlem Shake video; the 27-game winning streak (really sabotaged in Chicago), the play of D-Wade midseason, LeBron all season, Rio and Miller in the Playoffs; Game 6 of the Finals and then LeBron and Battier in Game 7.
It was a heck of a journey to the Larry O'Brien trophy but we endured. However, once we earned our second consecutive championship, the after effects -- to me -- earn mixed reviews.
Understand the following comes from a place of sincere interest for Miami -- for our wonderful city to continue to evolve into a world-class destination, a place of culture and intelligence, worthy of comparison to cities like Chicago, New York, D.C., who look at us like we're an un-evolved, fun-in-the-sun, party destination. I understand the point of view that we shouldn't care what others think, but I disagree -- we should work extra hard to evolve from a stale reputation, left over from the '80s, of Miami Vice, Scarface, of look at how weird we are. We should work extra hard to evolve Florida's reputation.
We did do some things right.
The parade was awesome. Four-hundred thousand on a Monday afternoon, downtown, extra special when we won last year; awesome -- even more so when the Baltimore Ravens tried us and it blew up in their faces. The parade was a total win for Miami.
Also, right after we won, we tossed the Spurs deference; you could tell the brass upstairs (Arison, Riley) made sure the boys behaved and gave the Spurs respect. But, things slowly went downhill. It's tempting to criticize LeBron's initial reaction after winning when he yelled to the world "I ain't worried about nothing." -- a reference to the French Montana song: "Ain't Worried About Nothin." The moment was a little hood -- cocky -- but it was authentic, and LeBron earned it with a Game 7 box score: 37 Pts, 12 Reb, 4 Ast, 2 Stl.
That song was played all over Miami for like a week. It's actually a pretty good song.
It's also tempting to criticize the after-party at Story, only because it completely feeds the narrative I'm trying to evolve us out of, that Miami is only a fun-in-the-sun party destination without intelligent culture, but, events like those, which might not be as humble as Shane Battier's tradition of eating at Denny's, are indeed tradition (they partied at Liv last year) and they show team camaraderie (Pat Riley's 68-year-old butt was at the party).
So, allowing LeBron a pass on the Montana remark, and the team a pass on the party -- a few things still occurred in the aftermath that made us look bad to the rest of the country.
LeBron's Stankface

The day after the victory LeBron made a 14-second video, basically telling all his haters what he thought. "Man, I don't know what to say. I'm the champion, two times, two rings -- that shit stink -- don't it -- eewwww." On one hand, it was proud, funny, and entertaining; but on the other, it felt unnecessary, egotistic, and rude -- like LeBron pooped on his haters, including the Spurs, classy in defeat, and then rubbed their faces in it.
The LeBatard Rant
I'm a fan of LeBatard; he's great for South Florida; a big dog who's hitting the trifecta: success in print, radio, and broadcast journalism. Even though Lebbitz is fundamentally just a sports nerd, he's also psychological, insightful and pleasantly awkward. His championship rant: just awkward and kind of douche. Granted, the rant was pure entertainment, funny, slightly ironic and self-deprecating. It was not meant to be taken seriously -- but, at the same time, it unnecessarily fed hungry haters, was disrespectful to a worthy opponent, it went on way too long and it made Miami look childish. It also paled in comparison to his other rants, like LeBron choosing Miami, or the Pacers.
Pots and Pans
Banging on pots and pans is a silly tradition. I understand where it comes from: it's connected to the percussion of Latin music and the Cuban and Dominican communities. The pots and pans came out for the Marlins and the Heat before and now it's like our thing, but it's dumb. Granted -- it's extremely hard to condemn any fan happy enough to peacefully take to the street to make noise in gleeful celebration, but, and I wrote about this in the Newtimes, this tradition has been exploited and commodified by the local media and, really, how does it make us look to the rest of the country?
At the end of the year, it was an amazing season -- the best in the Heat's history. And when I write these things, it's only because I want Miami to grow into the best city we can be.