From the buzz around Kate Bolick's book Spinster: Making a Life of One's Own to the unfortunate language Supreme Court Justice Anthony Kennedy used in writing the opinion legalizing same-sex marriage, of the unmarried being "condemned to live in loneliness," the state of singles -- and let's be honest, mostly single women -- has been on a lot of people's minds.
So it couldn't be a better time for social psychologist and tireless singles advocate Bella DePaulo's latest book to arrive on bookshelves, How We Live Now: Redefining Home and Family in the 21st Century (Atria Books/Beyond Words).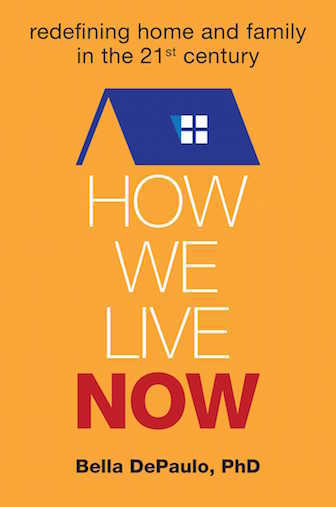 There are more than 124 million single Americans, by choice or chance, outnumbering those who are married. Clearly, the vision we have of the nuclear family, living with a white picket fence somewhere in suburbia, is outdated.

Given that that's today's reality, one has to wonder: How are single people living? Do they have community? Are their needs being met? Are they really living in loneliness?
DePaulo, an avowed "single at heart" and author of Singled Out: How Singles Are Stereotyped, Stigmatized, and Ignored, and Still Live Happily Ever After, wondered about that, too. Her quest to find the answers led her on a multiyear cross-country journey to meet with singles as well as couples who had found creative ways to live -- from multigenerational homes to cohousing communities to couples "living apart together" (LATs) -- and were eager to share how they did it and why. Their stories, and her book, offer an illuminating exploration of how people are creating their most authentic lives. (For full disclosure, I am included in DePaulo's book as a woman who chooses a LAT arrangement).
I spoke with DePaulo about her findings:
Q: The inspiration for the book came from a blog post you wrote that got a huge response. Why was it so important for you to write this book?
A: What was telling about that blog post was not so much the number of people who viewed it or commented, but the tenor of the discussion and the way it continued over time. Readers reacted to each other's stories by saying things like, "Your comment brings tears to my eyes." The discussion continued beyond my Living Single blog where it started, as readers sent emails telling me how they lived and how they wish they could live.
Those reactions by themselves would not have been enough to inspire me to write a book. What really caught my attention were all the stories in the media about the innovative ways people were living. Some stories were so unique and unexpected, they did not fit into any obvious category.
Q: You talk about "lifespaces" and "lifespace literature." What do you mean by that?
A: I coined the term "lifespace literature" to pull together and name all the different discussions I had been finding in so many different places. It is about the lives we envision and then build around our places, our spaces and our people. It incorporates the people who are important to us, and our own psychological relationships to places and spaces and people. It recognizes that a place to live is also a way to live and that we have never had as many choices as we do now.
Q: You devote whole chapters to seniors, who are eager to avoid the nursing homes most of us equate with aging, and single parents. Why?
A: They are on the vanguard of innovation and what they dreamed up incorporates every possible point along the spectrum of togetherness to separateness. I think the seniors were motivated by seeing so many of their elders end up in institutions and vowing never to let that happen to them. When they did not like what they saw around them, they created solutions they did like. The lifespaces of the single parents were amazing, too. These parents found so many ways to re-imagine home and family for themselves and their children that they were never really raising their kids on their own, even if they were living on their own.
Q: You mention early on that people seem to want time with others and time alone. In what ways has our traditional ways of living failed them?
A: For such a long time, many houses and neighborhoods and zoning regulations were all developed on the model of nuclear families living in single-family detached homes out in the suburbs. But the U.S. is not a nation of nuclear families anymore. Sometimes our families are expanding -- when aging parents or grown kids move in with the generation sandwiched in between. Today's adults, though, want their privacy as well as their opportunities to enjoy each other's company.
Sometimes standard designs miss out on our craving for togetherness, such as when massive apartment complexes stack one unit on top of another, with nowhere but elevators and hallways for people to meet. That's changing, too, as more buildings add what they sometimes call amenities -- gyms and rooftop gardens -- when the real appeal is more about creating opportunities for people to run into each other and socialize.
Q: What surprised you most about what you discovered?
A: How innovative people were, and how brave they were when the lifespaces they created pushed against the norms and expectations that everyone else lives by. One example comes from single people who really want to have kids, but do not want to raise them as single parents. Instead of looking for a romantic partner, they look for a parenting partner - another adult who is just as committed as they are to raising kids. There are now registries for finding parenting partners, such as Family by Design and Modamily.
Q: What inspired you most?
A: I was so taken by the creativity of the people I interviewed. I was also moved by many of their personal stories, which sometimes started at a time in their lives when they were feeling great pain and confusion. Yet years later, the way they dealt with their pain resulted in an amazing accomplishment that not only solved the problem they had faced in their own lives, but the comparable problems faced by so many others.
Q: What do you see as the most pressing needs for the needs of the ever-burgeoning singles population, especially as they age?
A: What so many single people want as they age is the ability to maintain their independence for as long as possible. For people who are living alone and love their own place, they want to be able to stay there. But as the years go by, they may not be able to do everything on their own anymore. I'm in the living-alone category myself, and so I was really delighted to discover the Village movement, a membership-based organization that helps seniors get help with many of the practical needs of everyday life (rides, errands, household tasks) and have access to social events, too.
Even seniors who do not live alone may need extra help. For example, seniors sharing a home, Golden Girls-style, may need more than what their housemates can give, or more than they want to ask them to give. So many of us, regardless of whether we have a spouse or grown kids, are going to need that kind of help
Q: How should that be accomplished -- public policy, private arrangements or some combination?
A: We need much more investment in alternative organizations and lifespaces that seniors find much more appealing, such as Villages. We also need to develop a caring infrastructure. For example, we need more care workers and we need to train them better, pay them better and treat them better. And we need to find ways to make such care accessible and affordable to more of the people who will need it.
Another different example of something that needs to change is zoning regulations. When solo dwellers or empty-nesters welcome relatives to move in with them, they often want to renovate the garage or add accessory dwelling units. Sometimes, those plans bump up against codified prohibitions. Unrelated adults who want to share a place often face regulatory deterrents, too. Some of the laws on the books had grown out of fears of, say, raucous college students, making it difficult for five gracious 60-somethings to move into a big house that they are going to care for lovingly.
Q: If there's a take-away from your book, what is it?
A: As I write in my book, "There is no one blueprint for the good life; we can create our own lifespaces. What matters is not what everyone else is doing or what other people think we should be doing, but whether we can find the places, the spaces, and the people that fit who we really are and allow us to live our best lives."
Calling all HuffPost superfans!
Sign up for membership to become a founding member and help shape HuffPost's next chapter