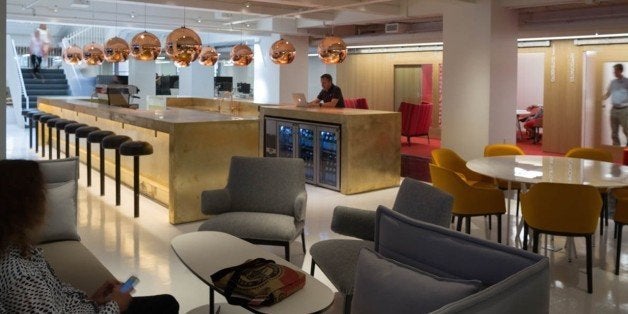 When visitors come into our new office in Midtown Manhattan, one of the first questions we often get is, "Can I have my own desk here?"
I tell people they are welcome to work out of our office, but that no one has a permanently assigned spot, not even me, the CEO. Still, the request validates our approach to designing an office our guests would want to use.
As a company that brings together top thinkers, we needed to design a space that fostered conversation and learning. A place that feels intellectually alive and engaged. We opted against an office with personal desks and instead created a space that gives everyone a seat at the proverbial table.
We are a global, 1,000-person professional learning company that brings people and businesses together with experts to help them learn about their complex strategic challenges. Our 65,000-square-foot New York headquarters is home to almost 300 of us. Each month GLG hosts dozens of roundtable events for our clients and experts; we wanted our headquarters to be a place where they could work and mingle before and after these sessions.
So when it came to our new headquarters, we were looking for more than just an office. The space would need to support a core aspect of our business. We wanted an office that combined the intellectual curiosity and community of a university campus and the urgency of a newsroom. We wanted space for people to be private and a place where people could come to work, learn, recharge, and be inspired.
But building a workspace that encompasses all of that and accommodates employees and guests alike raises a number of questions like: How can you make guests feel comfortable using the space? How can you make the space functional for them? How can guests and employees work in a way that is not disruptive to one another? How can you preserve privacy in an office bustling with employees and outsiders?
Two years ago, I sat down with our architect, Clive Wilkinson, to answer these questions. He designed a solution that integrated the idea of "host-ability" into activity-based working (ABW.)
The theory behind ABW is that offices should provide options to suit various types of work and that people should have the freedom to move around throughout the day as their work changes. ABW seemed great for our employees, but we needed to make sure our office supported our guests as well, which is why we focused on making our space welcoming and flexible.
We started by locating our headquarters adjacent to Grand Central Terminal, making it especially accessible. We abandoned the idea of assigned desks but leased enough space so that we had more seats than employees. The absence of assigned desks, spaces, or offices puts everyone on equal footing. Our guests are free to choose from a variety of unclaimed spots.
Some companies have "guest desks" for out-of-towners, but they do little to make people feel comfortable or included. Here, rather than create a number of "visitor desks," our office has four large areas with big tables as workstations, plus meeting pods, chairs of different shapes and sizes, and adjustable standing desks. Employees keep their belongings in lockers overnight and choose where to sit each day. The mobility within our office gives us the flexibility to accommodate the needs of both employees and guests.
Seamless technology was essential in creating an office anyone could use. We built a system that's universally compatible across all platforms. At any open seat, people can plug their laptops into one cord that provides access to hard-wired Internet, monitor, and camera. We implemented a printing technology that allows users to send items to print on a queue, swipe a card, and collect their documents from any printer in the office.
To accommodate the myriad needs of our employees and guests, we designed 38 multipurpose tech-enabled conference rooms of varying sizes. The larger rooms are fitted with screens and mounted cameras so virtual meetings can include participants from around the world.
We created a number of smaller rooms that can be used for independent work and private conversations, and soon a room reserved for meditation. We also built an event space that can accommodate up to 100 people, so we could host larger events on-site.
Most conversations and activities do not need to happen behind closed doors, so we designed an in-house café for informal brainstorms and check-ins. We recreated the casual coffee shop chat by building our own coffee bar, complete with barista.
We built a space that facilitated not only hosting and flexibility, but also independent reflection. In doing so, we designed an office that would work for everyone.
Related
Popular in the Community