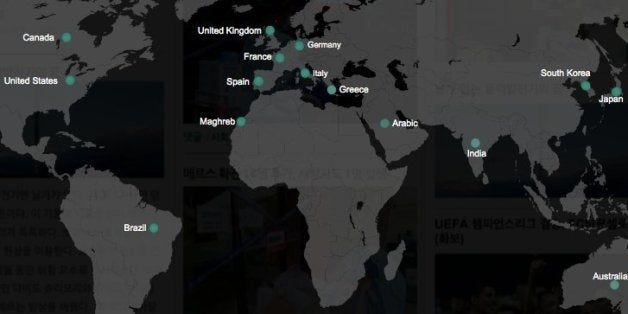 Today in Toronto we are celebrating two important Huffington Post milestones: the fifth birthday of HuffPost Canada and the fifth anniversary of launching HuffPost internationally.

Five years ago, we embarked on a journey that has brought us to 14 new markets across six continents. During this time, we went from being a U.S. brand, to a budding international brand, to a truly global brand. To put the scale of this change in perspective: in May 2011, the number of people reading HuffPost outside the U.S. was modest; today, 55 percent of our nearly 200 million monthly users are international. Our newsroom has gone from being a U.S.-based team to having more than 300 editors located in nearly 20 countries outside the U.S. We're now publishing 1,500 pieces of content a day in 10 languages on our platform, and we have more than 35 million followers globally on Facebook. Here in Canada, we're the most popular digital news-brand with Canadian readers. The future of media is global, and that future has fully arrived at HuffPost.

How did we get here?

Back in May 2011, we decided to expand HuffPost internationally as both a journalistic enterprise and a platform. This meant creating new editions staffed by local journalists and published in their local language, imbuing them with our DNA, and powering the websites with our tech platform. The goal was for them to remain integrated into the Huffington Post's core mission, but also rooted in their local culture. We didn't want to launch a "Huffington Post France," populated with translated articles from the U.S. or pieces by foreigners reporting from Paris. We wanted to make a "French Huffington Post": a premier digital news site for French readers, with original content created by local editors, and a blog platform full of local voices having the conversations that matter to them. To further establish our local know-how, we partnered with some of the world's best publishers, from Le Monde to El Pais to the Asahi Shimbun.

As a result, every HuffPost edition realizes its local approach a bit differently, and that is a good thing. It means we can go deep on the topics that matter to each local audience, and it allows us to offer something missing from the mainstream, like in South Korea, where HuffPost Korea has placed LGBT issues at the forefront of its coverage and at the center of the conversation, whereas many major Korean news outlets relegate it to the margins.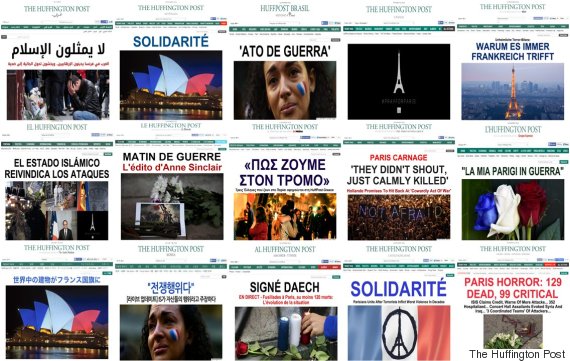 HuffPost frontpages around the world after the terrorist attacks in Paris last November
The proof that this model can build a significant local following is in the numbers, whether it's having entered the top 10 rankings in markets like Germany and Spain or being the top digital "pure player" in France. Our edition in Japan, a market where the Huffington Post brand name was all but unrecognizable when we launched in May 2013, now has the largest local readership after our U.S. edition.

Yet while each of these sites is focused on emphasizing the local experience and reaching local readers in their native tongues, they're not siloed off as independent franchises. Instead they're part of our expanding global network, which allows every edition to benefit from the top stories, experiments, and innovations that each team produces. It also gives us the ability to simultaneously amplify the best of what we do at a global and local level like no other news site. And as with all networks, the bigger we get and the more we expand, the greater that amplifying power becomes.
The power of this local/global combination is the reason the Duchess of Cambridge served as a guest editor of HuffPost UK earlier this year as part of her focus on childhood mental health. Teaming up with us gave her the ability to start a global conversation on this topic, not only by having her message translated and featured on all our sites, but also because we could bring local voices from around the world to a UK audience to share their experience on this topic. It's for the same reason that when newly elected Prime Minister of Canada Justin Trudeau wanted to host a "global town hall" he turned to HuffPost Canada. Our livestreamed town hall with him included questions from HuffPost editors in France, Spain, Korea, the Middle East and the U.S. reflecting local concerns, and was distributed to audiences across our global network.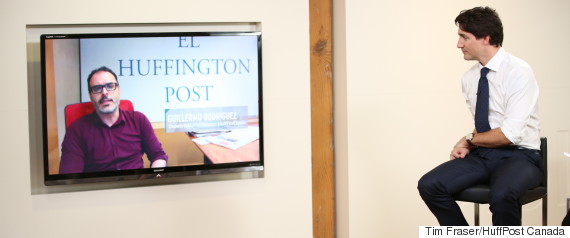 Canadian Prime Minister Justin Trudeau takes a question from a HuffPost Spain editor in Madrid during the global town hall in March.

It's not just about amplifying already famous voices beyond their borders, however. Take, for example, a blog post about having a child born with Down syndrome, written by a mother in France, which was widely shared by our readers there. Seeing in our real-time stats that the post was a viral hit and that it touched on a universal experience, our international editors translated the piece for their audiences. Seven days after it was first published in France, the post had appeared in English, Spanish, Italian, Portuguese, Korean, Greek, German and Japanese, and had received more than 2 million page views. It's the ability to share these local perspectives with new communities of readers in other countries that makes for an unique global conversation.

Being a global network also presents unique opportunities to combine perspectives from multiple countries to enrich our storytelling. After the tragic shooting at an Oregon community college last October, our U.S. and Australia teams filmed local university students as they tried recall a recent mass shooting. The stark contrast in the students' responses highlighted how different the experience of gun violence is across these two nations, and the fact that a generation of Australians have grown up free of mass shootings following the Port Arthur Massacre in 1996. HuffPost's focus on What's Working is also a natural fit for an increasingly interconnected world, as it gives us the opportunity to share inspiring stories of people finding solutions to the challenges they face, like HuffPost Greece's reporting on how refugee children are finding a home in the country's intercultural schools.

So, what's next? To start, we want to keep growing our network by expanding to more markets, and to bring more of the best stories and perspectives from around the world to our readers. (Stay tuned for an announcement about our Mexico launch in the coming weeks.) This also means bringing these stories to the global platforms where readers are spending their time, like WeChat, where we are now publishing in Chinese to reach a worldwide readership in that language. At the same time we'll be deepening the experiences provided by our current editions with content such as 360 videos from HuffPost Ryot. We'll also be improving our ability to share the best content from each edition with an even larger audience by making our product even more robust. We are thrilled to be able to continue forth on this global journey, and we hope you'll join us, wherever you are.
Popular in the Community