The news coming from Haiti is very alarming. The El Niño weather phenomenon has struck again, this time leading to a severe drought.
It's been so bad for farmers that many have lost more than 82 percent of production. That is leaving Haitian families with low food supply. Any food that is available at markets is high priced.
Ertharin Cousin, the UN World Food Programme's director, was just in Haiti to assess the situation. Cousin pleads, "We must immediately help hungry Haitians. Drought and poverty should not force a child to go to bed hungry."
The World Food Programme (WFP) says there are more than 1.5 million Haitians who do not know where their next meal is coming from. The WFP is launching an emergency aid program.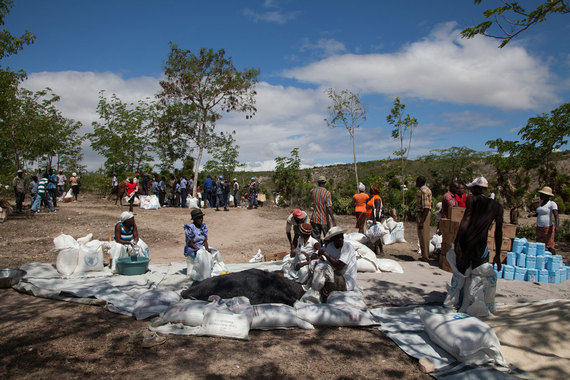 WFP director Ertharin Cousin says, "Poor Haitian farmers living in vulnerable places must have the capacity to endure future climate-related disasters." In this photo a WFP food distribution in the locality of Baie de Moustiques, Port de Paix, Haiti. (Photo: UN/MINUSTAH/Nektarios Markogiannis)
One of the major safety nets for Haitian families has been the school feeding program supported by WFP. But that is at risk too.
WFP relies on voluntary donations, but not enough has come in. Lorene Didier, WFP spokesperson, says, "WFP is facing difficulties to maintain the level of assistance to its school meals programme."
Without new donations the numbers of children receiving WFP school meals will drop from 485,000 down to 320,000. That is well over 100,000 children losing their school meals.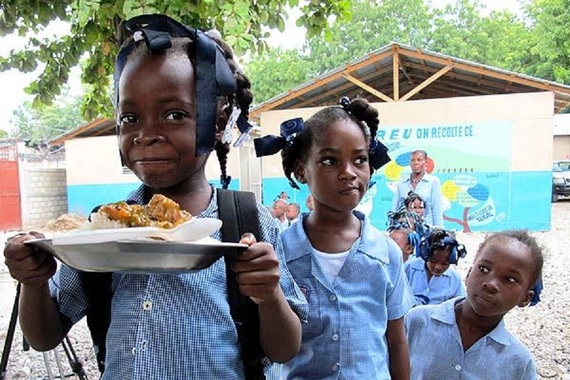 School meals help feed children in Haiti and improve their class attendance and performance. Low funding threatens to take many of these meals away. (World Food Programme photo)
Summer is coming too. Schools will be closed, but they obviously want to continue feeding children at summer camps. This is especially important with this drought emergency. Hungry families need the support.
But with funding low this is extremely unlikely under the present circumstances. Once source of potential support, the McGovern-Dole global school lunch program, has been really low on funding.
McGovern-Dole, which is run by the United States Department of Agriculture (USDA), provides school meals in developing countries. The program, which was named after former Senators George McGovern and Bob Dole, does not get the funding priority it deserves. Neither does our Food for Peace program.
These food aid initiatives need more support, but recent administration proposals for FY17 reduce the budget for both programs. Aid agencies are urging the President and Congress to increase the funds to fight hunger.
We could add more funding to McGovern-Dole and get school lunch programs rolling in Haiti and other countries in need. Funding could be increased from 200 million a year to at least 300 million a year. With so many countries in crisis we need more school lunches to help provide stability.
We know this approach works. History tells us so.
Haiti has received prior McGovern-Dole grants, which have helped tremendously in the reconstruction from the 2010 earthquake.
United States Senator Sherrod Brown, after visiting a school meals program in Haiti, said, "Nobody can learn if they are that hungry. These kids get one good, hot meal a day which encourages their families, frankly, to send them to school.'
So now let's help Haiti get through this drought emergency. One way is through school meals. Our McGovern-Dole program, with enough funding, can get the job done. The food can provide short term help while building the capacity for Haiti's own national school lunch program.
So many children globally are suffering right now because of war and drought. We can help feed them in Haiti and elsewhere. We can ensure every child's right to basic food and education.
Related
Popular in the Community