It's likely that you - or at least your Twitter feed - noticed that yesterday was #GivingTuesday. This effort first took place in 2012 as a global day dedicated to sparking more generosity during the holiday season, on the heels of the consumption-focused events of Thanksgiving, Black Friday and Cyber Monday. Over the past four years, #GivingTuesday has become a global movement that has inspired millions of individuals to open their hearts and wallets and give to important causes.
We've seen how galvanizing the effort can be for individuals, and how beneficial the exposure can be for charities. Early data on yesterday's #GivingTuesday activity shows more than 43 percent (and counting!) year-over-year growth in donations were made to thousands of worthy nonprofits. It's hard to be anything less than enthusiastic about such a laudable outcome, but I can't help but think we can do better. Giving Tuesday's success consistently shows that people are hungry for opportunities to give back. Wouldn't it be great if we could harness the enthusiasm for giving that we see during Giving Tuesday, and make it a natural part of everyone's everyday life? Put another way: How can we turn #GivingTuesday into #GivingEveryDay?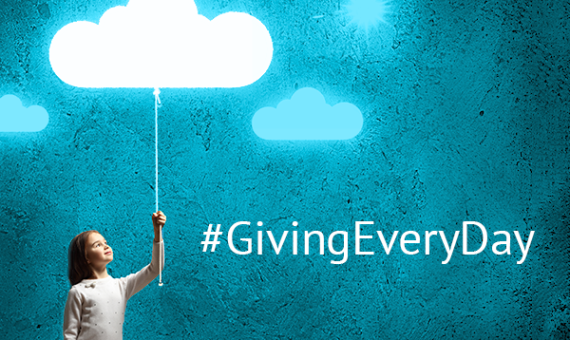 Arianna Huffington contemplated a similar idea in December 2014, in a post titled "Why Every Tuesday Should Be A Giving Tuesday." Since the post, she's tweeted about one profound story on the Huffington Post that illustrates a spirit of giving every Tuesday - her personal effort to make every week a time to celebrate #GivingTuesday. I love it, actually.
It is a little known but important fact, but according to the 2015 Giving USA report, less than 5 percent of overall giving to charities comes from corporations. Not only is more expected of them by consumers, but companies are uniquely positioned to rally individuals to make a difference throughout the year. Many already have programs that incorporate workplace giving, volunteering and grantmaking into the fabric of how they do business, and more progressive thinking and modern technology are increasing both participation in, and corporate contributions to, these programs. Many go beyond the conventional annual campaign, and ensure a steady drumbeat of activities and efforts to encourage employees and others to get involved. Here are some best practices for companies willing to take on the challenge to make #GivingEveryDay:
1.Make engagement personal: Employees and customers have a diverse set of causes they are passionate about. Companies can inspire them to give back regularly by enabling options to give or volunteer for any charity or cause they care about, rather than limiting their generosity to a small number of options the company chooses. People are five times more likely to donate through a corporate program when there is open choice, and they can give their hard-earned dollars or time to causes they care about personally.
2.Motivate and incent: Companies can reinforce #GivingEveryDay actions by applying gamification principles - or rewards and motivators that tap into people's sense of achievement and status. Don't just give money to charity, deliver it in ways that engage others in the exercise. Offer to match donations, provide a "dollars-for-doers" reward for volunteering, or offer charitable gift cards as incentives for reaching business goals or desired behaviors. Companies that enable options like this attract 117 percent more participants from their workforce, while weaving prosocial behavior into the fabric of their corporate culture.
3.Make giving back easy: Companies will reap the benefits of more engaged employees and customers when they connect with them with opportunities to give back. However, people won't jump through hoops to get involved; participation must be simple and convenient. For instance, companies should enable employees to donate throughout the year by way of payroll deduction, which has shown to attract four times as many participants than when it is not offered. Retailers should embed optional charitable participation into their shopping carts and ensure there is a clear answer to the consumer question of "What's in it for me?"
4.Tap into technology: Companies can integrate giving back into the Web-centric, always-connected workforce of today by offering access to company-supported giving and volunteering activities online or on mobile devices. A platform with a well-designed, intuitive interface not only makes it easier for people to donate or to volunteer for the local food bank; it also helps companies capture the impact of those collective actions to provide a feedback loop that reinforces the culture of giving.
5.Communicate consistently: Capture employee energy and engagement by communicating activity launches, milestones, impacts or stories on an ongoing basis. Regular communication helps keep the spirit of giving back visible to employees and serves as a constant reminder of the collective impact the organization can make.
Although the focus of Giving Tuesday is fundraising for worthy causes, the key to success - both for companies and the broader landscape - is about developing a passion for service and giving back. Companies that infuse a culture of giving back into their workplace and customer-facing activities report several benefits, including enhanced reputation, improved ability to attract employees and customers, and improved retention. The company becomes not just a place to collect a paycheck or purchase a commodity, but a place that inspires people and fosters connections with a broader sense of purpose and passion.
As the 2015 #GivingTuesday buzz dies down, let's all take a moment to plan out how we can make #GivingEveryDay part of our 2016 planning. Join us for a Twitter chat on December 9, 2015 to discuss the opportunities and our ideas to make this vision a reality. You can register here, and join the conversation on Twitter using #GivingEveryDay.
Related
Popular in the Community