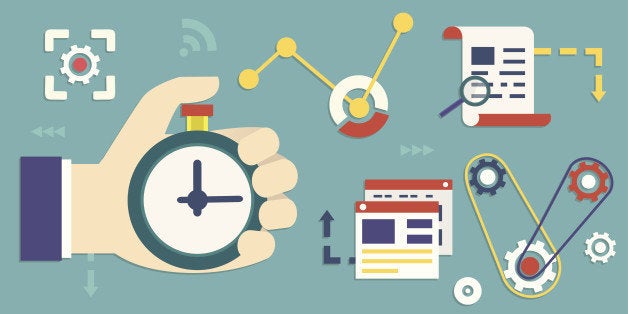 This year, my friend and I decided to spend this MLK Jr. weekend a little bit differently (it was too cold to do anything fun, anyway). Overcaffeinated and overconfident, we decided to design and launch a new product in three days spending less than $100.
First, we had to come up with an idea. We wanted something that was timely and slightly crass (stuff that goes viral tends to have some shock value). That in mind, I pitched merging Cards Against Humanity with the craziness of this 2016 presidential primary season. (We're those early-20-somethings that watch every cringe-worthy debate and watch CNN while at work, getting increasingly depressed as this election season progresses.) My equally-enthusiastic friend liked the idea, so we got moving.
Second, we had to come up with a name and some marketing copy. Our original name was "Elections Against Humanity," which unfortunately violated the "Cards Against Humanity" trademark-- the law says that if a reasonable person can draw an association between the two names, the trademark has been violated. My co-founder wanted to keep the name until we received our stop and desist order, but I'm too much of a fraidy-cat. We decided to optimize instead for search engines with the name "2016 Election Game." We also wrote up some taglines (e.g. "Make Card Games Great Again!" and "The Ultimate (Political) Party Game"). We tried not to overthink the name or the messaging-- it's easy to spend hours on either and never move on.
Third, we had to design and develop the product. This was by far the best part. For two days, we re-watched debates and some of our favorite talk shows (Jimmy Fallon had the best material by far, so we created a card in his honor). Over the course of the weekend, we came up with hundreds of snarky and ironic cards, and then printed and cut some of our favorites so we could post photos on our website.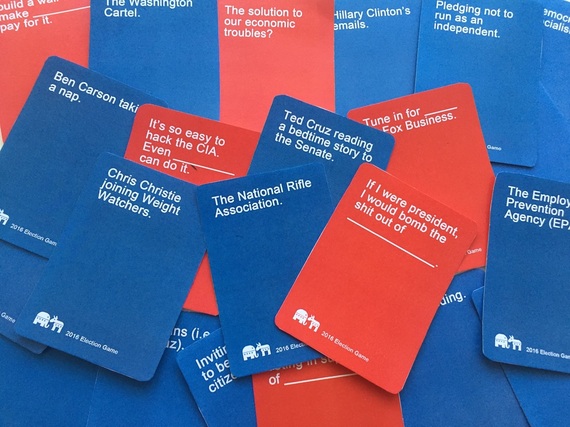 We didn't love the first look, so we redesigned the product and printed several examples.

Fourth, we had to source product. We found partners to print our cards and manufacture our boxes within our price range. This is not sexy or exciting, so I'll leave it at that.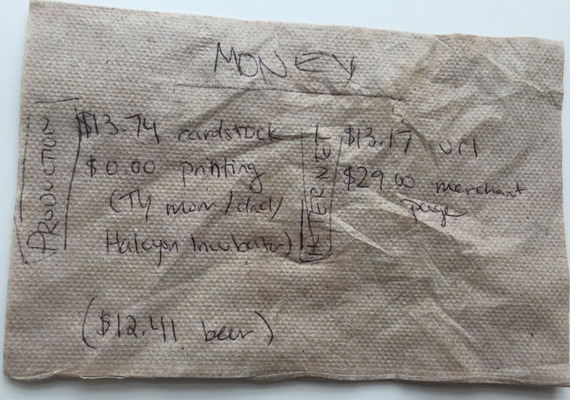 We saved on up-front costs by focusing on pre-sales. That way, we would begin paying production costs only once our games sold.

Finally, we had to create a sales channel. For us, that was a website. We considered launching a Kickstarter, but the fee they took would cut into our margins and risk profitability. Instead, we put up our own website and began accepting sales.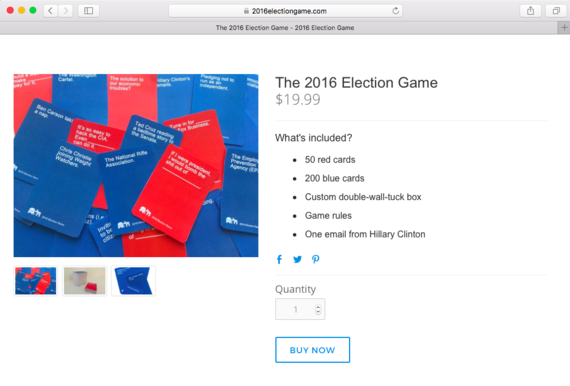 You can learn more about what we created on our website.

So that's how we spent our weekend. Clearly, there's more work to be done if we want this product to really take off. We're still tweeting, reaching out to reporters, and coming up with even more hilarious cards. The bulk of the work, however, has been done in three days with less than $100.
President's Day Weekend is coming up soon. I have a few ideas brewing for how to spend the extra day off... Do you?
Calling all HuffPost superfans!
Sign up for membership to become a founding member and help shape HuffPost's next chapter